Throat Shield Tea
Gaia Herbs/Professional Solutions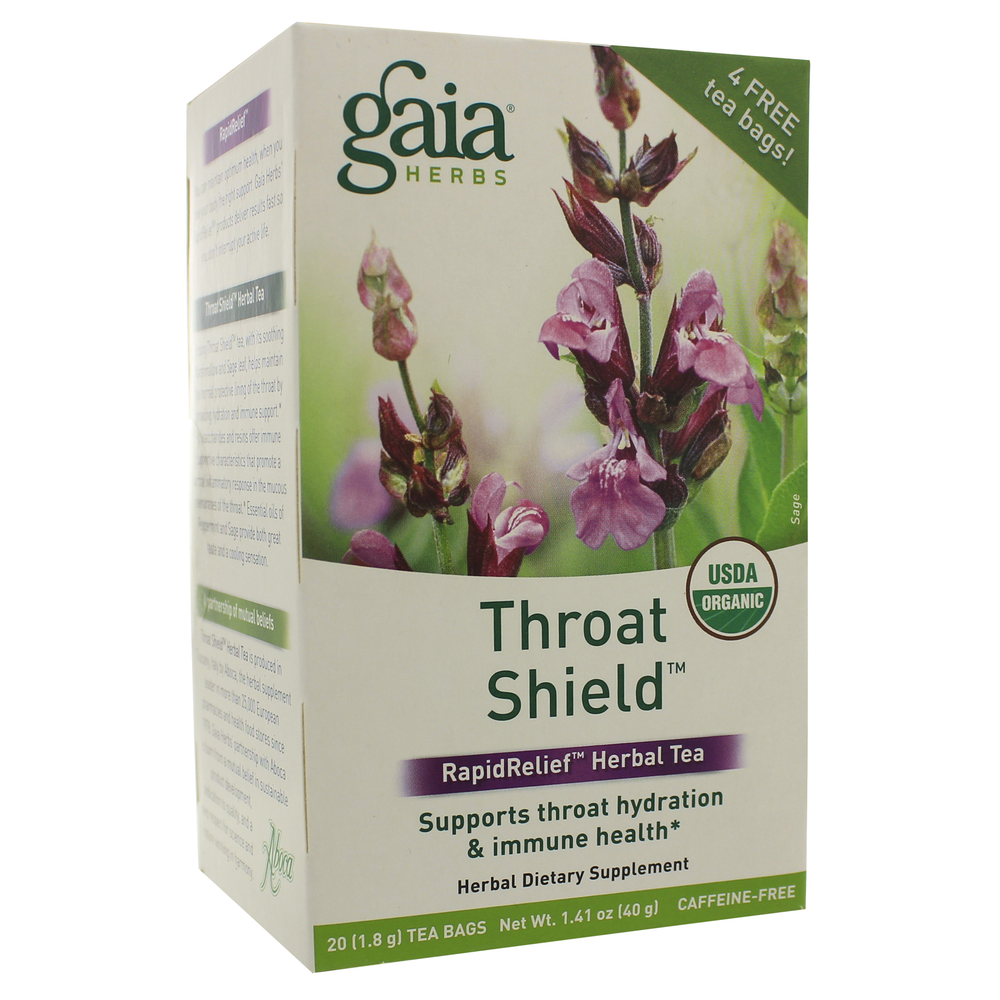 SKU: GAI-90C24020
Nourish your throat & voice*
The silky texture of Throat Shield™ tea preserves your voice and blankets your throat during times when your body's defenses are challenged.* With soothing Marshmallow and Sage leaf, this cooling tea helps maintain the normal protective lining of the throat by providing hydration and immune support.* Essential oils of Peppermint and Sage tingle and invigorate.*
Adults pour one cup of freshly boiled water over tea bag and steep, covered, for 10 minutes. Drink once daily as needed.
Serving Size: 1 tea bag
Amount Per Serving
Calories ... 6
Organic Peppermint leaf ... 540mg
(Mentha x piperita)
Organic Licorice root ... 396mg
(Glycyrrhiza glabra)
Organic Sage leaf ... 225mg
(Salvia officinalis)
Organic Fennel seed ... 225mg
(Foeniculum vulgare)
Organic Grindelia aerial part ... 216mg
(Grindelia robusta)
Organic Marshmallow root ... 180mg
(Althaea officinalis)
Peppermint leaf essential oil ... 14mg
(Mentha x piperita)
Sage leaf essential oil ... 4mg
(Salvia officinalis)
If you have a medical condition or take medications please consult with your doctor before using this product. Licorice should not be taken if you have kidney or liver disease, hypertension, edema, excessive potassium depletion or during pregnancy. Consult with your practitioner if breast feeding. Keep away from children.