ThymuPlex Immune Booster
Nature's Way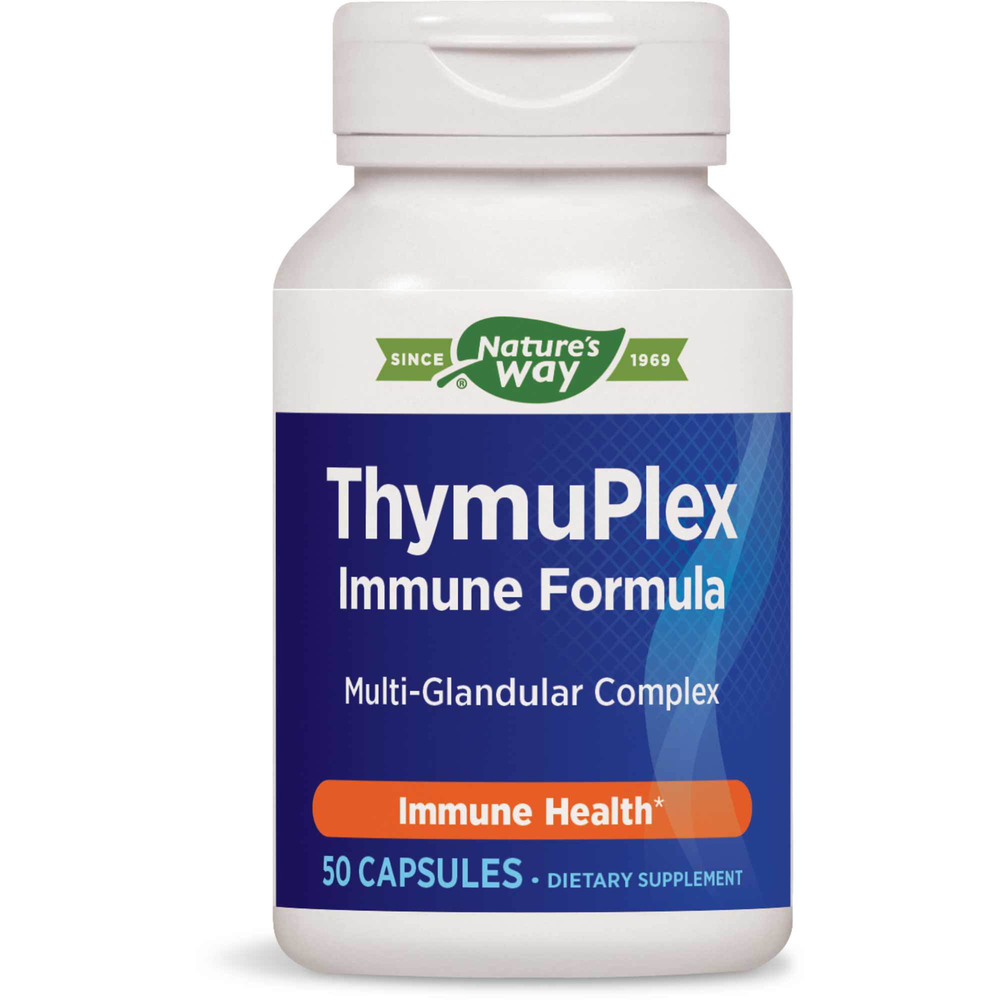 SKU: EN2-03995
ThymuPlex Immune Booster 50c is available by Enzymatic Therapy.
ThymuPlex
immune booster
-Broad-spectrum support
-Powerful immune-supporting antioxidants
-Multi-glandular complex
Enzymatic Therapy
What Better Feels Like
IMMUNE
50 CAPSULES
Dietary Supplement
Supplemental Facts:
All organs and glands are derived from bovine sources.
MANUFACTURED EXCLUSIVELY BY ENZYMATIC THERAPY, INC.
GREEN BAY, WI 54311 USA
Benefit:
LABORATORY TESTED
Purity, Safety & Performance
Four (4) capsules daily.
Serving Size: 4 capsules
Amount per 4 capsules
Calories ...5
Total Carbohydrate ...1g ***
Protein ...1g ***
Vitamin A ...25, 000 IU
(as beta carotene)
Vitamin C ...250mg
(ascorbic acid)
Vitamin E ...200 IU
(as d-alpha tocopheryl acid succinate)
Zinc ...15mg
(as zinc Krebs cycle chelates) *
Selenium ...25mcg
(as L-selenomethionine)
Proprietary Thymus Polypeptide Fractions/Gladular Complex ...900mg **
thymus polypeptide fractions, spleen extract (freeze-dried), thymus extract, lymphatic extract (freeze-dried), trypsin, papain, and bromelain (2, 400 G.D.U./g)
Echinacea Purpurea Root ...300mg **
Lysine ...250mg **
(as L-lysine HCI)
Blue Flag ...130mg **
(Iris versicolor) Root
Fennel ...65mg **
(Foeniculum vulgare) Seed
Goldenseal ...64mg **
(Hydrastis canadensis) Root
*** Percent Daily Values (DV) are based on a 2, 000 calorie diet
** Daily Value not established
* Chelated as citrate, fumarate, malate, succinate, and alpha ketoglutarate
Contains:
Gelatin, Magnesium Stearate, Silicon Dioxide, Titanium Dioxide Color, Soybean Oil
Caution: Not recommended for individuals with autoimmune diseases, HIV infection, or who are allergic to echinacea.
If pregnant, nursing, or taking prescription drugs, consult your healthcare practitioner prior to use.