Thyro-Zyme™
Apex Energetics, Inc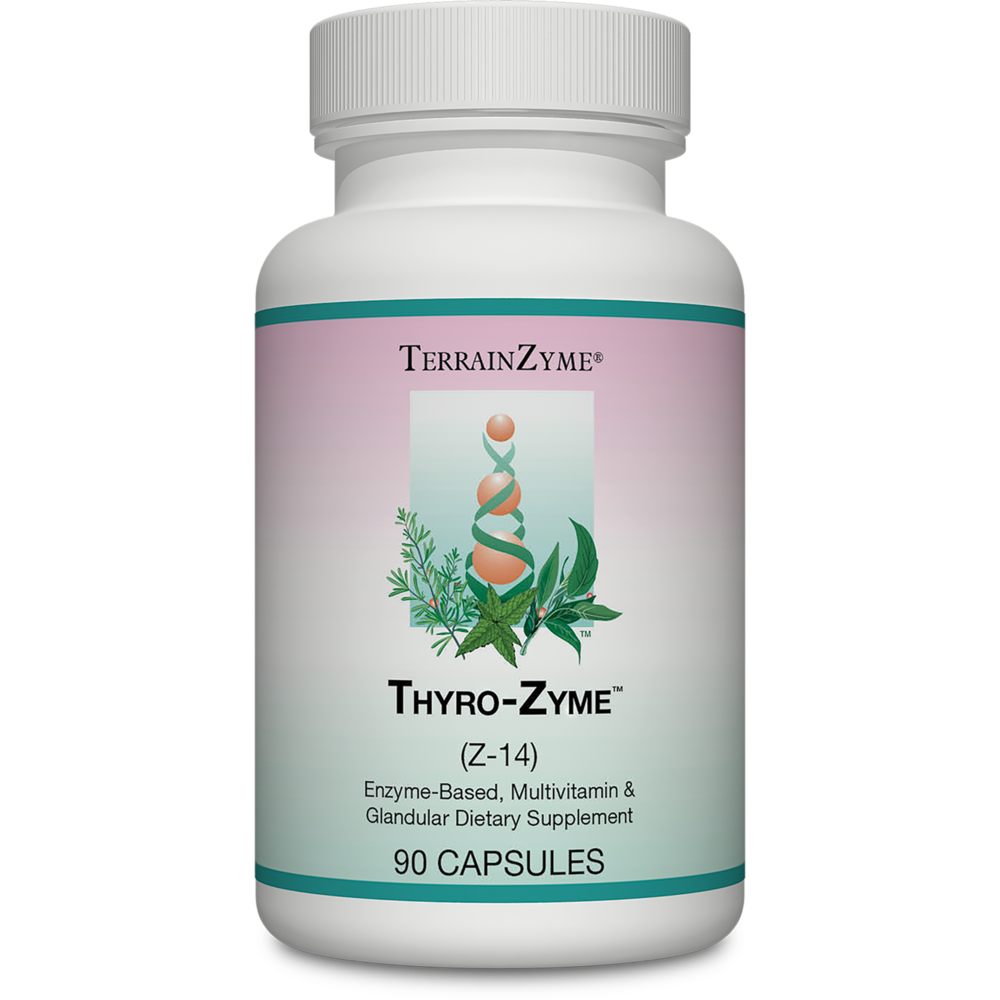 SKU: APE949-Z14
Thyro-Zyme™ is a unique thyroid-support product that includes herbs, trace elements, and glandulars.* These ingredients also support the related endocrine system.* Key ingredients include L-tyrosine, Irish moss, fenugreek, and endocrine glandulars.
Take 1 capsule 2 times a day with meals, or as directed by your healthcare professional.
Serving Size:
1 capsule
Amount Per Serving
Riboflavin ... 8mg
Niacin ... 13mg NE
(as niacinamide)
Iodine ... 100mcg
(as potassium iodide)
Magnesium ... 40mg
(as magnesium aspartate)
Zinc ... 6.5mg
(as zinc glycinate)
Copper ... 650 mcg
(as copper gluconate)
Chromium ... 30 mcg
(as chromium picolinate)
L-Tyrosine ... 100mg
Liver ... 70mg
(bovine)
Thyroid ... 75mg
(bovine)
Pituitary/Hypothalamus Complex ... 40mg
(bovine)
Adrenal ... 40mg
(bovine)
Bladderwrack Extract ... 35mg
(Fucus vesiculosus) (whole plant)
Irish Moss ... 35mg
(Chrondus crispus)(whole plant)
Fenugreek ... 35mg
(Trigonella foenum) (seed)
Proprietary Blend ... 50mg
(Protease I, Protease II, Bromelain, Amylase, Peptidase, Lipase, Lactase, Maltase, Sucrase)

Other Ingredients: Capsule (gelatin), cellulose.
Consult your healthcare professional before use if pregnant, nursing, taking medications, or for any use by minors. Do not use if safety seal is broken or missing. KEEP OUT OF REACH OF CHILDREN.