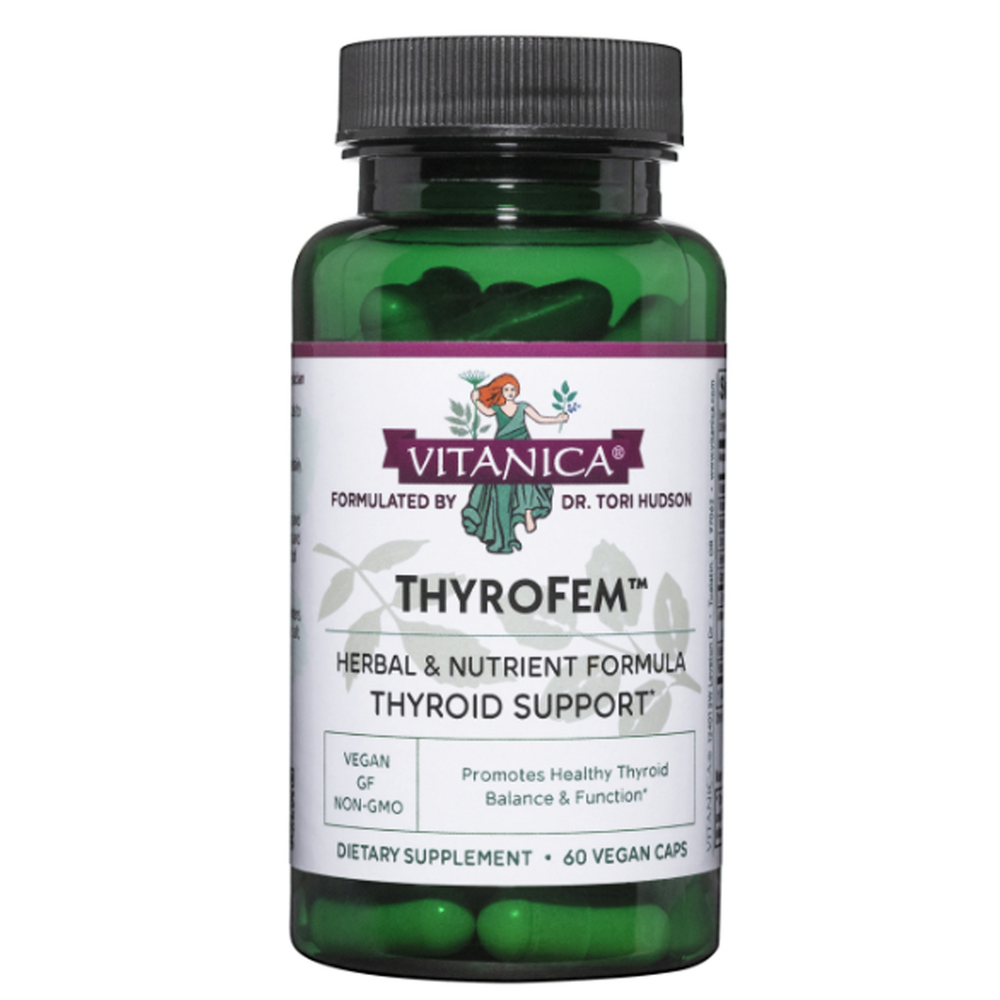 SKU: VTC-01300
ThyroFem, a dietary supplement by Vitanica, is available in a 60 Vegetarian Capsule form. It provides key nutrients and botanicals for normalization of the thyroid system and function.
Suitable for Vegetarians
Two (2) capsules, one (1) to two (2) times daily.
Serving Size: 2 Capsules
Vitamin C (as calcium ascorbate) ...200mg
Vitamin E (as d-alpha tocopherol succinate) ...100 IU
Vitamin B-12 (as methylcobalamin) ...500mcg
Iodine (from kelp) ...150mcg
Zinc (as picolinate) ...10mg
Copper (as amino acid chelate) ...1mg
Selenium (as l-selenomethione) ...100mcg
L-Tyrosine ...500mg
Ashwagandha root extract
(1% alkaloids, 1.5% withanolides) ...250mg
Rhiodiola root extract ...100mg
(3% rosavins, 1% salidroside) ...100mg
Contains - Vegetable cellulose, water, soy (Vit E)
Does Not Contain - Preservatives, binders, artificial colorings or flavorings, sucrose, glucose, starch, lactose, salt, corn, wheat, gluten, milk derivatives
Keep in a cool, dry place and out of reach of children.
Do not use if safety seal is broken or missing. Avoid if bi-polar, on immune suppressant drugs. May increase the effect of benzodiazepines, barbiturates, sedatives, and anxiolytics. Caution with peptic ulcer disease. Avoid this product during pregnancy and lactation.