Thyroid Maintenance
Patient One MediNutritionals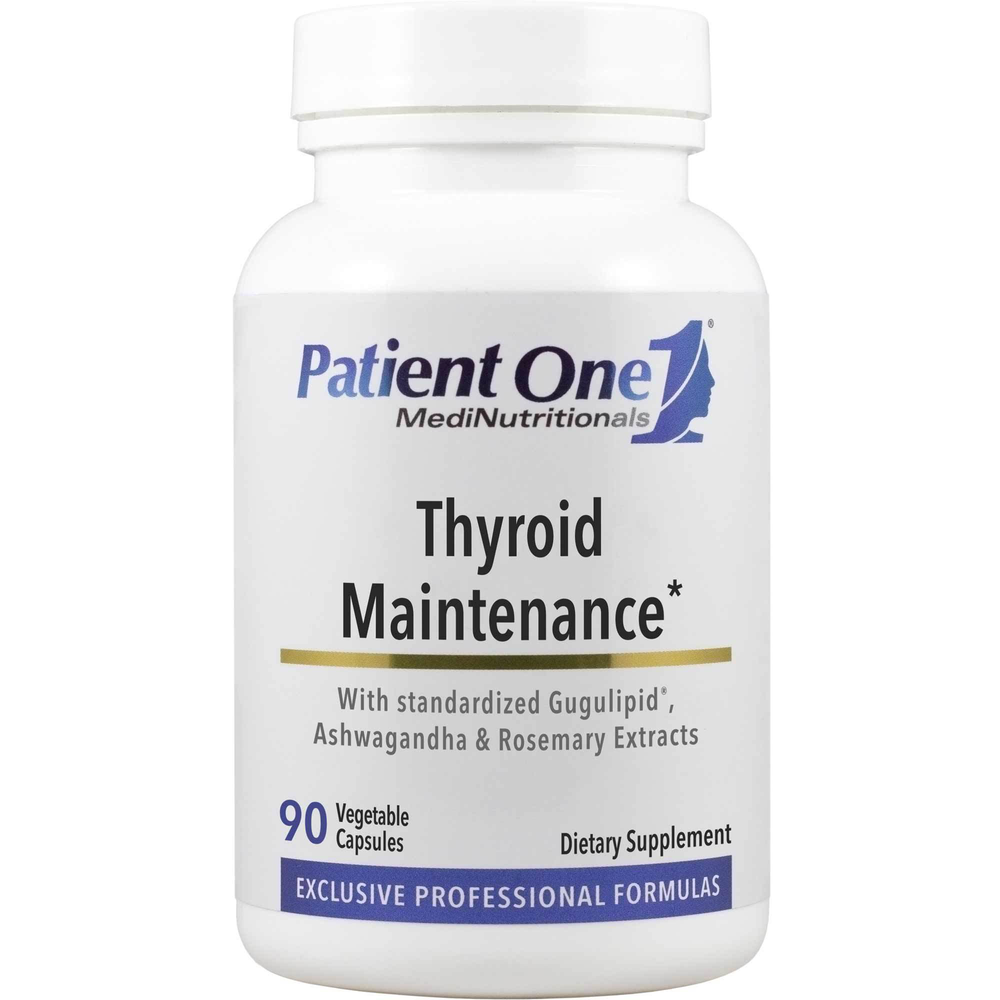 SKU: ONE631-P102290
Patient One Thyroid Maintenance Formula provides a range of herbal and nutritional support for healthy thyroid function and hormone synthesis. Patient One Thyroid Maintenance Formula is designed to ease symptoms associated with thyroid issues, including occasional stress, mood disruptions and mental fogginess, while fine-tuning thyroid function for optimal well-being.
Take 2 vegetable capsules daily, preferably with a meal, as a dietary supplement or as directed by a qualified health care professional.
Serving Size: 2 Capsules
Amount Per Serving:
Vitamin A ... 10000IU
(as natural beta carotene)
Vitamin C ... 250mg
(as ascorbic acid)
Vitamin B-12 ... 100mcg
(as methylcobalamin)
Iodine ... 75mcg
(from kelp)
Zinc ... 5mg
(as zinc gluconate)
Selenium ... 100mcg
(as L-selenomethionine)
Gugulipid ... 500mg
((Commiphora mukul) (resin) (Standardized for 2.5-3.5% guggulsterones (12.5-17.5mg))
Ashwagandha extract ... 150mg
((Withania somnifera) (roots) (Standardized for 1.0% total alkaloids (1.5mg), 1.5% total withanolides (2.25mg), and 0.5% total withaferin-A (0.75mg))
Rosemary Extract ... 25mg
((Rosmarinus officinalis) (leaf) (Standardized for 6% Rosmarinic acid (1.5mg))
Tyrosine ... 500mg
Other Ingredients: Vegetable cellulose (capsule), vegetable stearate, and rice flour.
Contains: May contain trace amounts of crustacean shellfish.
This product contains NO milk, egg, peanuts, soybeans, tree nuts, wheat, yeast, gluten, sugar or artificial sweeteners, flavors and colors.
If you are pregnant, nursing, or taking any medications, consult your doctor before use. Discontinue use and consult doctor if any adverse reactions occur. Tyrosine is contraindicated in individuals taking an MAO inhibitor antidepressant medication.
The statements on this page have not been evaluated by the Food and Drug Administration. These products are not intended to diagnose, treat, cure or prevent disease.