Thyrotain
Ortho Molecular Products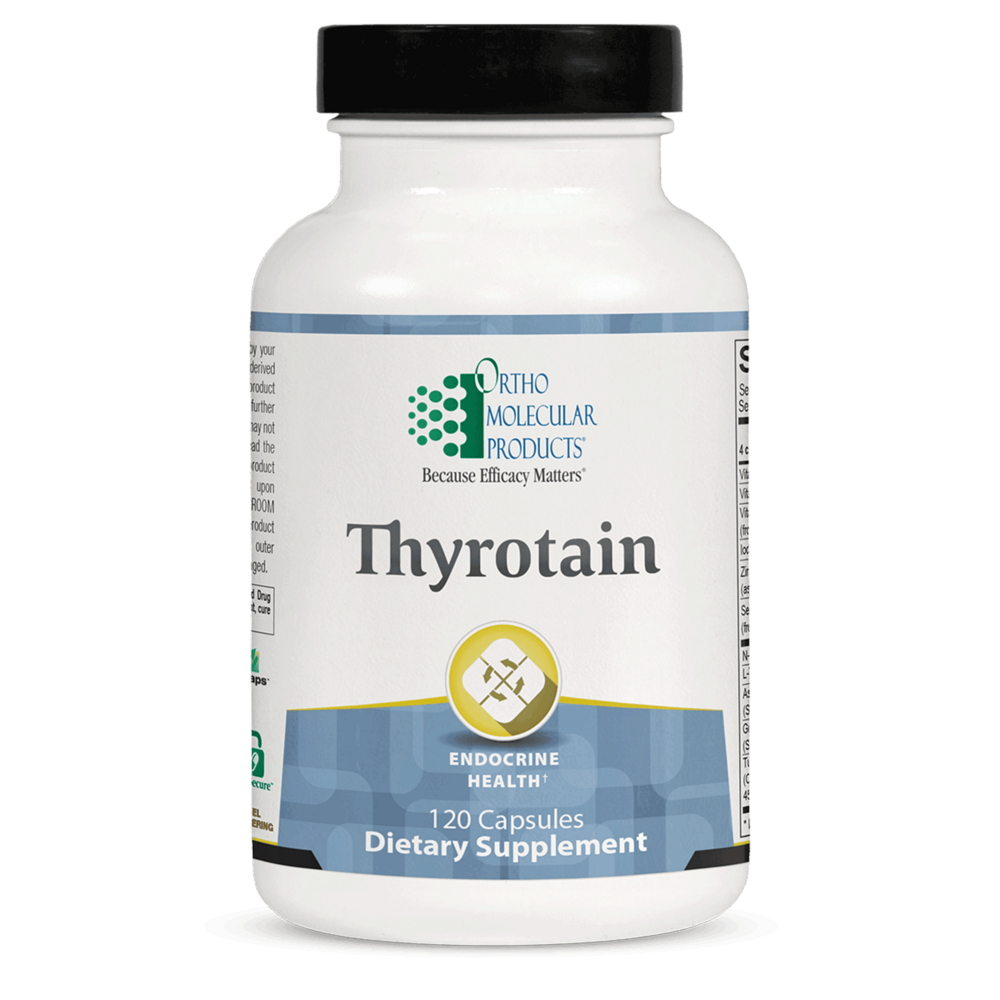 SKU: OHM-620120
Thyrotain
Thyrotain includes a multidimensional blend of nutrients and botanicals to help maintain healthy thyroid function.*
4 capsules per day or as recommended by your health care professional.
Serving Size: 4 Capsules
Amount Per Serving
Vitamin A (from 2,500 IU as Palmitate)
750 mcg
Vitamin C (as Ascorbic Acid USP)
200 mg
Vitamin E
(from 200 IU as d-Alpha Tocopherol Succinate USP)
134 mg
Iodine (from Potassium Iodide)
200 mcg
Zinc
(as TRAACS® Zinc Bisglycinate Chelate)
20 mg
Selenium
(from Selenium-enriched Yeast)(SelenoExcell®)
200 mcg
N-Acetyl-L-Cysteine USP
500 mg
L-Tyrosine USP
400 mg
Ashwagandha Root Extract
(Standardized to contain 1.5% Withanolides)
300 mg
Guggul Resin
(Standardized to contain 2.5% Guggulsterones)
150 mg
Turmeric Root Extract
(Standardized to contain 95% Curcuminoids)
100 mg
Other Ingredients
Natural Vegetable Capsules, Microcrystalline Cellulose, Magnesium Stearate, Calcium Silicate, and Silicon Dioxide.

Does Not Contain
Gluten, artificial colors and flavors.
Do not consume this product if you are pregnant or nursing. Consult your physician for further information.