Baby Probiotic (6-12 Months)
LoveBug Probiotics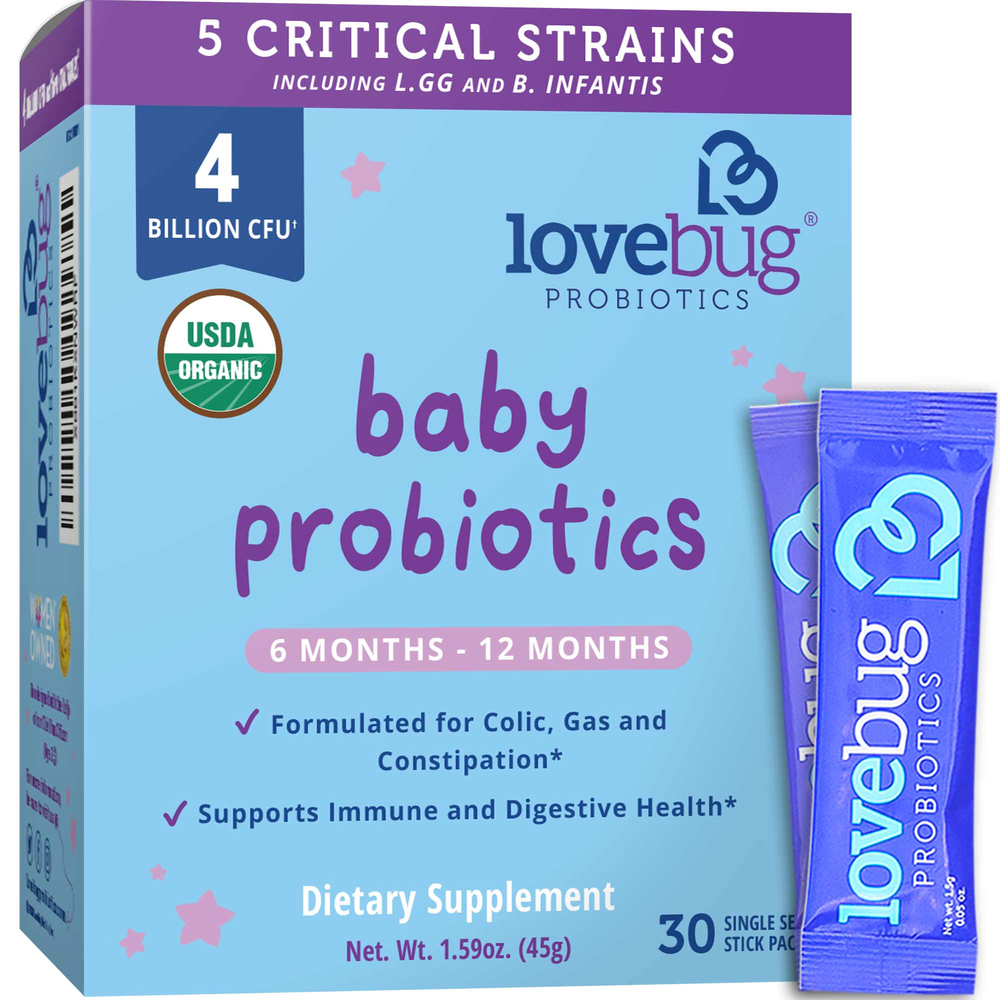 SKU: LOV651-TT6TO1230
A safe and gentle probiotic specifically formulated for your baby. Helps with occasional gas and digestive upset; Supports the healthy immune system of your child.
The first years of life are crucial to the physical and mental development of children. A child's microbiome is seeded during birth as the baby passes through the birth canal. By the child's third birthday, the gut microbiome stabilizes and closely resembles the microbiome of an adult. Ensuring your child has the best possible bacterial exposures from birth throughout early childhood could be vital for your child for the rest of their lives.
Help your kids feel their best from the inside out with our easy to mix daily pre-portioned stick packs! Our baby probiotic was formulated with 5 powerful probiotic strains, all proven to help strengthen and improve your child's developing digestive system and immune system. Plus, we've made sure to add prebiotic fiber to fuel the probiotic strains, so they can get to work on repairing your baby's gut health. And because we're moms too, we've made sure that none of our products include GMO's, allergens, artificial colors or flavors.
THE FIRST STAGED PROBIOTIC FOR BABIES: The first 4 years of life is the critical window when a baby's microbiome is forming, building your child's immune system, aiding in brain development and laying the foundation of lifelong health. By encouraging a balance of good bacteria in the gastrointestinal tract, these probiotics for infants - 6 months work naturally with your baby's body.*
HAPPY TUMMIES, HEALTHY BABIES: Lactobacillus rhamnosus GG (LGG) - the #1 clinically studied strain - is proven to help reduce occasional tummy troubles, and occasional digestive upset and is in all of our baby probiotics.*
NATURAL, SAFE & EFFECTIVE: Not all probiotics for babies are created equal. Our baby probiotic has 5 critical strains, including LGG and B. Infantis, and B. lactis. Our formula is Non-GMO, sugar free, allergen free and has added prebiotic to feed the good bugs in every easy to administer daily dose.
CREATED BY A MOM, FOR MOMS: LoveBug Probiotics BABY PROBIOTIC helps your baby's digestive tract to work better and support a healthy immune system when taken regularly.
EASY TO ADMINISTER: Individual stick packs maintain freshness and are easy to use.
Suggested Use:

As a dietary supplement for babies 6-12 months. 1 packet daily. For colicky babies, 2 packets daily. Just give your child one stick pack a day before a meal. It's as simple as that!
Directions: Empty entire packet into cool food or drink. Mix until dissolved. Store in a cool dry place away from direct sunlight.
The benefits of probiotics are cumulative, which means they are meant to be consumed daily for optimal digestive, immune, and gut health.
Serving Size:
1 Packet (1.5g)
Amount Per ServingTotal Carbohydrate
... 1g
Dietary Fiber
... 1g
Proprietary Probiotic Blend
... 4 Billion CFU†
Bifidobacterium lactis, Bifidobacterium infantis, Lactobacillus rhamnosus GG, Lactobacillus reuteri, Lactobacillus plantarum
Other Ingredients:
organic modified tapioca starch, organic erythritol and silica.
†4 Billion CFU at expiration.
Warning
: Adult supervision required. Keep out of reach of children. Consult your child's pediatrician before giving this, or any dietary supplement, to your child. Do not use if seal is missing or broken. Do not give this product to children with immune problems unless directed by a physician.