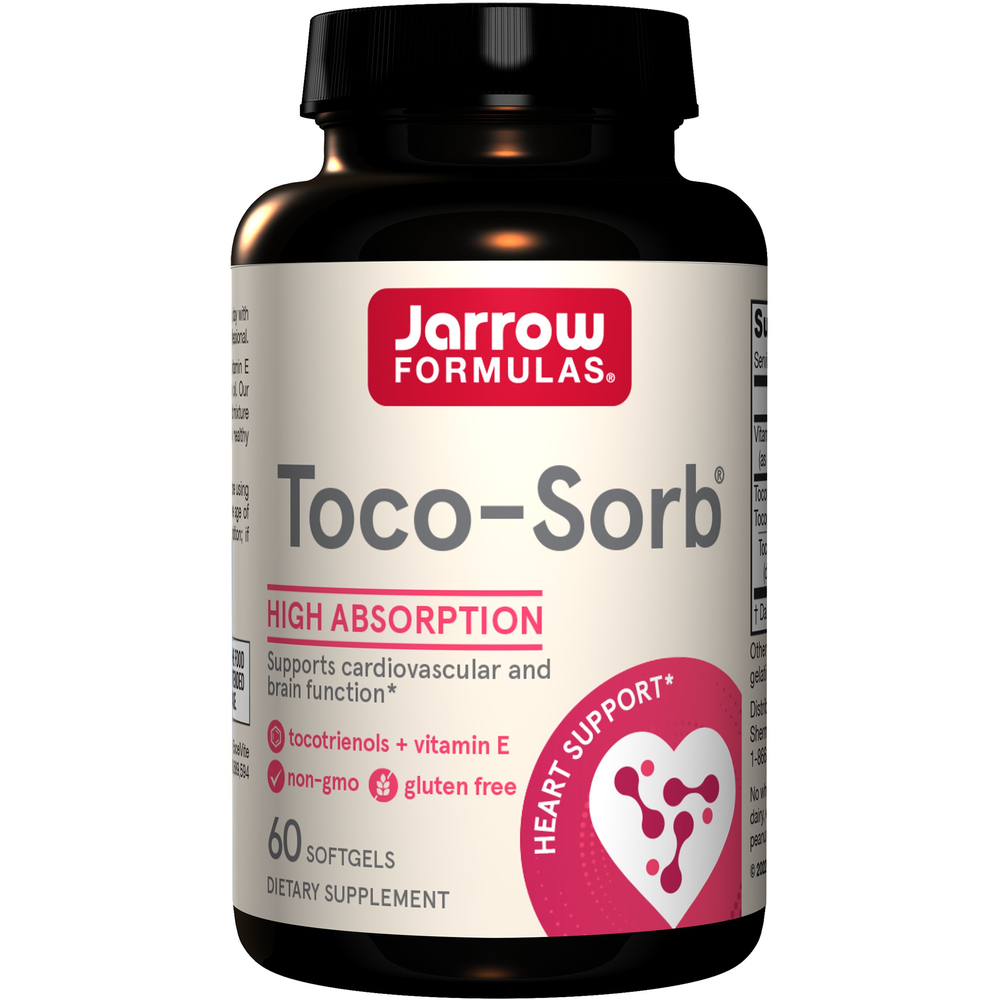 SKU: JAR-TOCO
Toco-Sorb®
Mixed Tocotrienols and Vitamin E Complex
-Supports Healthy Cardiovascular* & Brain Function
Toco-Sorb® tocotrienol-vitamin E complex utilizes SupraBio® enhanced absorption system. Tocotrienols protect cardiovascular function by affecting biosynthesis of cholesterol and reducing oxidation of low density lipoprotein (LDL-Cholesterol).* Toco-Sorb® also maintains healthy brain functions.*

Typically, bioavailability of tocotrienols is low. Patented SupraBio® specialized lipid mixture enhances tocotrienol uptake 2 to 3 times. Toco-Sorb® is derived from natural full spectrum palm oil
Take 1 softgel 1 or 2 times per day with a meal or as directed by your qualified healthcare professional.
Serving Size: One Softgel

Amount Per Serving
Palm Tocotrienol-Tocopherol Complex ... 375 mg
(Tocomin SupraBio®)
Tocotrienols ... 57 mg
(d-alpha, d-beta, d-gamma, d-delta)
Vitamin E ... 13 mg (19 IU)
(as d-alpha tocopherol)
Other Ingredients: Palm oil and polyoxyl castor oil. Softgel consists of gelatin, glycerin and water.
No wheat, no gluten, no soybeans, no dairy, no egg, no fish/shellfish, no peanuts/tree nuts.
If you have a medical condition, are pregnant, lactating, trying to conceive, under the age of 18, or taking medications, consult your healthcare professional before using this product.
Tocomin SupraBio® is a registered trademark of Carotech,
Inc. and protected by U.S. Patent Nos. 5, 157, 132, 7, 544, 822 and 6, 596, 306
KEEP OUT OF REACH OF CHILDREN.