Tomorrow's Nutrition PRO Sunfiber
Tomorrow's Nutrition PRO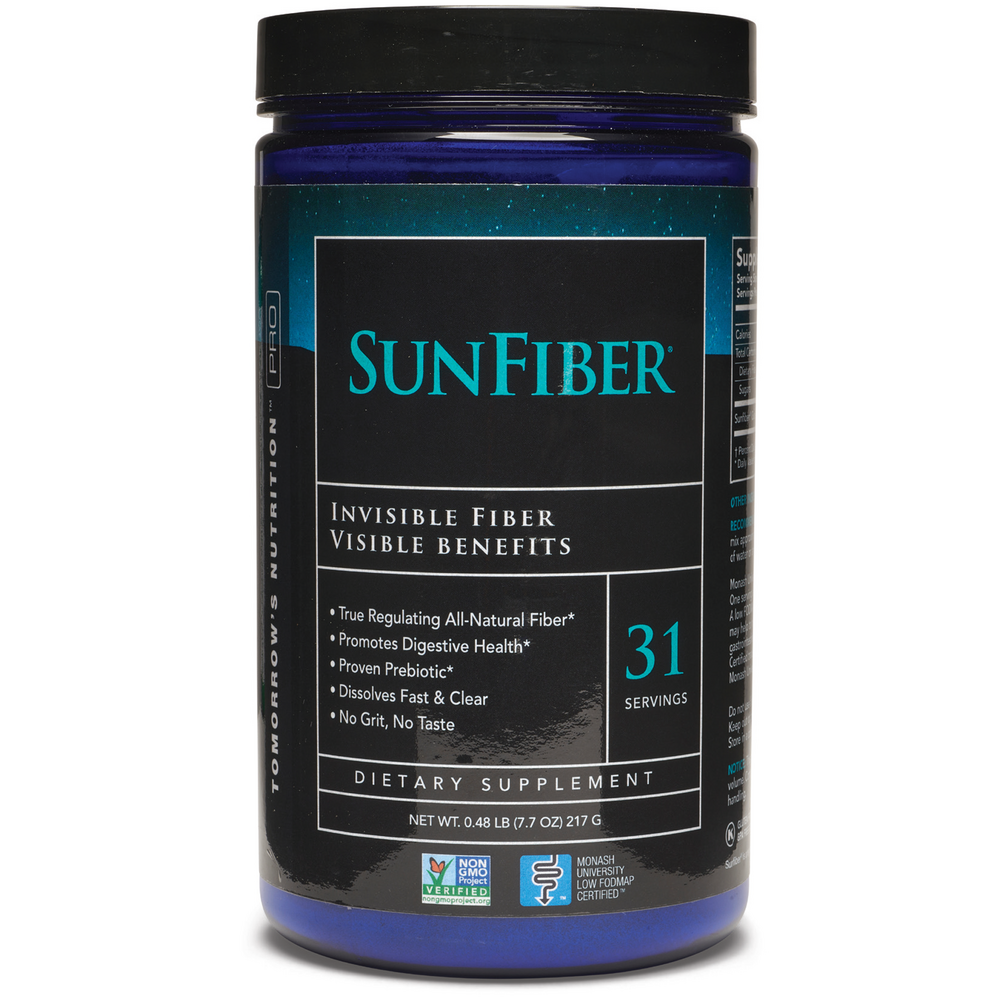 SKU: TMN-TNP4020
Tomorrow's Nutrition Sunfiber® delivers 6 grams of clinically proven, clear, grit free soluble fiber. A true regulating fiber, improves both conditions of occasional constipation and poor elimination as well as occasional diarrhea and loose stools. The result is regularity with healthy consistency.*
Tomorrow's Nutrition Sunfiber promotes intestinal and colon health, aids in the transit of food through the intestines, promotes the absorption of essential minerals and helps control the glycemic index of foods.*
Tomorrow's Nutrition Sunfiber dissolves fast and clear in your favorite beverage and won't alter the taste or texture of foods. Sunfiber may be added to recipes when cooking and baking. Simply stir in Sunfiber until dissolved.
Benefits of Sunfiber:
Excellent source of fiber, delivering 6 grams of soluble fiber per serving
Provides true regularity without excess gas or bloating*
Low FODMAP certified
Prebiotic fiber that maintains a healthy microflora balance*
Not only helps with occasional constipation, but uniquely helps with occasional diarrhea as well, returning stool content to a normal healthy state*
All natural and 100% gluten free (many so called gluten free fibers contain levels up to 20 ppm)
No dairy, soy, sugar, salt, wheat, eggs, artificial flavors or other potential allergens
Doesn't impact the flavor, color, texture or aroma of food or beverages it's added to, allowing it to be mixed with a variety of substances from juice and coffee to bakery products
As a dietary supplement, mix approximately one scoop (7.0 g) into 6-8 ounces of water or any non-carbonated beverage. Shake or stir well.
Serving Size:
1 Scoop (Approx. 7g)
Amount Per ServingCalories
... 15
Total Carbohydrates
... 7g
Dietary Fiber
... 6g
(as Sunfiber®)
Sugars
... 0g
Sunfiber® Guar Fiber
... 7g
(PHGG)
Do not use if safety seal is broken or missing. Keep out of the reach of children. Store in a cool dry place. Warning: If pregnant, nursing or taking prescription drugs, consult your healthcare practitioner prior to use.