Total Gland Plus
Priority One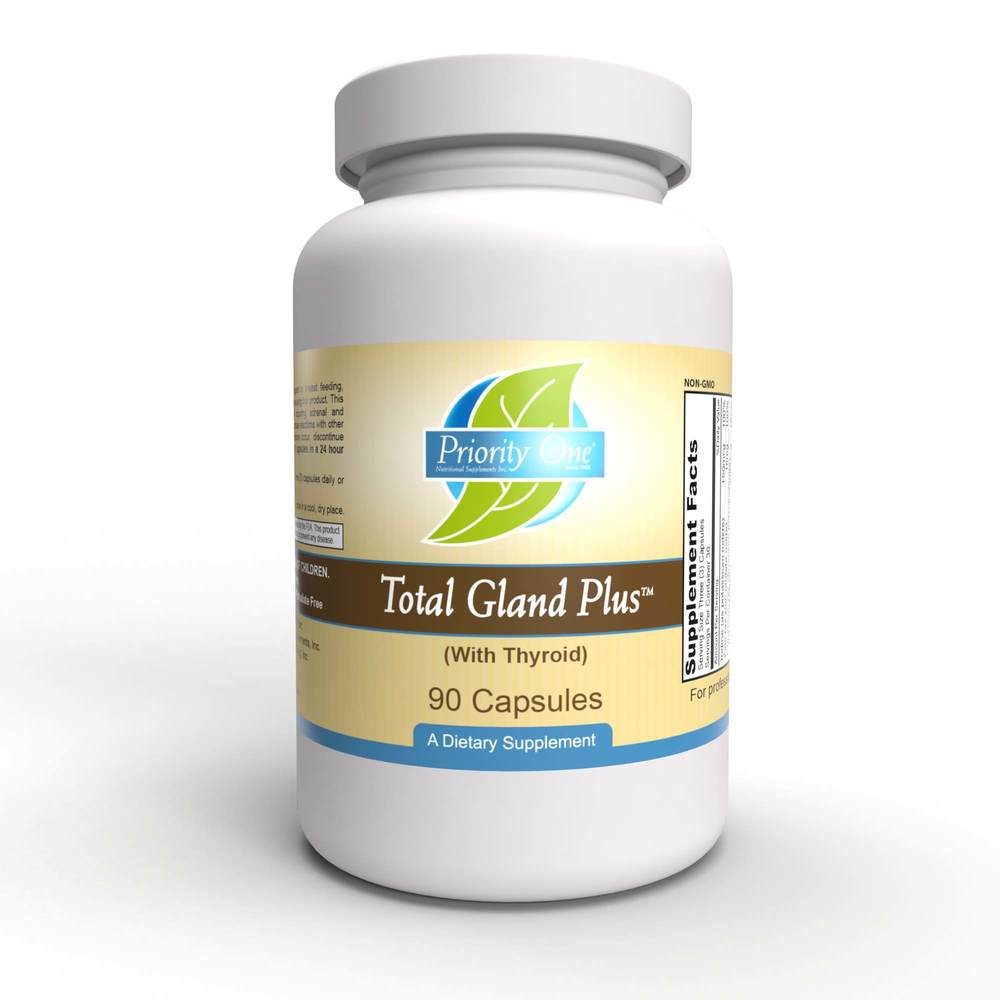 SKU: PR7-1019
NUTRITIONAL BENEFITS
A total system support for both male and females.
MAY BE HELPFUL FOR
Supporting the entire endocrine system.
RECOMMENDATIONS: Three (3) capsules daily as a dietary supplement, or as directed by your physician.
Serving Size: Three (3) Capsules
Amount Per Serving
Liver Concentrate ...250mg**
Adrenal ...195mg**
Pancreas ...195mg**
Thymus ...195mg**
Thyroid ...120mg**
Alfalfa Juice Concentrate ...100mg**
Heart ...97.5mg**
Lung ...97.5mg**
Spleen ...97.5mg**
Duodenum ...65mg**
Kidney ...65mg**
Lymph ...65mg**
Tyrosine ...40mg**
Pituitary ...32mg**
Hypothalamus ...20mg**
Zinc ...15mg / 100% DV
Adrenal Cortex ...10mg**
Stomach Mucosa ...10mg**
Iodine (Kelp) ...400mcg / 266% DV
Chromium G.T.F. ...200mcg / 167% DV
In a base of minerals ...2mg**
** No U.S. Daily Value has been established
Contains:
Rice Powder, Magnesium Stearate, Gelatin
Does Not Contain:
preservatives, sugar, salt, starch, wheat, yeast, corn, dairy or soy derivatives.
KEEP CONTAINER TIGHTLY CLOSED.
STORE IN A COOL, DRY TEMPERATURE.
KEEP OUT OF REACH OF CHILDREN.
If you are pregnant or breast feeding, consult your physician before using this product.
This product contains adrenal and thyroid hormone. May cause a reaction with other thyroid medications. If heart palpitations occur, discontinue use. Do not exceed four (4) capsules in a 24 hour period.