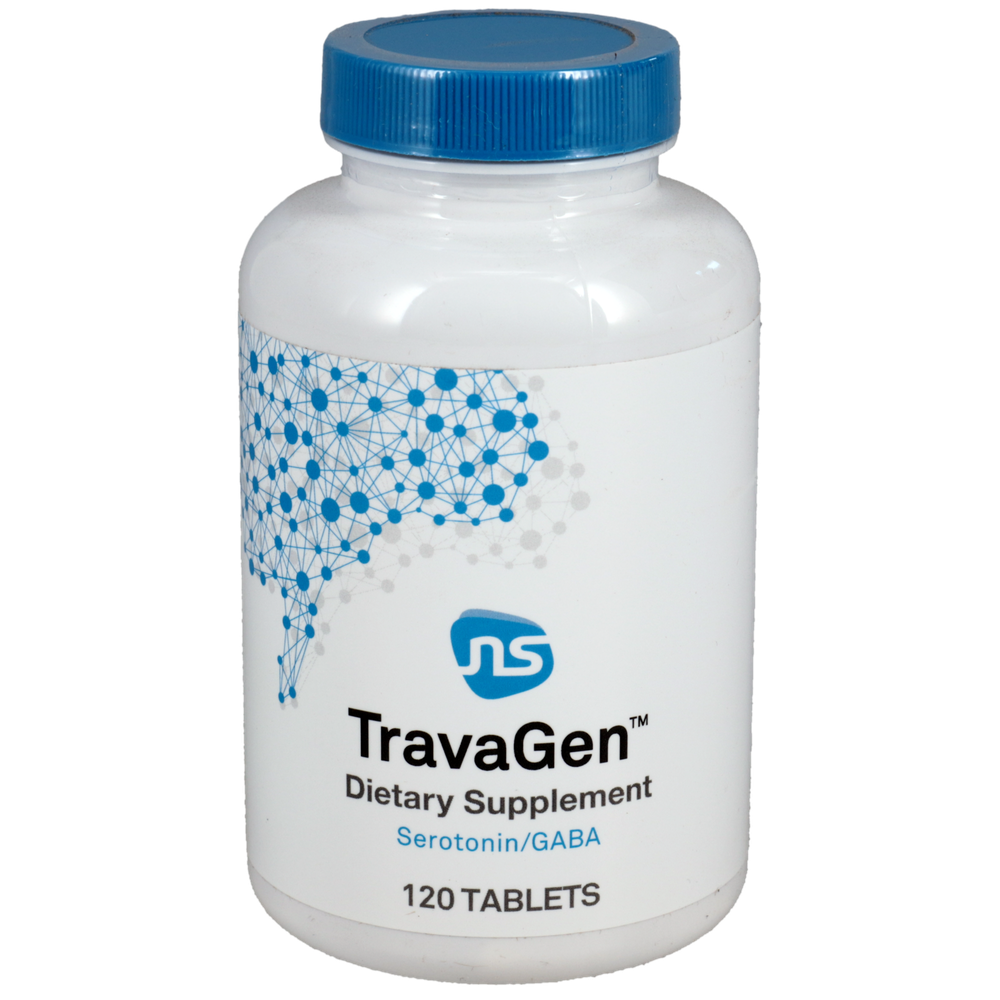 SKU: NEU-20000
TravaGen contains a precise blend of ingredients important for mood and reducing stress.* Featuring L-tryptophan along with active cofactors of B6, B12, C, and 5-MTHF, TravaGen is designed to comprehensively support serotonin and melatonin synthesis while additionally offering taurine and L-theanine for extra stress support.* TravaGen differs primarily to the alternative product TravaCor by utilizing L-tryptophan to provide gentler conversion to serotonin compared to 5-HTP.*
Serotonin and its receptors are an integral part of many physiological functions and are important for regulating mood and sleep-wake function [1, 2]. L-tryptophan, a precursor to serotonin and melatonin, provides gentler conversion to serotonin compared to 5-HTP as the rate-limiting step in the synthesis of serotonin is the conversion of L-tryptophan to 5-HTP [3]*
In a randomized, double-blind, placebo-controlled study, L-theanine was shown to significantly reduce feelings of stress compared to placebo [4].* TravaGen contains L-theanine in amounts that exceed those used in this study.
NeuroScience supplements undergo rigorous, product specific, third party testing to guarantee label claims of each ingredient and the absence of heavy metals, pesticides, residual solvents, and microbes.
*These statements have not been evaluated by the Food and Drug Administration. This product is not intended to diagnose, treat, cure or prevent any disease.
References:
1. Berger M, et al. Annu Rev Med. 2009;60:355-66.
2. Monti J. Sleep Med Rev. 2011;15(4):269-81.
3. Birdsall T. Altern Med Rev. 1988;3(4):271-80.
4. Kimura K, et al. Biol Psychol. 2007;74(1):39-45.
Take 1-3 tablets one to two times daily or as directed by your healthcare provider. Do not exceed suggested use.
Serving Size: 3 Tablets
Amount Per Serving
Vitamin C ... 40mg
(as ascorbic acid)
Niacin ... 25mg NE
(from L-tryptophan)
Vitamin B6 ... 9mg
(as pyridoxal 5'-phosphate)
Folate ... 360mcg DFE
(as L-5-methyltetrahydrofolate, calcium salt)
Vitamin B12 ... 30mcg
(as methylcobalamin)
Calcium ... 75mg
(from dicalcium phosphate)
Phosphorus ... 60mg
(from dicalcium phosphate)
Zinc … 6mg
(from zinc bisglycinate chelate)
Selenium ... 7mcg
(from L-selenomethionine)
Proprietary Blend ... 1.95g
L-tryptophan, Taurine, and L-theanine
Other Ingredients: Microcrystalline cellulose, food grade glaze, hypromellose, croscarmellose sodium, stearic acid, magnesium stearate (vegetable source), silicon dioxide, and magnesium silicate.
Does not contain: Gluten and Non-GMO ingredients.
If you are pregnant or nursing, consult your healthcare provider before use. Keep out of reach of children.