Trehalose Complex
D'Adamo Personalized Nutrition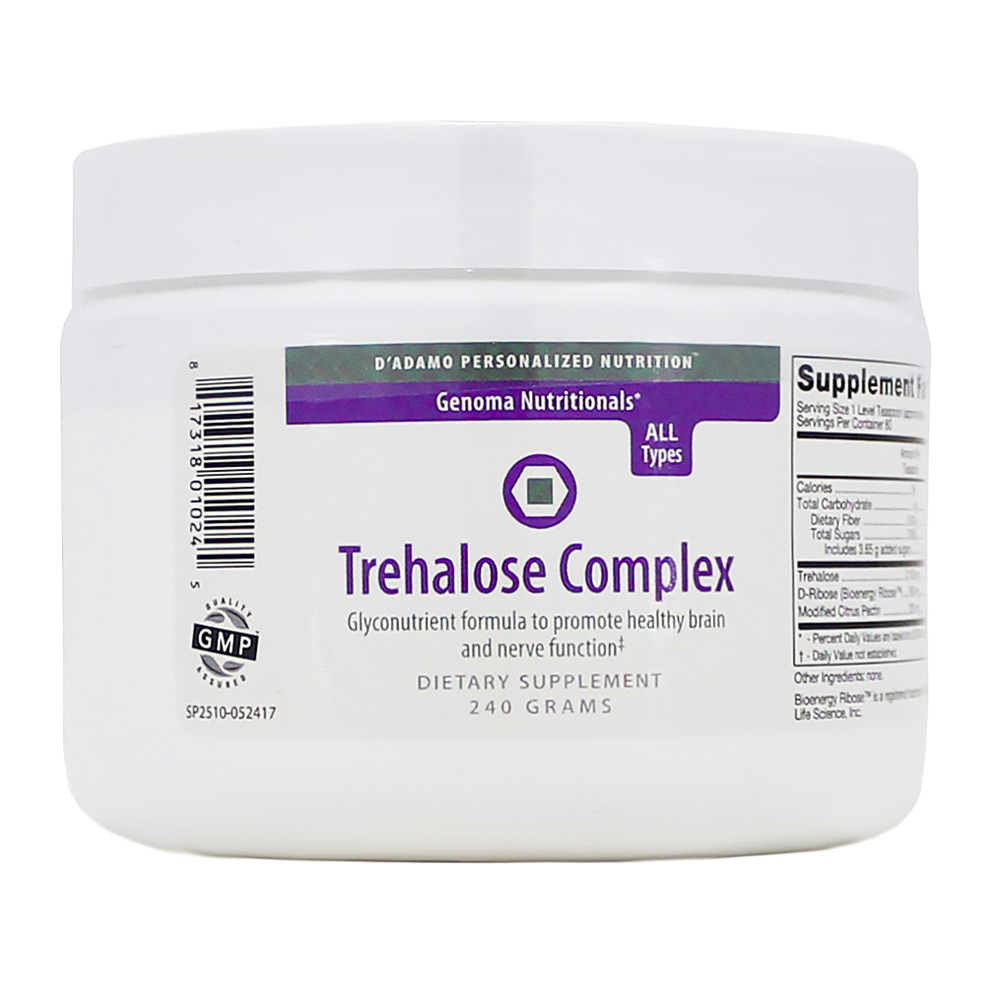 SKU: NAP-NP067
Supplement to promote healthy cognitive and nerve function while providing healthy aging support.
Trehalose is a natural sugar found in many organisms, including bacteria and plants. Research has shown that it may help protect cell integrity against various environmental stresses like heat, cold, dehydration, and oxidation. It may also help promote healthy cognitive and nerve function and provide healthy aging support to nerve tissues against environmental toxins.
Dr. Peter D'Adamo, author of Eat Right 4 Your Type, combined trehalose with synergistic factors to produce Trehalose Complex, perhaps the most important healthy aging nutraceutical yet developed. Trehalose Complex contains ingredients to ensure maximum utilization and bioavailability. Trehalose has been accepted as a novel food ingredient in the EU and under the GRAS system in the U.S.
Trehalose works by encouraging the healthy function of molecules known as chaperones. Molecular chaperones work to insure that the proteins inside our cells 'fold' together to ensure proper function of becoming an enzyme, or a hormone, etc.
(Unfolded proteins may trigger a cell-wide stress reaction resulting in a stress response that accelerates the cells aging process.)
Trehalose chaperones move in an attempt to "re-fold" the protein properly.
Suggested Use:
Take a level teaspoon of Trehalose Complex twice daily or as recommended by a physician. Mix a level teaspoon in a cup of warm water and some lemon.
Serving Size: 1 Level Teaspoon (approx 4 grams)
Amount Per Serving
Calories ... 16
Total Carbohydrate ... 4g
Dietary Fiber ... 0.24g
Total Sugars ... 3.65g
Trehalose ... 3,100mg
D-Ribose ... 550mg
(Bioenergy Ribose™)
Modified Citrus Pectin ... 235mg

Other Ingredients: None.
This 100% vegetarian product contains no sucrose, fructose, salt, wheat, yeast, corn, soy, eggs or dairy, no preservatives, color or flavors, and no artificial ingredients.
Bioenergy Ribose™ is a registered trademark of Bioenergy Life Science, Inc.
Note: For optimum results, Dr. D'Adamo recommends taking Trehalose an hour away from green tea, coffee, curcumin or quercetin.
It looks like there are no similar
products available