Trident SAP 65:10
Nutritional Fundamentals for Health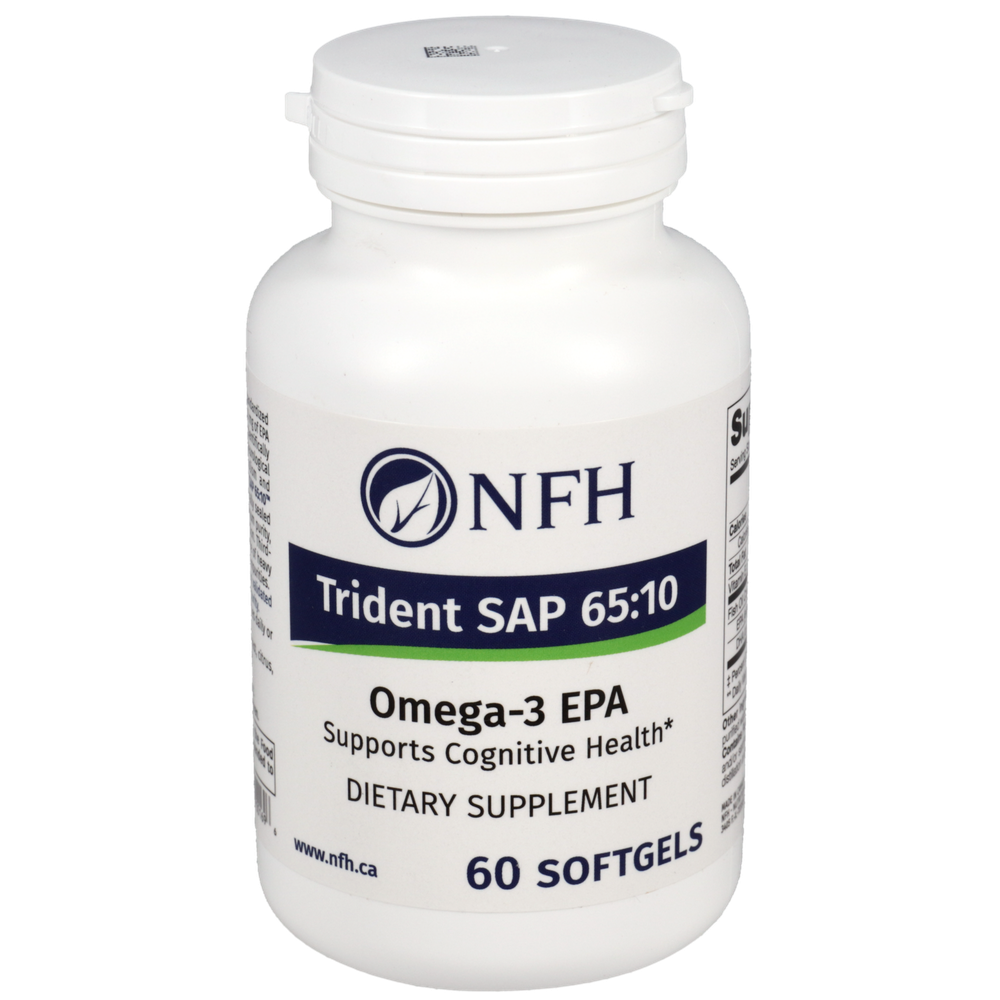 SKU: NFH-1069
Trident SAP 65:10™ is a fish oil of exceptional purity, standardized to the highest concentration. Each softgel provides 650 mg of EPA and 100 mg of DHA. The high ratio favoring EPA is scientifically researched to support optimal mood, cognitive, and neurological health by promoting healthy eicosanoid metabolism and supporting a healthy inflammatory response.* Trident SAP 65:10™ contains vitamin E as an antioxidant and is hermetically sealed to be secure against entry of oxygen, ensuring maximum purity, freshness and stability of the oil through to expiration. Third-party test results guarantee Trident SAP 65:10™ is free of heavy metals, PCBs, pesticides, volatile organics, and other impurities.
Adults: Take 1 softgel one to four times daily or as directed by your health-care practitioner.
Serving Size: 1 Softgel
Amount Per Serving
Calories ... 13
Calories from fat ... 13
Total Fat ... 1.4g
Vitamin E ... 5IU
(d-alpha-Tocopherol) (from sunflower)
Fish Oil Concentrate ... 1400mg
EPA ... 650mg
(eicosapentaenoic acid)
DHA ... 100mg
(docosahexaenoic acid)
Other Ingredients: Softgel capsule (gelatin, glycerin, and purified
water).
Contains Fish: Wild Atlantic deep-sea anchovy (Engraulis encrasicolus) and/or sardine (Sardina pilchardus). Pharmaceutical grade. Molecularly distillation and/or CO2 extraction.
Contains no: Preservatives, artificial flavour or colour, yeast, corn, soy, wheat, gluten, dairy, sugar, or starch.
This product is non-GMO.
Warning: Do not use if seal is broken. Keep out of reach of children.