Trust Your Gut: Kids Probiotic Stick - Fruit Punch
Ora Organic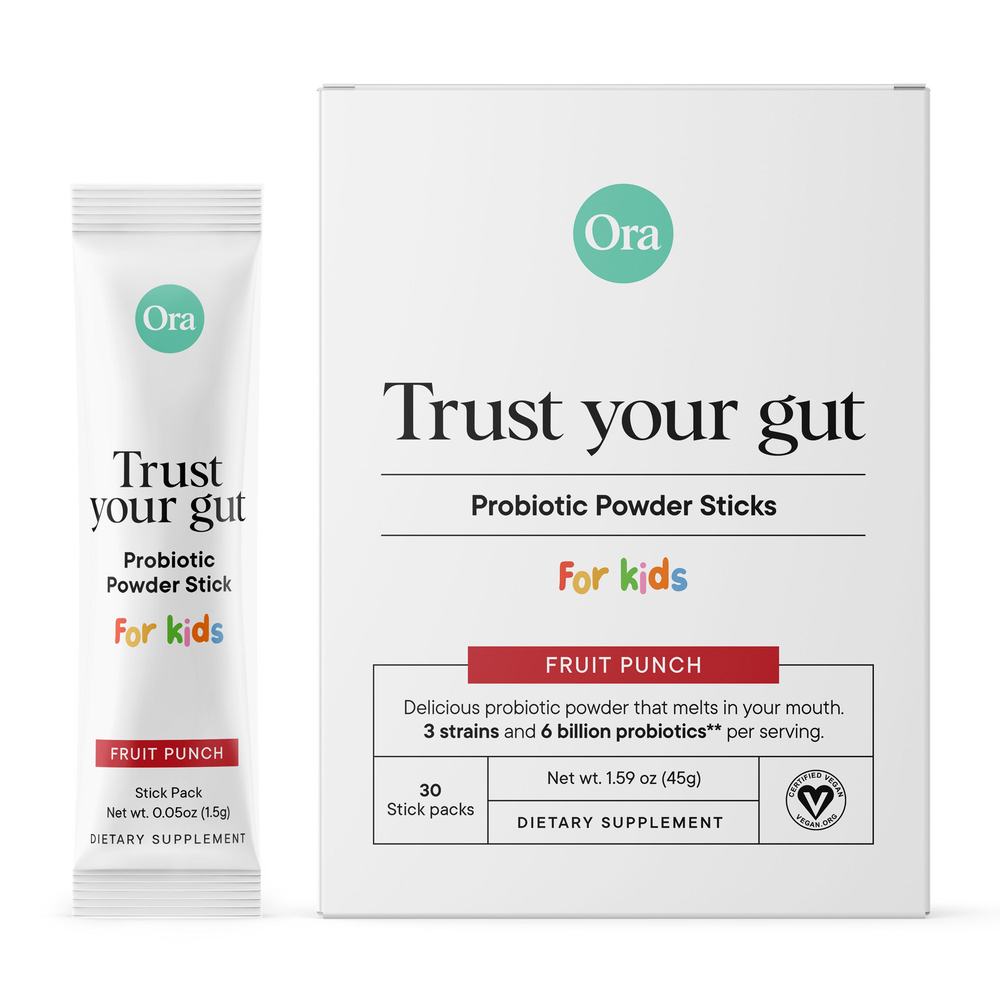 SKU: ORA858-10234
Digestive and immune health support for kids aged 4 and up.† Delicious probiotic + prebiotic powder that melts in your mouth like candy.
Product Overview
Trust Your Gut Pixies for Kids contains 3 clinically-studied probiotic strains with health benefits for kids, in a melt-in-your-mouth powder they'll actually enjoy taking!
Our probiotics are acid-resistant (meaning they're able to survive in the gut) and have been shown in studies to help support:
a healthy immune response
upper respiratory health
healthy digestive function
This is a synbiotic, which means it also includes prebiotics to enhance the effectiveness of the probiotics. Unlike other brands, we use an organic prebiotic and include a potent dosage to better support your gut microbiome.
To use: Tear open the stick packet and pour the powder directly into your mouth and onto your tongue. The powder will melt quickly, making it easy to swallow and without the need for water.
It can help to take your probiotic with food (as there may be additional prebiotics in your food that help the probiotics thrive in your gut) - but it isn't a requirement. Don't worry about finding the "perfect" time of day. Simply choose a time that works for you.
Product Benefits
Shelf-stable and no refrigeration necessary, so you can take them on the go!
5 billion probiotics from 3 organic compliant and acid-resistant bacteria strains
Includes prebiotics from organic Jerusalem artichoke inulin
Vegan, soy free, dairy free, and gluten free
No preservatives, artificial flavors, colors, or sweeteners
Key Ingredients
When combined with Lactobacillus acidophilus DDS®-1, Lactobacillus rhamnosus LGG® has been shown in studies with healthy children to help alleviate digestive discomfort including occasional gas, bloating, and irregularity.†
The combination of L. acidophilus DDS®-1 and Bifidobacterium lactis (UABla-12®) has been studied in children and found to support a healthy immune response against common germs.
Supports Your Goals
The probiotics found in Trust Your Gut have been researched for their potential to support more regular digestion.* These strains may also help to optimize the immune system* and support a balanced mood.*
Taking a daily probiotic may help you maintain balance in your microbiome* and ultimately optimize your bowel movements and immune system.* Probiotics can also help form essential nutrients and vitamins and support a healthy inflammatory response.*
Good To Know
Trust Your Gut is kid-friendly! Do check in with your doctor to discuss any allergies or concerns your child may have.
Each one of Ora Organic's products is tested for cleanliness and safety. This third-party testing also certifies that what's on the label is exactly what you'll get!
About the Brand
Ora Organic harnesses the Earth's most powerful plants to transform your health. 'Ora' comes from the New Zealand Māori greeting 'Kia Ora' which literally translates to 'be well.' And that's exactly what we help you do with our focus on plant-based, quality nutrition, and ethical sourcing.
Suggested Use:
Take 1 stick and pour the powder directly into your mouth and on to your tongue. The powder will melt quickly upon touching your tongue, making it easy to swallow.
Serving Size
: 1 Stick (1.5 g)
Amount Per Serving
Calories
... 5
Total Carbohydrates
... 1g
Organic Jerusalem Artichoke Inulin
... 170mg
Ora Probiotic Blend
... 37mg
Total Cultures
... 6 Billion CFU
Lactobacillus rhamnosus LGG®
Lactobacillus acidophilus ... DDS®-1
Bifidobacterium lactis UABla-12®
Other ingredients:
Organic Xylitol, Organic Fruit Punch Flavor, Organic Rice Hulls, Organic Cherry Flavor, Maltodextrin.
Contains NO:
Dairy, gluten, soy, tree nuts, added sugars, filler ingredients, artificial colors, flavors, sweeteners or preservatives.
Warning
: If pregnant, nursing, or taking prescription drugs, consult your healthcare professional prior to use.
It looks like there are no similar
products available