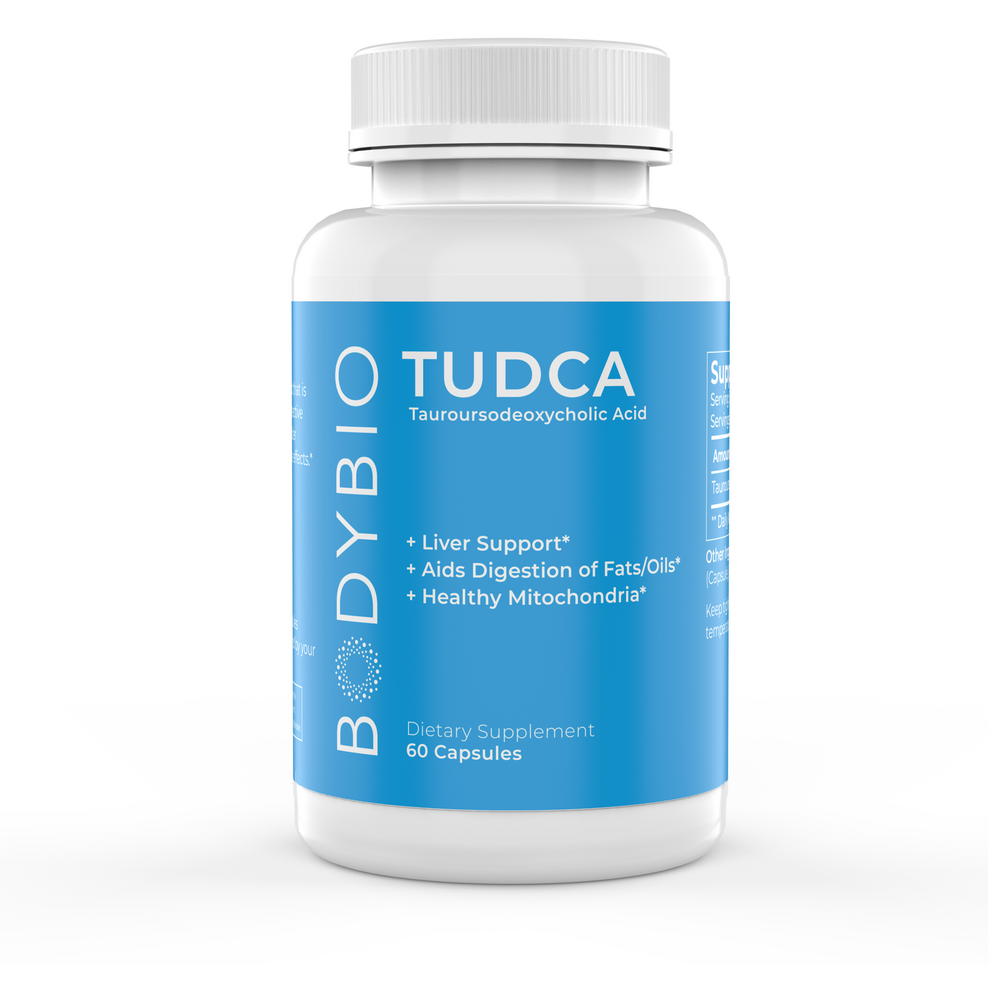 SKU: KAN-TU60
TUDCA is a bile acid naturally formed in the body that supports the digestion and utilization of fats and oils and demonstrates neuroprotective benefits*.
TUDCA supports digestive ability by supporting healthy fat metabolism and breakdown as well as proper nutrient absorption. It is also supportive to cellular and mitochondrial health.
However, the human body only produces small amounts of TUDCA (or tauroursodeoxycholic acid). In a healthy person, digestion re-circulates some 95% of the body's bile salts. Poor diet, decreased liver function, and certain medications can impair this process. This is where supplementation is key.
Specifically formulated to:
Support digestion*

Support the liver*

Neuroprotective support*
Why Buy BodyBio TUDCA?
Quality matters. We don't use fillers or additives. There is no way to achieve the powerful benefits of Tudca without strict internal and external quality control. The raw materials of BodyBio Tudca undergo extensive testing for the presence of mold prior to encapsulation. BodyBio's Tudca supplement is free of wheat, gluten, yeast, soy, dairy, artificial colors, and resins.



Benefits:
Supports the digestion of fats and oils*

Promotes a healthy microbiome with healthy biodiversity*

Supports a healthy inflammation response in the GI tract to help prevent leaky gut*

Helps reduce cellular stress & protect DNA

May address fatty liver, biliary cirrhosis and hepatitis*

May be effective in supporting neurological concerns*

Assists in clearing toxins*

Stabilizes the cell membrane*

Works with other bile salts to prevent premature cell death (apoptosis)*

Eases stress on the endoplasmic reticulum (ER) to improve protein folding*

May provide neuroprotective benefits.*

May help regulate the immune system*

May affect genetic expression and mitochondria*

May dissolve gallstones before they are completely formed*

May cause liver and muscle to be more sensitive to insulin (High insulin sensitivity helps cells use blood glucose more effectively, which can help reduce blood sugar.)*
Suggested Use:
Take 1-2 capsules with food, unless otherwise directed by your healthcare professional.
Serving Size
: 2 capsules
Amount Per ServingTauroursodeoxycholic Acid
… 500mg
Other Ingredients
: Gelatin (capsule), rice flour.
This product is Gluten Free and Non-GMO.
It looks like there are no similar
products available