Tulsi Immune Daily
Organic India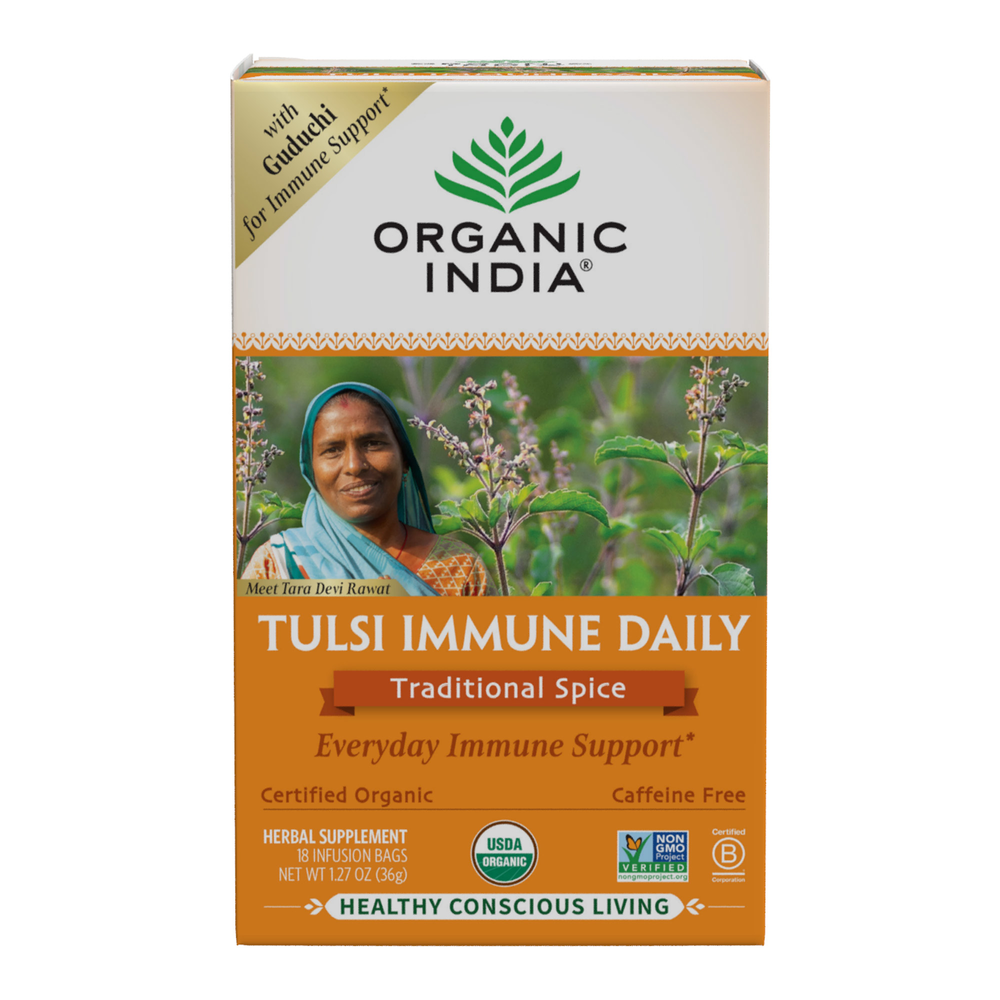 SKU: ORI-801541519477
Amplify your body's natural resilience with some of the most revered herbs and spices from India. In this tea blend, immune-supporting Guduchi marries with adaptogenic Tulsi and swirls with Ginger and Cinnamon for an experience that's as strengthening as it is comforting. Enjoy daily for a rush of wellness that warms, balances and invigorates ⁠— so that you can feel your best year-round, naturally.
Benefits:
Immune-supporting. Guduchi and Tulsi are beloved in the Ayurvedic tradition for their ability to help optimize the body's immune response.*
Relaxing. Tulsi helps the body manage physical, environmental and mental stressors — bringing an overall feeling of relaxation and vitality.
Inflammatory response. Turmeric supports a healthy inflammatory response.*
Soothing. Ginger and Cinnamon support healthy circulation and lung function.*
Nurturing. Amla is classified as a 'superfruit' because of its multiple nutritional benefits.
Suggested Use:
Place one or more infusion bags in your cup. Add freshly boiled water. Cover and steep for 8-12 min.
Serving Size: 1 infusion bag (makes 8 fl. Oz)

Amount Per Serving
Proprietary Organic Blend … 2g
Organic Tulsi Blend
Organic Holy Basil (Ocimum sanctum) (Rama & Krishna varieties) (leaf)
Organic East Indian Basil (Ocimum gratissimum) (Vana variety) (leaf)
Organic Guduchi (Tinospora cordifola)(stem)
Organic Ginger (rhizome)†
Organic Ginger (rhizome)†
Organic Pippali (Piper longum) (fruit)†
Organic Hibiscus (flower)†
Organic Cardamom (pod)
Organic Fennel (Seed)†
Organic Amla (fruit)†
Organic Clove (flower bud)†
Organic Turmeric (rhizome)†
Organic Fennel (seed)†
Organic Cinnamon (bark)†
This product is USDA Organic, Non-GMO, Vegan, Vegetarian, Gluten Free.


Warning: If pregnant or nursing, consult a physician before use.