Turmeric Extract 500mg
Klaire Labs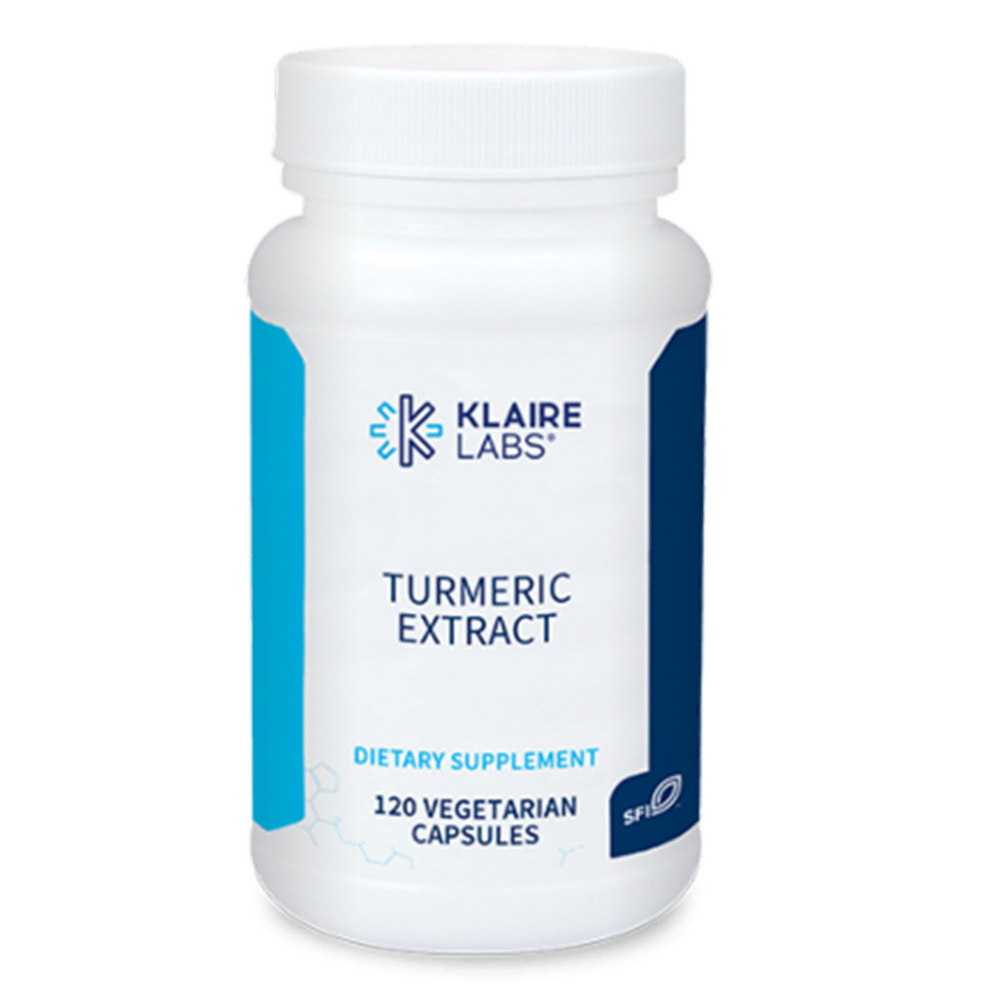 SKU: COM-CP5102
What is Turmeric Extract?
-Reduces upset stomach and occasional heartburn*
-Maintains a balanced inflammatory response*
-Promotes healthy immune function*
-Supports healthy circulation*
Turmeric Extract is revered for its multitude of health benefits. It has long been used for its ability to promote overall vitality and good health, from digestion to circulation.*
Our Turmeric is concentrated and standardized for its most active components.
A historical past of Turmeric Extract:
Historically, turmeric extract has been used in Indian (Ayurvedic) and Traditional Chinese cultures to aid digestion, support the liver, maintain healthy flora, regulate menstruation, and strengthen the body.*
It is referred to as carminative, with aromatic and stimulant properties according to ancient texts.* Turmeric is included in the German Commission E Monograph.
Benefits in current research:
Contemporary research has allowed scientists to better understand the benefits of turmeric extract that ancient traditions embraced. Recent findings include identifying how turmeric modulates inflammatory pathways, targets specific immune cells, and promotes healthy blood flow. It also has antioxidant properties*.
Curcuminoids, including curcumin, are the active components found in the root and rhizomes of the plant.

Suggested Use:
Individuals use 2-6 capsules for targeted benefit.
Serving Size: 2 Capsule
Amount Per Serving
Turmeric root and rhizome extract ... 500mg
(Curcuma longa)(95% curcuminoids)
Other Ingredients: Hydroxypropylmethylcellulose (vegetarian capsule), microcrystalline cellulose and magnesium stearate.

Free of the following common allergens: milk/casein, eggs, fish, shellfish, tree nuts, peanuts, wheat, gluten, soybeans, corn, and yeast. Contains no artificial colors, flavors, or preservatives.


Caution
: Not for use by persons under 18 years of age. If you are pregnant, nursing, have a medical condition (including liver, bile duct or gallbladder dysfunction), or taking prescription drugs, consult your physician before using this product. If you experience nausea, vomiting, abdominal pain, yellowing of skin/eyes, dark urine, sweating, unusual tiredness and/or loss of appetite, stop using this product and contact your physician.
KEEP OUT OF REACH OF CHILDREN