Turmeric Curcumin Extra Strength† - Joint
MegaFood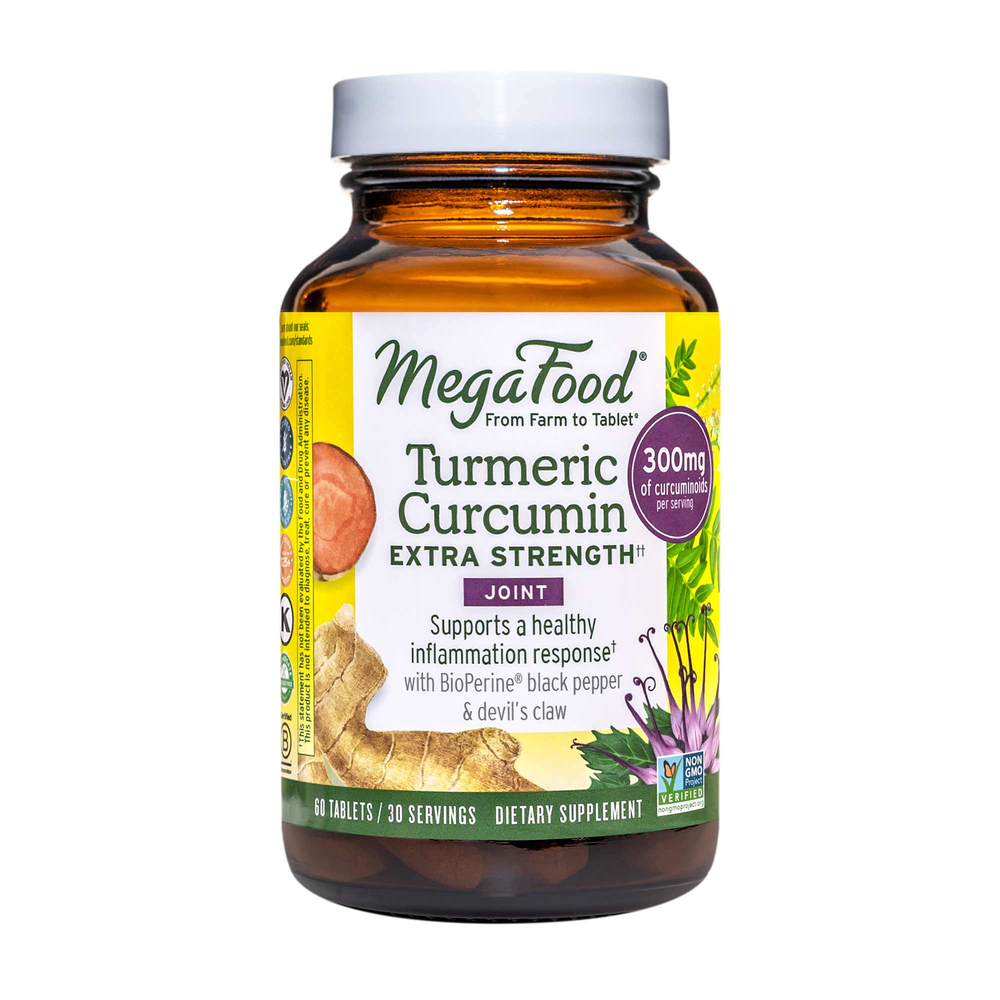 SKU: MEG-10310
Turn to turmeric to support for your joints*
Supports a healthy inflammation response of the joints resulting from occasional over-exertion or vigorous exercise *
Features our proprietary Turmeric Strength Blend (500 mg turmeric root & 300 mg turmeric extract) to deliver a guaranteed minimum of 300 mg curcuminoids per serving*
We add BioPerine®, a patented black pepper extract, to support the absorption of curcuminoids (which alone are very difficult for the body to assimilate)
Includes ginger root, boswellia & devil's​ ​claw,​ ​an herb traditionally​ ​used​ ​to​ ​provide​ ​joint​ ​comfort*
Suggested Use:
Take 2 tablets daily with a beverage. May be taken anytime throughout the day, even on an empty stomach.

Serving Size:
2 Tablets
Amount per ServingTurmeric Strength Blend
(300 mg Curcumin) ... 800 mg
500mg Turmeric Root† (Curcuma longa), 300mg Turmeric Root Extract (95% Curcuminoids) (Curcuma longa)
Healthy Joint & Mobility Blend
... 600 mg
300mg Boswellia Gum Resin Extract (Boswellia serrata), 300mg Devil's Claw Root Extract (Harpagophytum spp.)
Ginger Root
... 200 mg
(Zingiber officinale)
BioPerine® Black Pepper Extract
... 3 mg
(95% Piperine) (Piper nigrum)
Other Ingredients:
Microcrystalline cellulose, silicon dioxide, stearic acid, hypromellose.
This product is Certified Vegan, Gluten Free, Dairy Free, Soy Free, Non-GMO, Kosher.
Warning:
If you are pregnant or nursing or are using any prescription medication, consult your healthcare practitioner before taking this product.