Twice Daily Multi™
Designs for Health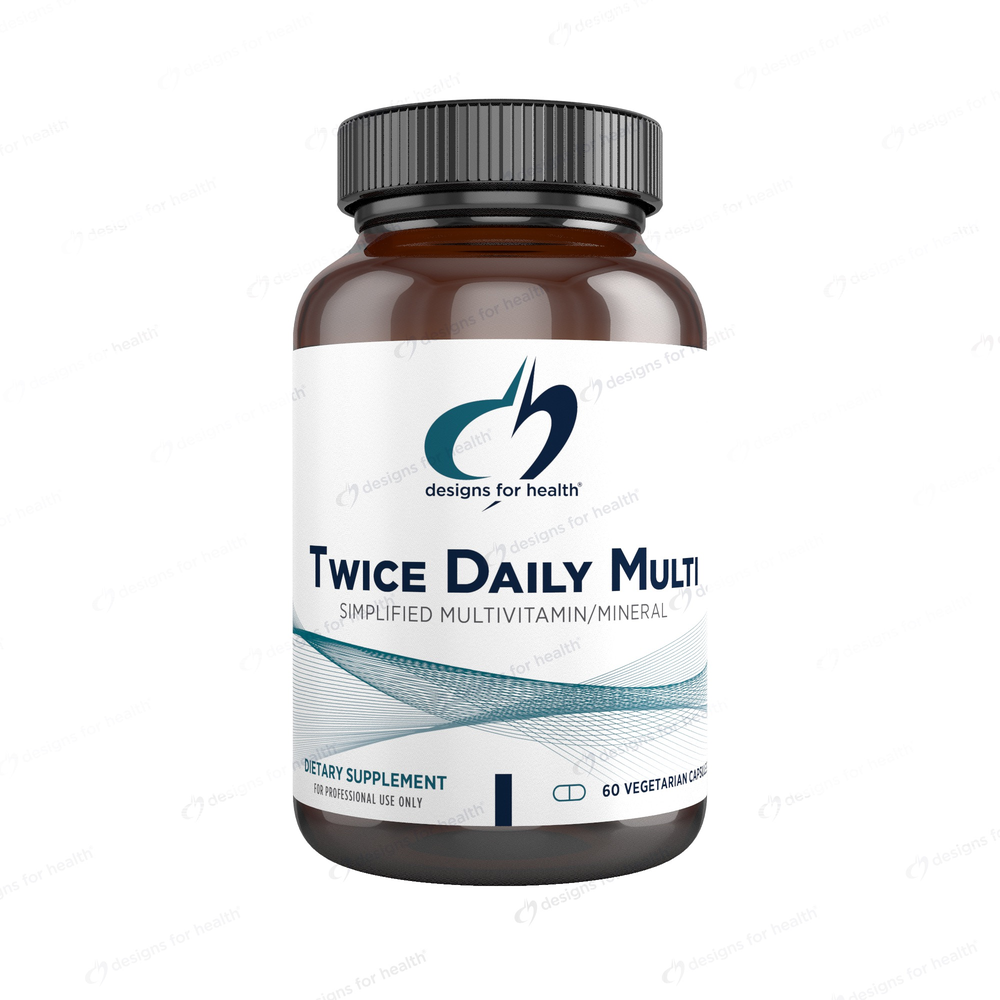 SKU: DFH-TDM060
Twice Daily Multi™ contains optimal amounts of many nutrients not easily obtained in most diets. It uses higher quality ingredients than most multivitamins, including vitamin E Isomers as DeltaGold® tocotrienols, a highly bioavailable form of folate, and true amino acid chelate minerals for optimal tolerance and absorption. These exceptional ingredients are combined in an up-to-date, science-based formulation to create a truly superior multivitamin.
Suggested Use:
Take two capsules per day with meals, or as directed by your health care practitioner.
Serving Size: 2 capsules
Amount Per Serving
Vitamin A ... 960mcg RAE
(from Palmitate and Mixed Carotenoids)
Vitamin C ... 500mg
(as Ascorbic Acid)
Vitamin D ... 25mcg
(1000 IU) (as Cholecalciferol)
Vitamin K ... 120mcg
(as K1 Phytonadione, Vitamin K2 Menaquinone-4 and MenaQ7® Full Spectrum MK-6, MK-7, MK-9)
Thiamin ... 2.3mg
(Vitamin B-1)(as Thiamin HCl)
Riboflavin ... 2.8mg
(Vitamin B-2)
Niacin ... 50mg NE
(as Niacinamide and Niacin)
Vitamin B-6 ... 5.2mg
(as Pyridoxal-5-Phosphate)
Folate ... 680mcg DFE
(as Quatrefolic® [6S]-5-methyltetrahydrofolate, glucosamine salt 800 mcg)
Vitamin B-12 ... 500mcg
(as Methylcobalamin)
Biotin ... 30mcg
(as d-Biotin)
Pantothenic Acid ... 12mg
(as d-Calcium Pantothenate)
Iodine ... 150mcg
(as Potassium Iodide)
Zinc ... 15mg
(as Zinc Bisglycinate Chelate)
Selenium ... 200mcg
(as Selenium Glycinate Complex)
Manganese ... 1mg
(as TRAACS® Manganese Bisglycinate Chelate)
Chromium ... 200mcg
(as TRAACS® Chromium Nicotinate Glycinate Chelate)
Molybdenum ... 100mcg
(as TRAACS® Molybdenum Glycinate Chelate)
Vitamin E Isomers ... 15mg
(as DeltaGold® delta and gamma tocotrienols)
Boron ... 2mg
(as Bororganic Glycine)
Other Ingredients: Cellulose (capsule), microcrystalline cellulose, vegetable stearate, silicon dioxide.
Gluten Free, Dairy Free, Soy Free, Vegetarian and Non-GMO


Warning:
If taking a blood-thinning medication, consult a health care practitioner before using.