Ultimate Flora Extra Care 50 Billion
Renew Life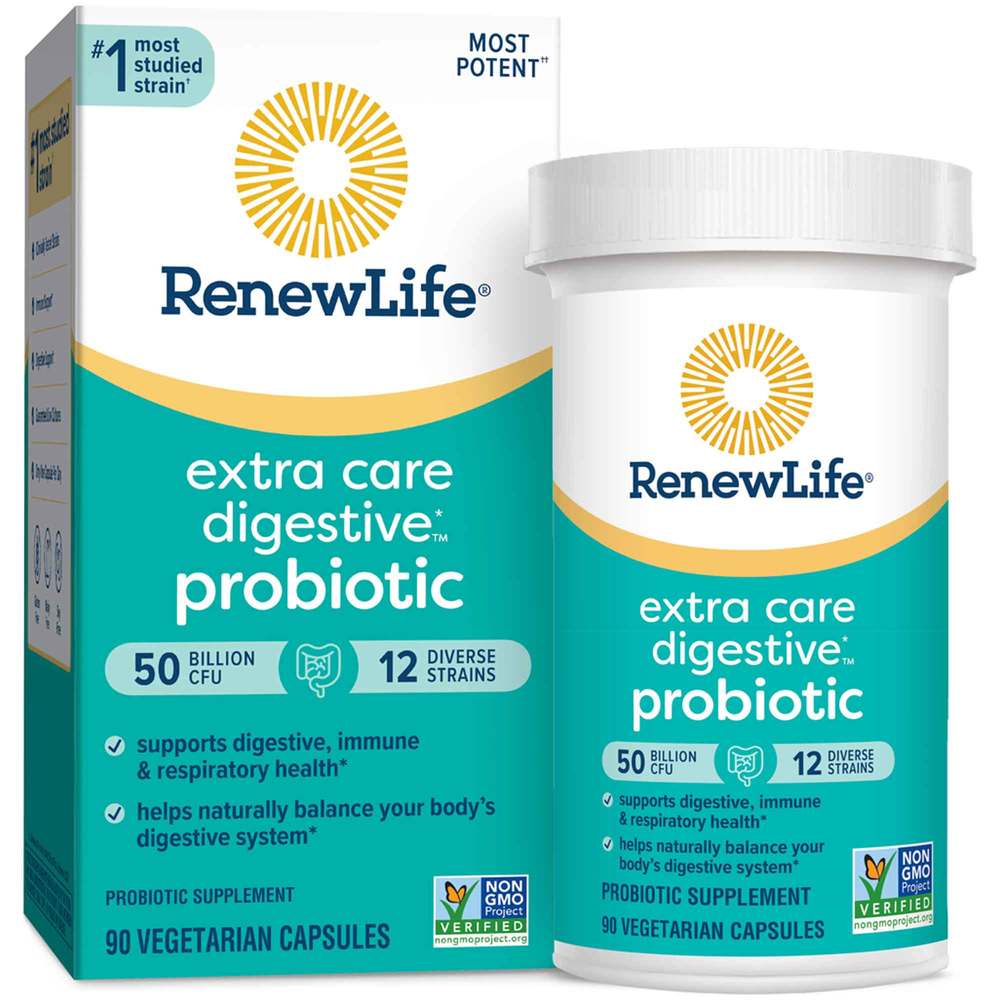 SKU: RNL-RN1550084
Ultimate Flora™ Extra Care Probiotic 50 Billion is a high-potency formula with 12 scientifically studied Bifidobacterium and Lactobacillus strains designed to re-establish digestive balance for those who experience occasional digestive discomfort.* When taken regularly, it also helps promote digestive and immune health so you feel better, lighter, and more energized.*

Ultimate Flora Extra Care Probiotic 50 Billion
Supports digestive and immune health*
World Class Strains backed by science: formulated by neuroscientists, microbiologists, chemists and researchers
Includes the #1 most-studied strain‡
Smaller, easier-to-swallow, once-daily capsule; delayed release capsule helps the probiotics reach your gut alive
Potency, quality and purity guaranteed through expiration
Made in the USA using only the highest
50 billion live probiotic cultures
12 probiotic strains
Vegetarian capsules
Free of gluten, dairy and soy

Non-GMO Project Verified
Suggested Use:
For best results, take one capsule daily, with or without food.
Serving Size: 1 Capsule
Amount Per Serving
Extra Care Probiotic Culture Blend ... 50 Billion CFU***
Bifido Probiotic Blend 28 Billion CFU
Bifidobacterium lactis BI-04®
Bifidobacterium lactis HN019™
Bifidobacterium lactis BI-07®
Bifidobacterium infantis Bi-26™
Lacto Probiotic Blend 22 Billion CFU
Lactobacillus plantarum Lp-115®
Lactobacillus rhamnosus GG
Lactobacillus acidophilus NCFM®
Lactobacillus lactis LI-23™
Lactobacillus casei Lc-11®
Lactobacillus paracasei Lpc-37®
Lactobacillus acidophilus La-14®
Lactobacillus brevis Lbr-35™
Other Ingredients: Microcrystalline cellulose, capsule (hypromellose, gellan gum), and medium chain triglycerides.
This product is Non-GMO Verified, Gluten Free, Dairy Free, Soy Free.
Note: Store in a dry place at 77°F (25°C) or below. Best if refrigerated.
Keep out of reach of children.
Consult your physician before using this or any product if you are pregnant, nursing, or under medical supervision.