Ultra Binder® Sensitive Formula
Quicksilver Scientific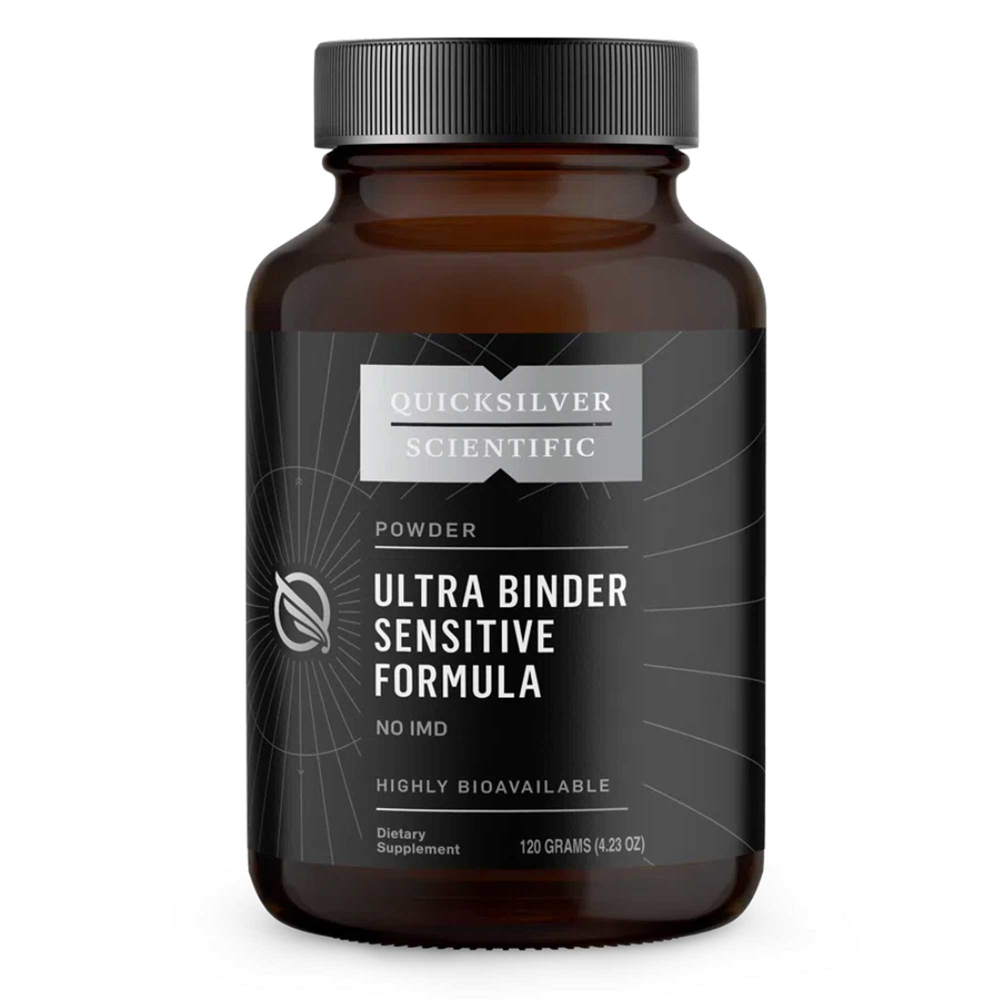 SKU: QSL-Q1066
Binders are materials which adsorb or absorb substances and are widely used in applications such as water and air filtration, and medically in settings of poisonings or medication overdoses. However, many fail to recognize the broader impact they may have on the health of the human body,* which is chronically subject to a wide variety of environmental toxins. In the gastrointestinal (GI) tract, binders capture and block the uptake of GI-derived toxins, and also block the re-uptake of toxins secreted in bile. This not only has effects locally, but also systemically.* Ultra Binder is a comprehensive blend of natural materials that bind a extensive array of toxins including heavy metals, pesticides, herbicides, phthalates, bisphenol A (BPA), mold toxins, and bacterial endotoxin (also known as lipopolysaccharide, or LPS). In addition to the negative impacts that these substances may have on metabolism, immune, and endocrine system function, some of them, in particular mold toxins and LPS, block detoxification.* 1,2,3 Thus, in order to support our body in the process of detoxification it is of utmost important to minimize exposures and support the elimination of these substances.*

Ultra Binder brings together an optimized combination of Bentonite Clay, Activated Charcoal, Chitosan, Acacia Gum, Aloe Vera. This combination acts locally in the gastrointestinal tract to adhere to toxins, tightly binding and carrying them out of your system so the body is able to detoxify safely and naturally.*
Mix 1 teaspoon into 8 ounces of water once daily or as directed by healthcare professional. Take 30 minutes before or 2 hours after meals or medications.



Serving Size: 4 Grams

Amount Per Serving
Dietary Fiber ... 1g
Fiber/Clay Proprietary Blend ... 1.36g
Inavea™ Original (gum Arabic), Zeolite, Sodium Bentonite Clay.
Proprietary Blend ... 2.64g
Activated Charcoal, Chitosan, BioAloe® Aloe Vera leaf
If pregnant, consult a physician before use.