Fresh Catch Ultra EPA-DHA
Barlean's Organic Oils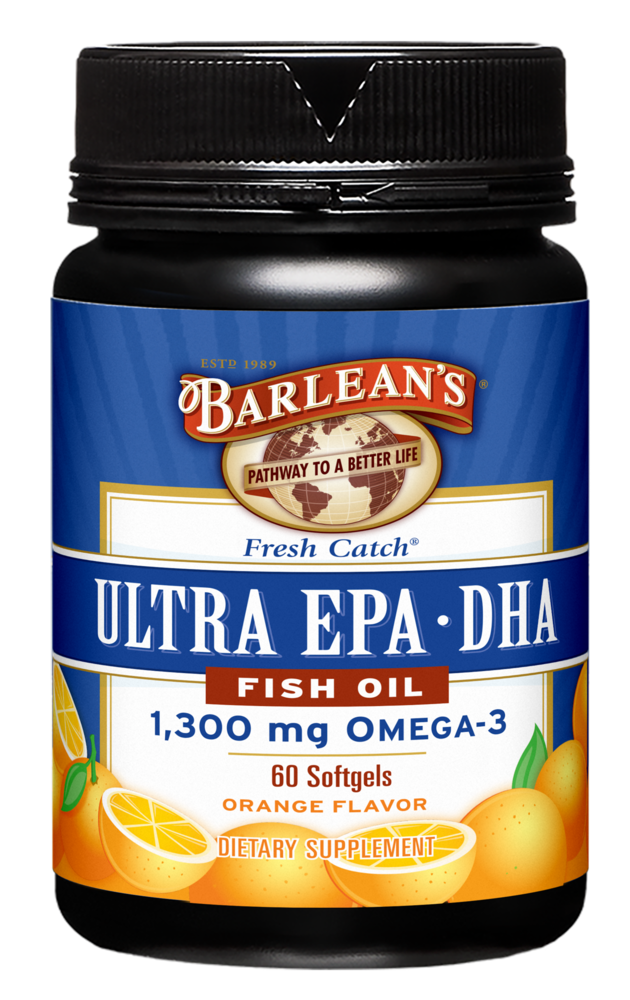 SKU: BAR-BFCED60
Fresh Catch Ultra EPA-DHA is a highly concentrated source of pure and pristine, pharmaceutical-grade fish oil with the ideal dose and ratio of EPA and DHA Omega-3. Meets the American Heart Association's recommendation of 2-4 grams of EPA/DHA daily for the support of optimal heart health and healthy triglyceride levels.*
Take 2-6 softgels daily with a meal.


Serving Size: 2 Softgels (2g)

Amount Per Serving
Calories ... 20
Total Fat ... 2 g
Saturated Fat ... 0 g
Polyunsaturated Fat ... 1 g
Monounsaturated Fat ... 0 g
Cholesterol ... 5 mg
Omega-3 Polyunsaturated Fat: Eicosapentaenoic Acid ... 787 mg (EPA)
Docosahexaenoic Acid ... 394 mg (DHA)
Other Omega-3 Fatty Acids ... 197 mg

Ingredients: Fish oil (Anchovy, Sardine, and/or mackerel), softgel (gelatin, glycerine, water, and caramel color), natural citrus flavor, and antioxidant blend (lecithin (sunflower and soy) natural mixed tocopherols, rosemary extract, ascorbyl palmitate, ascorbic acid, and citric acid)
Keep bottle tightly closed. Store in a cool, dry place, out of reach of children.