Ultimate Flora Extra Care 100 Billion
Renew Life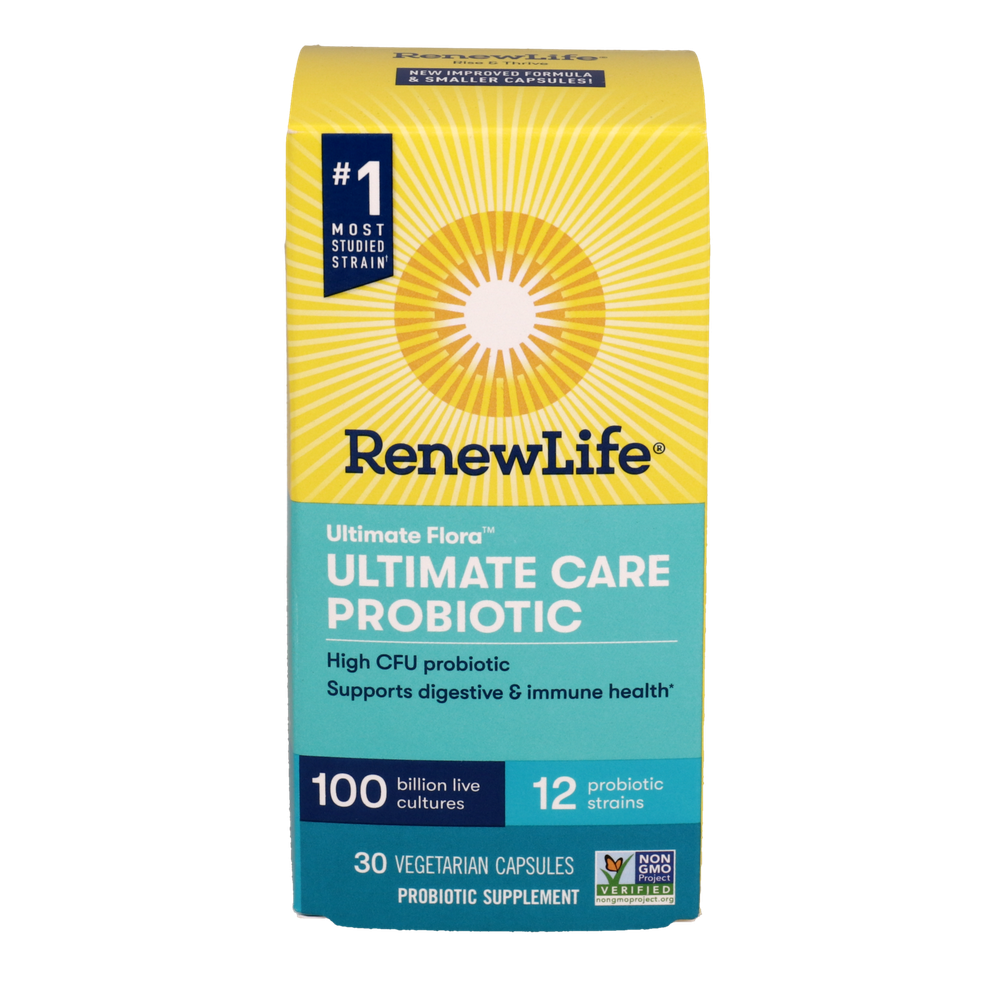 SKU: RNL-15350
Ultimate Flora™ Extra Care Probiotic 100 Billion is a high-potency formula with 12 scientifically studied Bifidobacterium and Lactobacillus strains designed to re-establish digestive balance and help prevent occasional gas and bloating.* When taken regularly, it also helps promote digestive and immune health so you feel better, lighter, and more energized.*
Extra Care Probiotic to Re-Establish Digestive Balance*
100 billion live cultures per capsule
12 scientifically studied probiotic strains
Helps prevent occasional gas and bloating*
Promotes digestive and immune health*
Once daily, delayed-release capsule for targeted delivery
Dairy, gluten and soy free
Quality, purity, and potency guaranteed through expiration
For best results, take one capsule daily, with or without food.
Serving Size: 1 Capsule
Amount Per Serving
Ultimate Care Probiotic Culture Blend 100 Billion CFU ... 301mg

Bifido Probiotic Blend 54 Billion CFU
Bifidobacterium lactis BI-04
Bifidobacterium lactis HN019
Bifidobacterium lactis Bi-07
Bifidobacterium infantis Bi-26
Lacto Probiotic Blend 46 Billion CFU
Lactobacillus acidophilus
Lactobacillus lactis LI-23
Lactobacillus casei Lc-11
Lactobacillus paracasei Lpc-37
Lactobacillus plantarum Lp-115
Lactobacillus acidophilus La-14
Lactobacillus acidophilus NCFM
Lactobacillus rhamnosus GG
Lactobacillus brevis Lbr-35

Other Ingredients: Microcrystalline cellulose, capsule (hypromellose, gellan gum), and medium chain triglycerides
Store in a dry place at 77°F (25°C) or below. Best if refrigerated.
Keep out of reach of children.
Consult your physician before using this or any product if you are pregnant, nursing, or under medical supervision.