Seriously Delicious High Potency Passion Pineapple Smoothie
Barlean's Organic Oils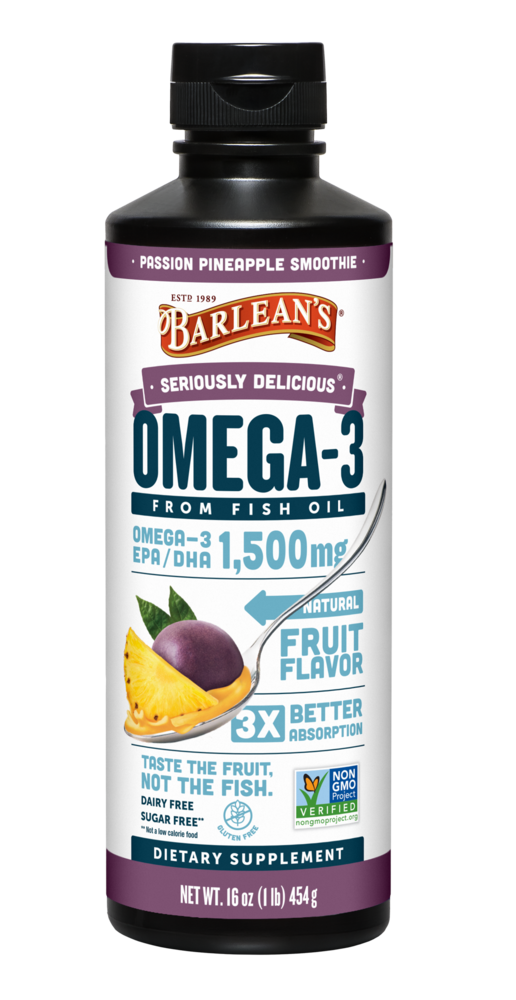 SKU: BAR-BE16FPP
Why No Fish Burps?

A lot of people notice something's missing when they take Barlean's Seriously Delicious Omega-3. And what's missing is those dreaded fish burps. That's great news - but what's even better news is WHY you don't get the fish burps.

Fish burps are a sign that your body hasn't properly absorbed your fish oil supplement. That's not good news, because we can only benefit from what we absorb into the bloodstream. We make Seriously Delicious Omega-3 with a proprietary process that turns high quality purified fish oil into creamy, delicious treats.... that are also highly absorbable.

Suggested Use:
Adults & children ages 4 and up: 1 Tbsp daily. Great straight or in yogurt, oatmeal or smoothies.


Serving Size: 1 Tbsp (15 ml)

Amount Per Serving
Calories ... 70
Total Fat ... 5 g
Saturated Fat ... 1.5 g
Polyunsaturated Fat ... 2 g
Monounsaturated Fat ... 1 g
Cholesterol ... 35 mg
Total Carbohydrate ... 6 g
Total Sugars ... 0 g
Added Sugars ... 0 g
Sugar Alcohol ... 5 g
Omega-3 Polyunsaturated Fat Eicosapentaenoic Acid ... 910 mg (EPA)
Docosahexaenoic Acid ... 590 mg (DHA)
Other Omega-3 Fatty Acids ... 370 mg

Ingredients: Fish oil (anchovy, sardine and/or mackerel), water, xylitol, glycerine, gum arabic, natural flavors, citric acid, xanthan gum, lycopene and beta carotene, antioxidant blend (Vitamin E (as d-alpha tocopherol), rosemary extract, ascorbyl palmitate, and green tea extract), guar gum, sorbic acid
Keep out of reach of children and never give to pets. Refrigerate after opening.