Ultra Jarro-Dophilus
Jarrow Formulas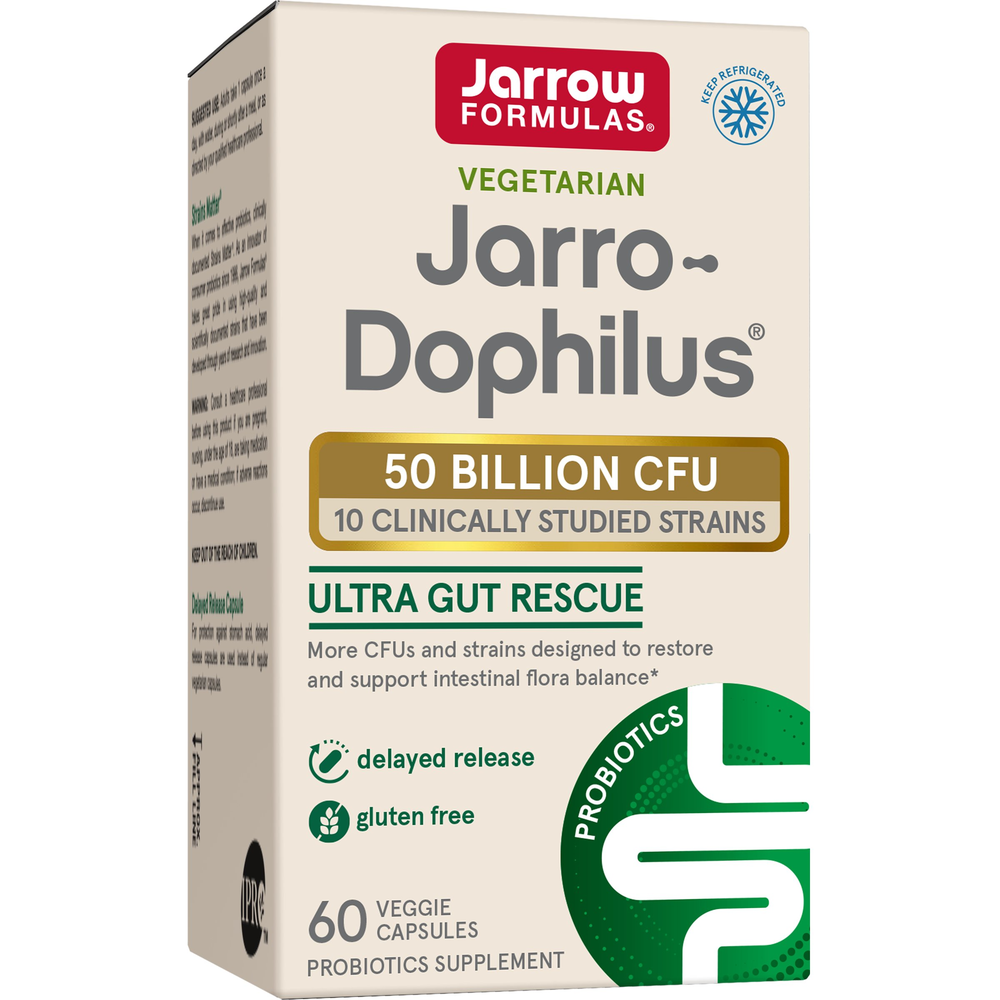 SKU: JAR-ULTJD
10 Beneficial Probiotic Strains
50 Billion Probiotic Organisms Per Capsule
Gel Matrix Gut-Transit Protection
10 Different Strains From 3 Genera
Vegetarian Capsules
Jarrow Formulas® Ultra Jarro-Dophilus® is a high-potency probiotic supplement designed to restore, protect and maintain a balanced intestinal flora.* A maximum survival of viable cells through the stomach and the intestinal tract is made possible by a unique delivery system consisting of a vegetarian acid-resistant capsule, and the integration of the probiotic strains with a gel-forming matrix.* The gel-forming matrix helps provide protection to probiotic bacteria against the negative effects of stomach and/or duodenal fluids.*
Take 1 capsule per day, with water, during or shortly after a meal, or as directed by your qualified health care professional.
Serving Size: One Capsule
Amount Per Serving
Probiotic Blend ... 50 Billion Viable Cells†
L. acidophilus La-14, L. rhamnosus R0011, L. helveticus (L. acidophilus) R0052, L. casei Lc-11, L. paracasei Lpc-37, L. plantarum Lp-115, L. salivarius Ls-33, B. lactis Bl-04, B. breve Br-03, B. longum BB536
Other Ingredients: Sodium alginate (algae derived), calcium phosphate, tapioca starch, maltodextrin, silicon dioxide, magnesium stearate (vegetable source), and vitamin C. Vegetarian acid-resistant capsule consists of hydroxypropylmethylcellulose.
Contains Soy (in trace amounts).
This product does not contain
wheat
gluten
dairy
egg
fish
shellfish
peanuts
tree nuts
NOTE: Immune compromised individuals should consult with their healthcare professional before taking this product.
NOTE: Color of product naturally varies from white to tan.
Keep refrigerated.