Minerals for Life
American Biologics DISCONTINUED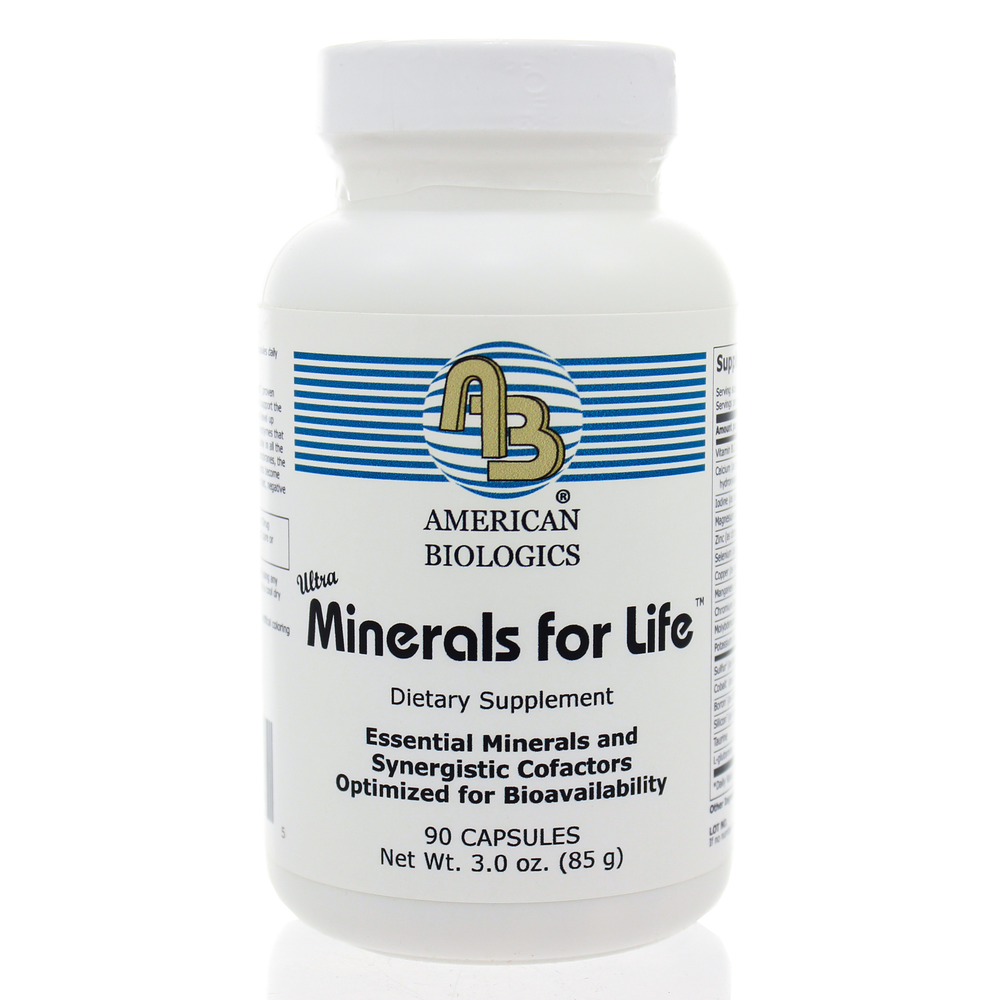 SKU: AME-30310
Minerals for LifeTM provides a wide range of elements ("minerals") proven essential to human life functions. Its constituents and cofactors are said to support the diverse metabolic pathways that facilitate life, from the survival level up through the most sophisticated organ functions. Minerals activate enzymes that control thousands of metabolic pathways operating simultaneously in all the 100 trillion cells living in the body. They are essential to cell membranes, the dynamic action centers of the living cell. These essential elements become depleted from the body by stress, (emotional or chemical) poor diet, negative lifestyle factors, surgery, or tissue trauma.
Recommended Use: As a dietary supplement take one to three (1-3) capsules, preferably between meals or as directed by a physician.
Supplement Facts Each (3) capsules contain: % DV Vitamin B12 (cyanocobalamin) 500 mcg 8333% Calcium (microcrystalline hydroxyapatite, citrate, malate) 100 mg 10% Iodine (potassium iodide) 100 mcg 67% Magnesium (citrate-malate) 150 mg 37% Zinc (citrate) 20 mg 133% Selenium (selenomethionine) 150 mcg 214% Copper (gluconate) 1.5 mg 75% Manganese (citrate) 5 mg 250% Chromium (picolinate) 200 mcg 167% Molybdenum (sodium molybdate) 150 mcg 200% Potassium (citrate) 99 mg 3% Sulfur (taurine) 50 mg N/A Cobalt (cyanocobalamin, vit B12) 22 mcg N/A Boron (citrate) 3 mg N/A Silicon (Equisetum arvense whole plant extract) 3.5 mg N/A Taurine 200 mg N/A L-Glutamine 200 mg N/A Other ingredients: Magnesium Stearate, Silicon Dioxide, and Microcystalline Cellulose. Free of: yeast, wheat, corn, soy, egg, milk, gluten, rice, sugar, starch, salt, preservatives, artificial colors, flavors, hormones or antibiotics.
It looks like there are no similar
products available