Ultra Omega 3-D
Protocol for Life Balance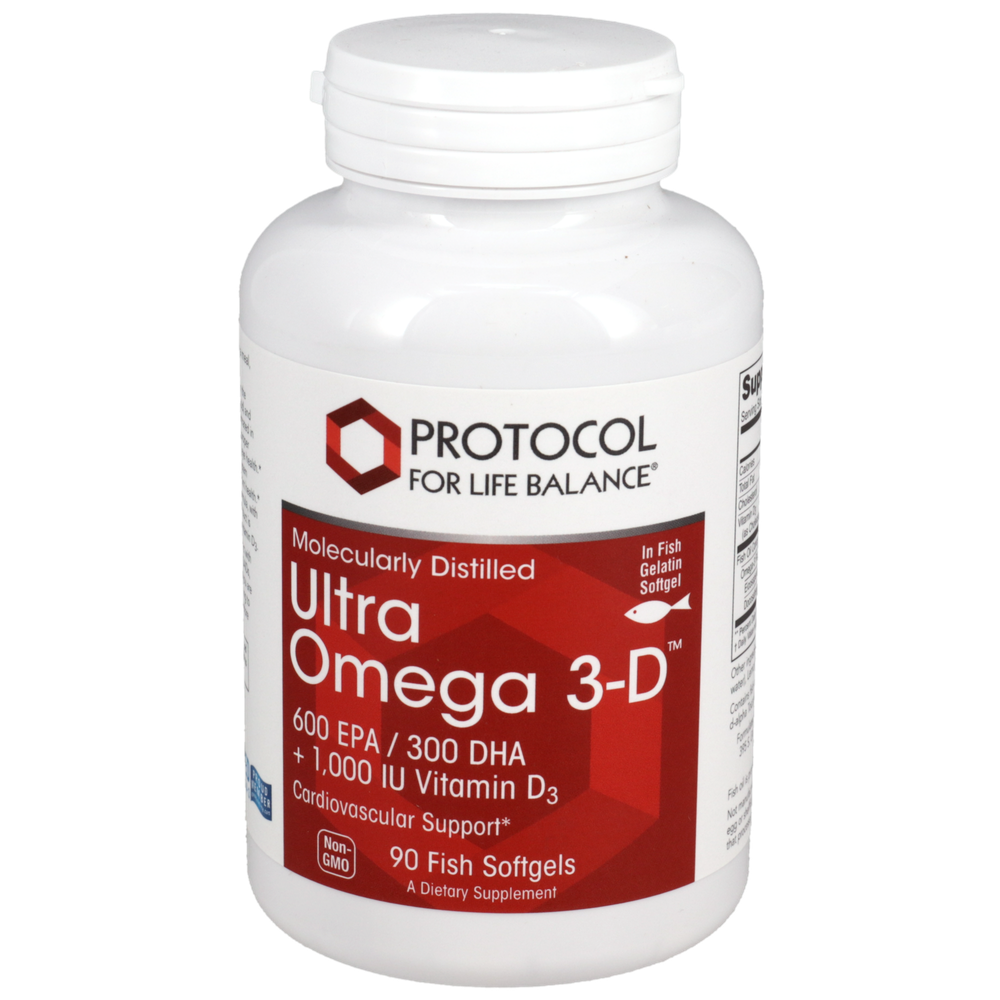 SKU: PROT-P1663
Cardiovascular Support*
Supports Cognitive Function*
500 EPA / 250 DHA
Enteric Coated
How it Works:
Fish Oils are naturally abundant in the Omega-3 Fatty Acids (FAs), EPA (Eicosapentaenoic Acid) and DHA (Docosahexaenoic Acid). EPA and DHA are important structural components of cell membranes, affecting membrane fluidity, flexibility, and permeability, as well as the efficiency and character of cellular signaling. Omega-3 FAs are especially critical for proper immune system function, and help to maintain cardiovascular and joint health. Omega-3 FAs are concentrated in eye and brain tissues, where they help to promote proper function of the central nervous system and support eye health.
Take 1 softgel with a meal, or as directed by your healthcare practitioner.
Serving Size: 1 Softgel
Amount Per Serving
Calories ... 15
Total Fat ... 1.5g
Cholesterol ... <5mg
Vitamin D3 ... 25mcg (1,000IU)
(as Cholecalciferol)(from Lanolin)
Natural Fish Oil Concentrate ... 1385mg
Omega-3 Fatty Acids:
Eicosapentaenoic Acid ... 600mg
(EPA)
Docosahexaenoic Acid ... 300mg
(DHA)
Other Ingredients: Softgel Capsule (bovine gelatin, glycerin, water), Natural Lemon Oil and Natural Mixed Tocopherols
Allergens:
Contains fish (anchovies, tuna,sardines). Natural Mixed Tocopherols from non-GMO soy
Cautions / Interactions:
Omega-3 fatty acids may interact with aspirin or warfarin. In addition, Omega-3 fatty acids may interact with cholesterol lowering statin medications and antihypertensives.