Ultra Preventive EZ Swallow
Douglas Labs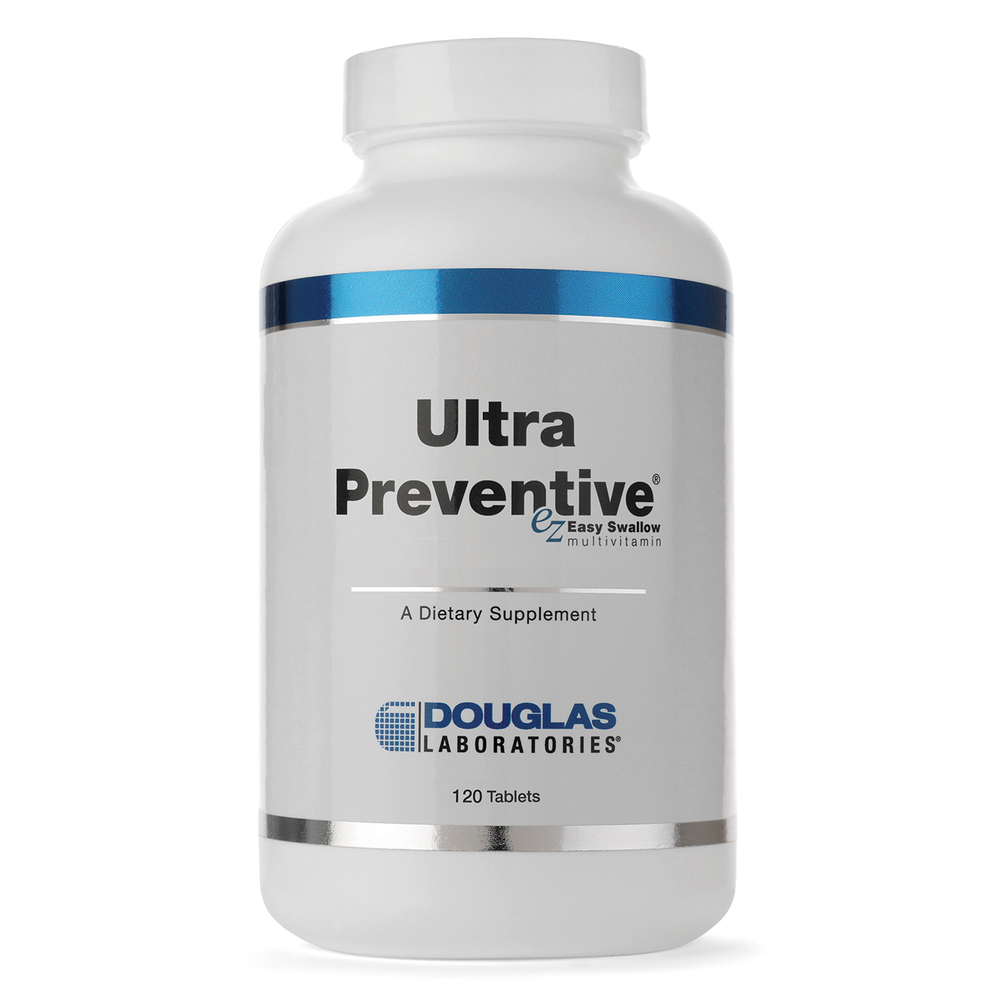 SKU: DL-200911120X
Douglas Laboratories is proud to offer an easy-to-swallow version of our Ultra Preventive X tablets. The EZ tablets are smaller and encased in a natural vanilla-scented coating.
As a dietary supplement, adults take 8 tablets daily or as directed by a healthcare professional. This product is best taken with meals in divided doses, such as 4 tablets with 2 largest meals of the day.
Serving Size: 8 Tablets
Amount Per Serving
Vitamin A ... 15, 000IU
(33% as Vitamin A Palmitate [5, 000IU]/67% [10, 000 IU] as Natural Beta-Carotene) from D. Salina with full spectrum carotenoids**)
Vitamin C ... 700mg
(as Ascorbic Acid/Ascorbyl Palmitate/Calcium and Magnesium Ascorbate complex)
Vitamin D-3 ... 1, 000IU
Vitamin E ... 400IU
(natural, as d-alpha tocopheryl plus mixed tocopherols)
Thiamine ... 100mg
Riboflavin ... 50mg
Niacin/Niacinamide ... 190mg
Vitamin B-6 ... 100mg
(as Pyridoxine HCl/ Pyridoxal-5-Phosphate Complex)
Folate ... 800mcg
(as L-methylfolate, Metafolin®)
Vitamin B-12 ... 250mcg
(as methylcobalamin)
Biotin ... 300mcg
Pantothenic Acid ... 500mg
(as d-Calcium Pantothenate)
Calcium ... 100mg
(as Calcium Citrate/Ascorbate/Carbonate Complex)
Iodine ... 200mcg
(from Kelp)
Magnesium ... 100mg
(as Magnesium Aspartate/Ascorbate/Oxide Complex)
Zinc ... 25mg
(as Zinc Amino Acid Chelate)
Selenium ... 200mcg
(as Selenium Krebs†/Kelp complex)
Copper ... 2mg
(as Copper Amino Acid Chelate)
Manganese ... 10mg
(as Manganese Aspartate/ Sulfate Complex)
Chromium ... 200mcg
(Organically bound with GTF activity–low allergenicity)
Molybdenum ... 100mcg
(as Molybdenum Krebs†)
Potassium ... 99mg
(as Potassium Aspartate/Chloride Complex)
Lutein ... 6mg
(natural)
Lycopene ... 6mg
(natural)
Zeaxanthin ... 1mg
Other Minerals, Nutrients, and Trace Elements
Inositol ... 100mg
Trace Elements ... approx 100mcg
(from Sea Vegetation)
Choline ... 60mg
(from 150 mg Choline Citrate/Bitartrate)
PABA ... 50mg
(para-aminobenzoic acid)
Boron ... 1.5mg
(as Boron Aspartate/Citrate complex)
Vanadium ... 50mcg
(as Vanadium Krebs†)
Amino Acids and Enzymes
L-Cysteine/N-Acetyl L-Cysteine ... 150mg
Betaine ... 114mg
(from 150 mg Betaine HCl)
Bromelain ... 50mg
(2, 000GDU/g)
Glutamic Acid ... 20mg
(from 25 mg Glutamic Acid HCl)
L-Methionine ... 12.5mg
Bioflavonoids and Proanthocyanidins
Rose Hips ... 100mg
Lemon Bioflavonoids ... 100mg
Red Wine Proanthocyanidins/Pine Bark Extract ... 50mg
Hesperidin ... 35mg
Rutin ... 25mg
Vegetables Fruits and Herbs
Proprietary Organic Fruit and Vegetable Blend ... 700mg
Organic beet powder (Root), Organic carrot powder (root), Organic black currant powder (fruit), Organic blueberry powder (fruit), Organic broccoli powder (whole plant), Organic Concord grape Powder (Vitis labrusca, fruit),Organic Collard Greens Powder (leaf), Organic Pomegranate Powder (fruit),Organic Green Cabbage Powder (Brassica oleracea L. var Capitata, whole plant), Organic Cranberry Powder (fruit), Organic Kale Powder (Brassica oleracea acephala, whole plant), Organic Parsley Powder (whole plant), Organic Raspberry Powder (fruit), Organic Spinach Powder (whole plant)
Organic Phytonutrient Blend

(

Camellia sinensis

, standardized to 50% polyphenols, 20%EGCG)

Carotenoids
Other ingredients: Microcrystalline cellulose, coating (hydroxypropyl methylcellulose, starch [rice], gum acacia, glycerine, natural vanilla flavor, fruit and vegetable juice [natural colorant], spirulina extract [natural colorant]), hydroxypropyl cellulose, croscarmellose sodium, silica and ascorbyl palmitate

ϯϯ

Krebs = Citrate, Fumarate, Malate, Glutarate and Succinate Complex.

√

Including Beta-Carotene, Alpha-Carotene, Zeaxanthin, Cryptoxanthin and additional Lutein and Lycopene.
Metafolin

®

is a registered trademark of Merck KGaA, Darmstadt, Germany.

Note: For optimal storage conditions, store in a cool, dry place. (59°-77°F/15°-25°C)(35-65% relative humidity) Tamper resistance package, do not use if outer seal is missing.
Keep out of reach of children.