Ultra Preventive III Capsules
Douglas Labs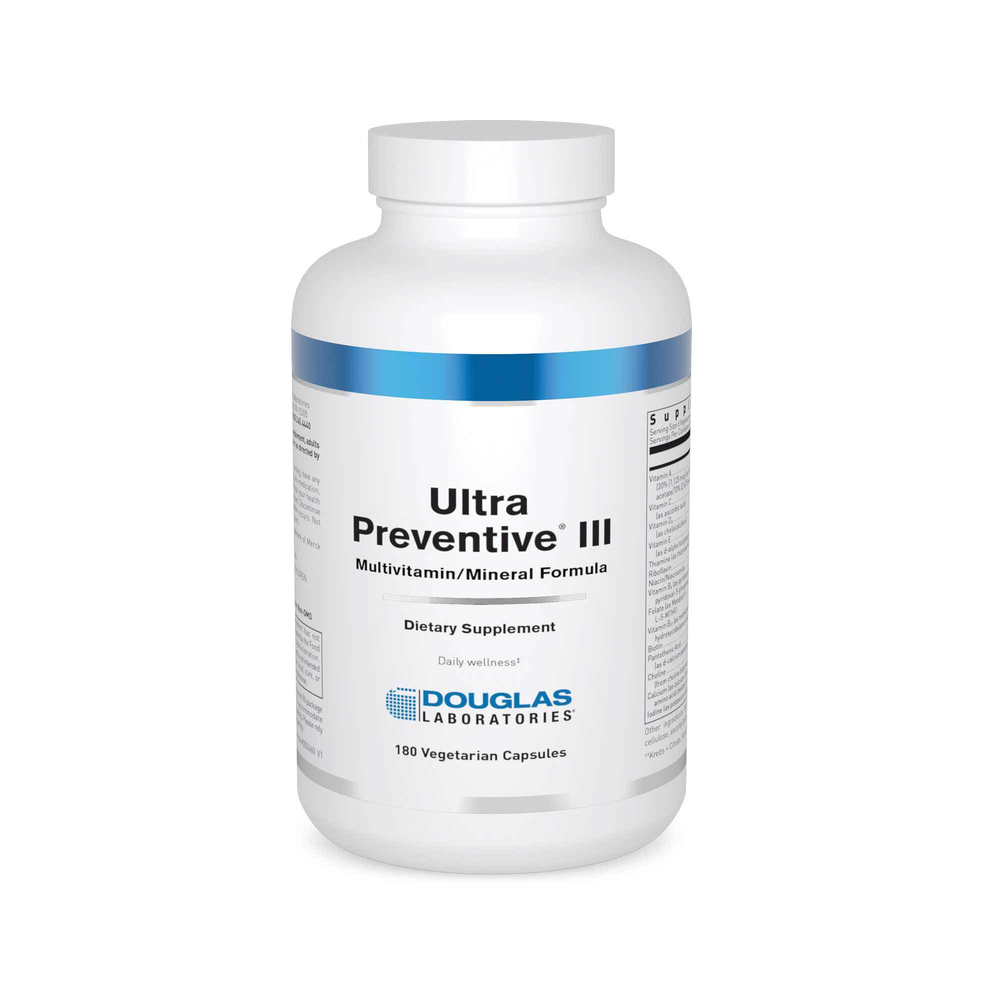 SKU: DL-200585180X
Multivitamin/mineral formula to support daily wellness‡

Ultra Preventive® III capsules provide a comprehensive vitamin/mineral/trace element formula with bioavailable forms to support optimal health and wellness. The capsule version of Ultra Preventive® III contains half the dose amount per serving compared to the tablets.‡
As a dietary supplement, adults take 6 capsules daily with food or as directed by a health professional.


Serving Size: 6 Vegetarian Capsules

Amount Per Serving
Vitamin A ... 3,750mcg
(30% [1,125 mcg] as vitamin A acetate/70% [2,625 mcg] as beta-carotene)
Vitamin C ... 500mg
(as ascorbic acid)
Vitamin D3 ... 12.5mcg (500IU)
(as cholecalciferol)
Vitamin E ... 67mg
(as d-alpha tocopherol succinate)
Thiamine ... 25mg
(as thiamine HCl)
Riboflavin ... 20mg
Niacin/Niacinamide ... 95mg
Vitamin B6 ... 25mg
(as pyridoxine HCl/pyridoxal-5-phosphate complex)
Folate ... 667mcg DFE
(as Metafolin®, L-5-MTHF) (400 mcg L-5-MTHF)
Vitamin B12 ... 90mcg
(as methylcobalamin/hydroxycobalamin/ adenosylcobalamin)
Biotin ... 150mcg
Pantothenic Acid ... 50mg
(as d-calcium panthothenate)
Choline ... 50mg
(from choline bitartrate)
Calcium ... 175mg
(as calcium citrate/amino acid chelate complex)
Iodine ... 100mcg
(as potassium iodide)
Magnesium ... 175mg
(as magnesium citrate/amino acid chelate complex)
Zinc ... 12.5mg
(as OptiZinc® monomethionine)
Selenium ... 100mcg
(as selenium krebs)††
Manganese ... 1.5mg
(as manganese sulfate)
Chromium ... 100mcg
(as chromium polynicotinate)
Molybdenum ... 50mcg
(as molybdenum krebs††)
Potassium ... 50mg
(as potassium chloride)
Betaine ... 50mg
(as betaine HCl)
Inositol ... 50mg
PABA ... 25mg
(para-aminobenzoic acid)
Boron ... 0.75mg
(as boron citrate)
Trace Mineral Complex ... 50mcg
[from seawater]
Vanadium ... 25mcg
(as vanadium krebs††)
Vitamin K2 ... 22.5mcg
(as menaquinone-7)

Other Ingredients: Hydroxypropyl methylcellulose [capsule). microcrystalline cellulose, hydroxypropyl cellulose, ascorbyl palmitate, and silica

Gluten-Free, Non-GMO

††Krebs. Citrate, Fumarate, Malate, Glutarate and Succinate Complex


Metafolin® is a registered trademark of Merck KGaA, Darmstadt, Germany.


OptiZinc® is a trademark of Lonza.
Warning: If you are pregnant, nursing, have any health condition, or are taking any medication, particularly blood thinners, consult your health professional before using this product. Discontinue immediately if a burning sensation occurs. Not recommended for people with ulcers.

Keep out of reach of children.

Store in a cool, dry place. Use only if the safety seal is intact.