Ultra Preventive X Capsules
Douglas Labs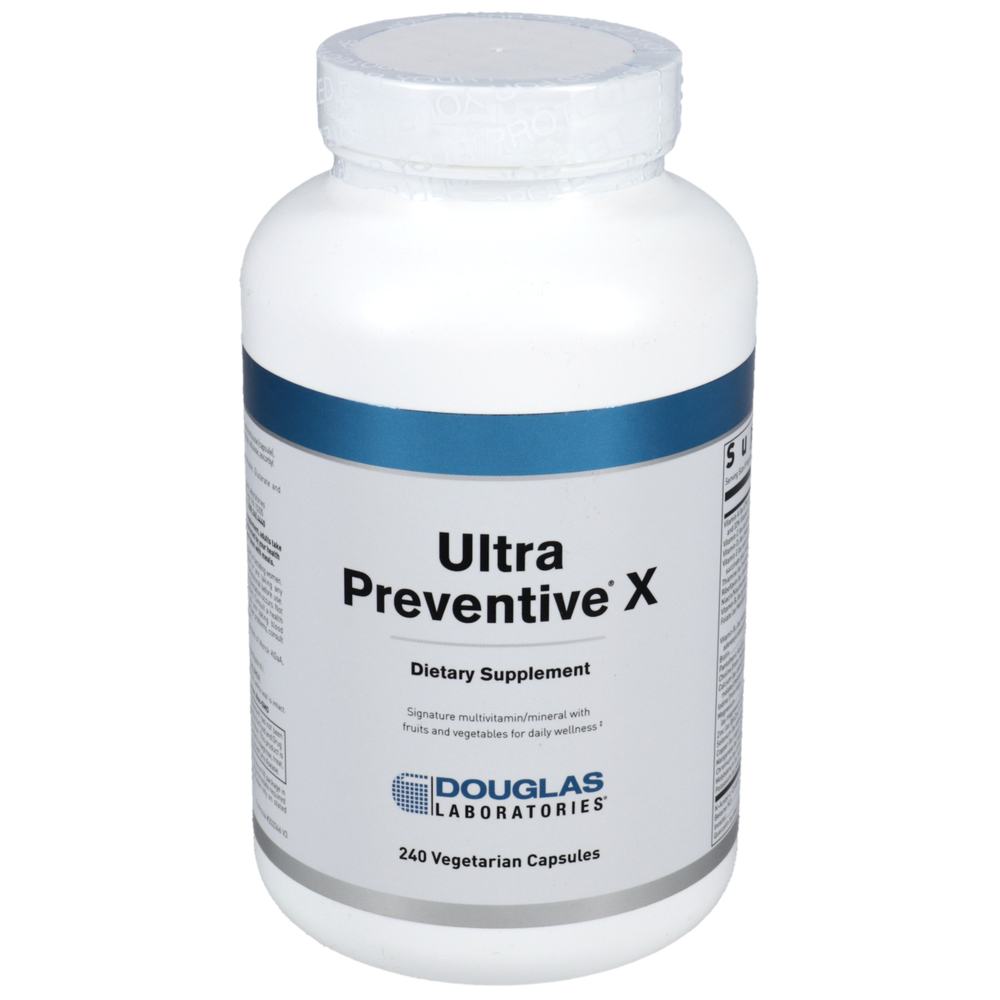 SKU: DL-200574240X
Ultra Preventive® X (Vegetarian Capsules) is Douglas Laboratories' most comprehensive multivitamin and mineral supplement, with an organic fruit, vegetable, and phytonutrient blend. This unique formula provides antioxidant support and beneficial nutrients, including carotenoids, flavonoids, polyphenols and bioavailable forms of vitamins and minerals that contribute to optimal health.
As a dietary supplement, adults take 8 vegetarian capsules daily or as directed by your healthcare professional. This product is best taken with meals.
Serving Size: 8 Capsules
Amount Per Serving
Vitamin A ... 2, 250mcg
(as 67% natural beta-carotene and 33% Vitamin A Palmitate)
Vitamin C ... 500mg
(as ascorbic acid)
Vitamin D3 ... 12.5mcg
(as cholecalciferol)(500 IU)
Vitamin E ... 67mg
(as natural d-alpha tocopheryl succinate plus mixed tocopherols)
Thiamine ... 50mg
(as thiamine HCl)
Riboflavin ... 25mg
(as Riboflavin/Riboflavin-5-phosphate)
Niacin/Niacinamide ... 95mg
Vitamin B6 ... 50mg
(as Pyridoxine HCl/Pyridoxal-5-phosphate)
Folate ... 667mcg DFE
(as L-methylfolate, Metafolin®)(400 mcg L-5-MTHF)
Vitamin B12 ... 250mcg
(as methylcobalamin/adenosylcobalamin/hydroxocobalamin)
Biotin ... 150mcg
Pantothenic Acid ... 50mg
(as d-calcium pantothenate)
Choline ... 137.5mg
(from choline bitartrate)
Calcium ... 210mg
(as calcium citrate/malate/chelate complex)
Iodine ... 100mcg
(from Kelp)
Magnesium ... 210mg
(as magnesium citrate/chelate complex)
Zinc ... 12.5mg
(as OptiZinc®, monomethionine)
Selenium ... 100mcg
(as selenomethionine)
Copper ... 1mg
(as copper amino acid chelate)
Manganese ... 4.5mg
(as manganese sulfate)
Chromium ... 100mcg
(as chromium polynicotinate)
Molybdenum ... 50mcg
(as molybdenum krebs††)
Potassium ... 50mg
(as potassium chloride)
N-Acetyl-L-Cysteine ... 75mg*
Betaine HCI ... 75mg*
Inositol ... 50mg*
Quercetin ... 50mg*
(as dihydrate)
Lemon bioflavonoids ... 50mg*
Papain ... 50mg*
(from Carica papaya, fruit)
Bromelain ... 25mg*
(from Anana comosus, pineapple stem)
Grape seed extract ... 25mg*
(standardized to 95% polyphenols)
Alpha Lipoic Acid ... 25mg*
Rutin ... 12.5mg*
(from Sophora japonica, flower)
Boron ... 1.5mg*
(as boron glycinate)
Vanadium ... 25mcg*
(as Vanadium Krebs††)
Vitamin K2 ... 22.5 mcg*
(as menaquinone-7)
Proprietary Organic Fruit and Vegetable Blend ... 350mg*
Organic beet powder (root), Organic carrot powder (root), Organic
black currant powder (fruit), Organic blueberry powder (fruit),
Organic broccoli powder (whole plant), Organic Concord grape
powder (fruit), Organic collard greens powder (leaf), Organic
pomegranate powder (fruit), Organic green cabbage powder (whole
plant), Organic cranberry powder (fruit), Organic kale powder
(whole plant), Organic Parsley powder (whole plant), Organic
raspberry powder (fruit), Organic spinach powder (whole plant)
Organic Phytonutrient Blend
Organic Spirulina ... 50mg*
(whole plant)
Org


Warning: Consult a healthcare professional before use if taking blood thinners. This product is not recommended for pregnant or lactating women. If you have any health condition or are taking any medication, consult your health professional before use.

Keep out of the reach of children.

Store in a cool, dry place. Use only if safety seal is intact.