UltraGenesis Comprehensive Multi
Nutra BioGenesis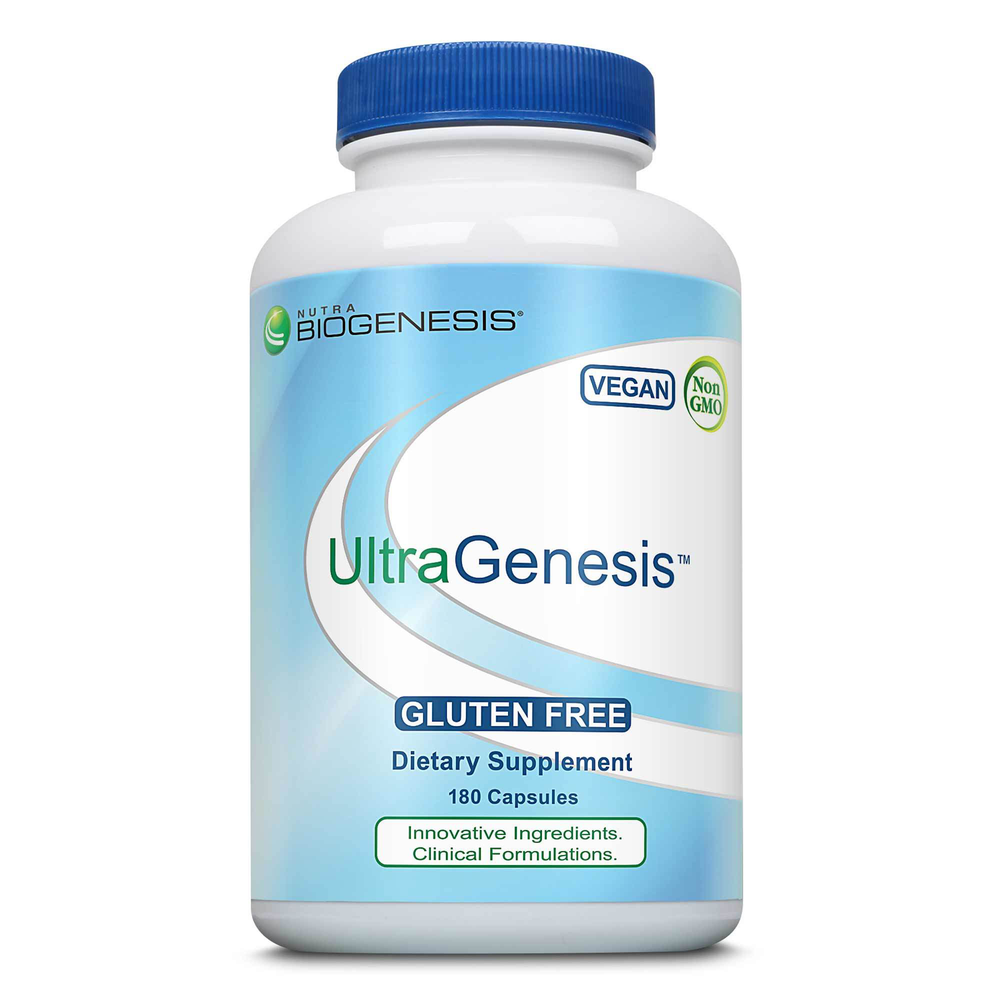 SKU: BI5-90202
Ultra Genesis is a comprehensive multivitamin/mineral formula that provides a broad spectrum of essential nutrients with fully reacted amino acid chelates and phosphorylated forms of ratio-balanced B vitamins. Provides fully bonded reacted minerals, a 1:1 calcium to magnesium ratio, and trimethylglycine for improved liver detoxification support.†
Your nutritional cornerstone – for foundational support
Suitable for adolescents, adults, and seniors
Your patients deserve the best nutritional program you can offer. Make Ultra Genesis the foundational cornerstone of their nutritional program! Ultra Genesis is formulated for physicians by clinically active physicians with decades of nutritional practice experience. Only the highest quality ingredients go into Ultra Genesis.
Why do your patients need Ultra Genesis?
Fully Bonded Reacted Minerals
Aspartates, citrates, glycinates
Selenium (as selenomethionine)
Also available without iron and without iron and copper
Use only as directed. Take 6 capsules daily with meals (dose may be divided) or as directed by your healthcare professional. Keep tightly capped and store in a cool, dry place.
Serving Size: Six Capsules
Amount Per Serving
Vitamin A ... 5, 000IU
(from beta carotene)
Vitamin C ... 600mg
(from ascorbic acid, ascorbyl palmitate)
Vitamin D-3 ... 400IU
(cholecalciferol)(from Saccharomyces cerevisiae)
Vitamin E ... 400IU
(from d-alpha-tocopheryl succinate)
Thiamine ... 25mg
(from thiamine mononitrate)
Riboflavin ... 25mg
(riboflavin-5-phosphate)
Niacin ... 125mg
(from niacinamide)
Vitamin B-6 ... 25mg
(pyridoxal-5-phosphate)
Folate ... 800mcg
(from (6S)-5-methyltetrahydrofolate, glucosamine salt)
Vitamin B-12 ... 600mcg
(from methylcobalamin)
Biotin ... 800mcg
Pantothenic Acid ... 250mg
(from calcium D-pantothenate)
Calcium ... 200mg
(from calcium citrate, calcium carbonate)
Iron ... 10mg
(from iron glycinate)
Iodine ... 200mcg
(from potassium iodide)
Magnesium ... 200mg
(from magnesium amino acid chelate)
Zinc ... 25mg
(from zinc amino acid chelate)
Selenium ... 200mcg
(from selenomethionine)
Copper ... 2mg
(from copper amino acid chelate)
Manganese ... 1mg
(from manganese L-aspartate)
Chromium ... 200mcg
(from chromium ploynicotinate)
Molybdenum ... 100mcg
(from molybdenum amino acid chelate)
Potassium ... 99mg
(from potassium citrate)
Trimethylglycine ... 250mg
Inositol ... 75mg
Choline ... 75mg
(from choline bitartrate)
PABA ... 25mg
(para-aminobenzoic acid)
Boron ... 2mg
(from boron amino acid chelate)
Vanadium ... 200mcg
(from vanadium amino acid chelate)
Other Ingredients: Vegetable cellulose capsule, rice flour, cellulose, silica.
WARNING
Do not use if safety seal is broken or missing. Keep out of reach of children. Keep your licensed practitioner informed when using this product, especially if pregnant or nursing. Not for use by persons under the age of 18. Accidental overdose of iron-containing products is a leading cause of fatal poisoning in children under six. In case of accidental overdose, call a doctor or poison control center immediately.