UltraGenesis w/o Iron
Nutra BioGenesis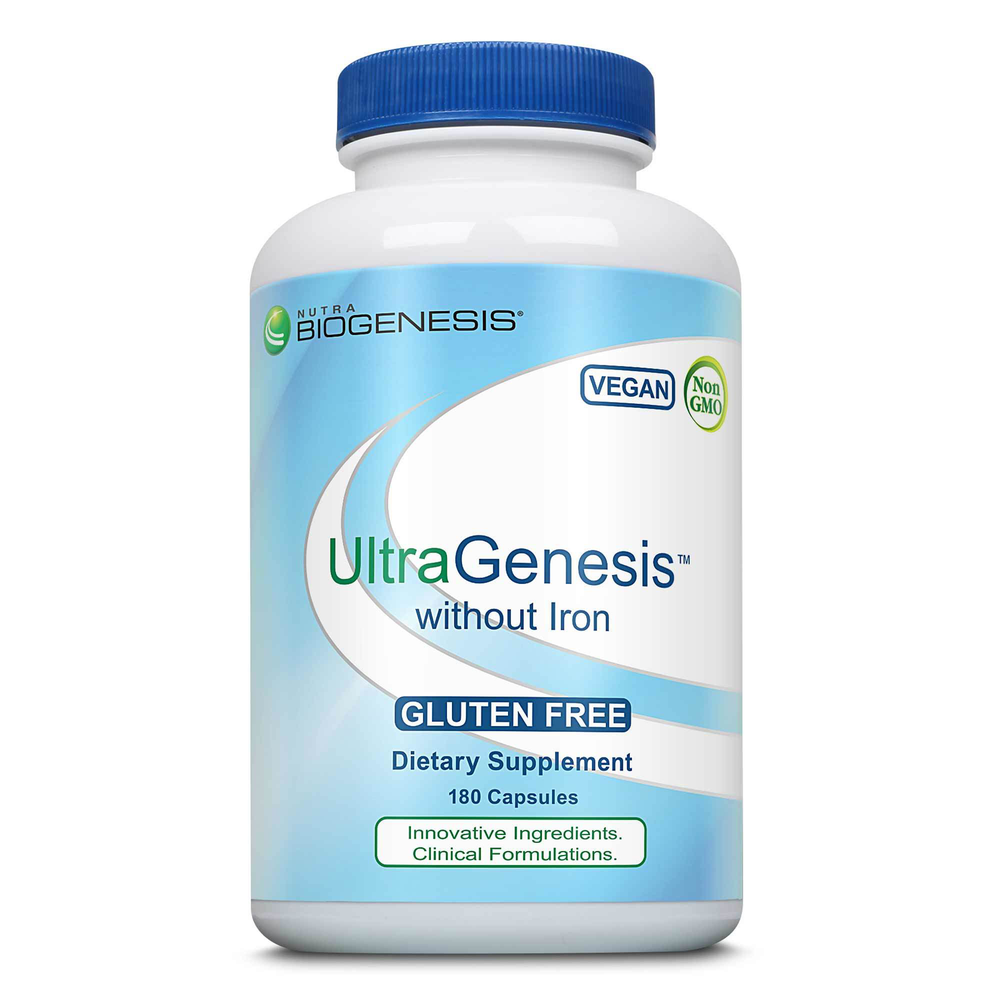 SKU: BI5-55477
UltraGenesis Without Iron Comprehensive Multiple Vitamin
Comprehensive multiple vitamin and mineral formula with phosphorylated forms and ratio balanced B vitamins. A broad spectrum of essential nutrients, along with full reacted amino acid chelates. Suitable for adolescents, adults and seniors.
Your patients deserve the best nutritional program you can offer. Make UltraGenesis the foundational cornerstone of their nutritional program! UltraGenesis is formulated for physicians by clinically active physicians with decades of nutritional practice experience. Only the highest quality ingredients go into UltraGenesis.
Suggested Use
As a dietary supplement, take 3 capsules two (2) times per day or as directed by your healthcare professional.
Serving Size 6 Capsules
Amount Per Serving
Vitamin A ... 5, 000 IU
(Acetate)
Vitamin C ... 600mg
(Ascorbic Acid)
Calcium (Citrate) ... 200mg
Vitamin D3 ... 400 IU
Vitamin E ... 400 IU
(Succinate)
Vitamin B1 ... 25mg
(Thiamine)
Vitamin B2 ... 25mg
(Riboflavin 5 Phosphate)
Vitamin B3 ... 125mg
Vitamin B6 ... 25mg
(Pyridoxal 5 Phosphate)
Folic Acid ... 800mcg
(Calcium Folinate)
Vitamin B12 ... 600mcg
(Cyanocobalamin, Hydroxycobalamin)
Biotin ... 800mcg
Pantothenic Acid ... 250mg
Iodine (Potassium) ... 200mcg
Magnesium (Citrate) ... 200mg
Zinc (Aspartate) ... 25mg
Selenium ... 200mcg
(Selenomethionine)
Copper ... 2mg
(Glycinate)
Manganese ... 1mg / 50% DV
(Aspartate)
Chromium ... 100mcg
(Aspartate)
Molybdenum ... 100mcg
(Aspartate)
Potassium ... 99mg
(Aspartate)
Trimethylglycine ... 250mg
Inositol ... 75mg
Choline Citrate ... 75mg
PABA ... 25mg
Mixed Carotenoids ... 15000 IU
providing Beta Carotene ... 8568mcg
providing Alpha Carotene ... 270mcg
providing Zeaxanthin ... 54mcg
providing Cryptoxanthin ... 66mcg
providing Lutein ... 42mcg
Boron (Aspartate) ... 2mg
Vanadyl (Aspartate) ... 200mcg
Contains:
Cellulose, Silica, Stearic Acid, Rice Flour
Keep tightly capped and store in a cool, dry place.
KEEP OUT OF THE REACH OF CHILDREN.
*These statements have not been evaluated by the Food and Drug Administration. These products are not intended to diagnose, treat, cure, or prevent any disease.