UltraLean Thermo Max
Nutra BioGenesis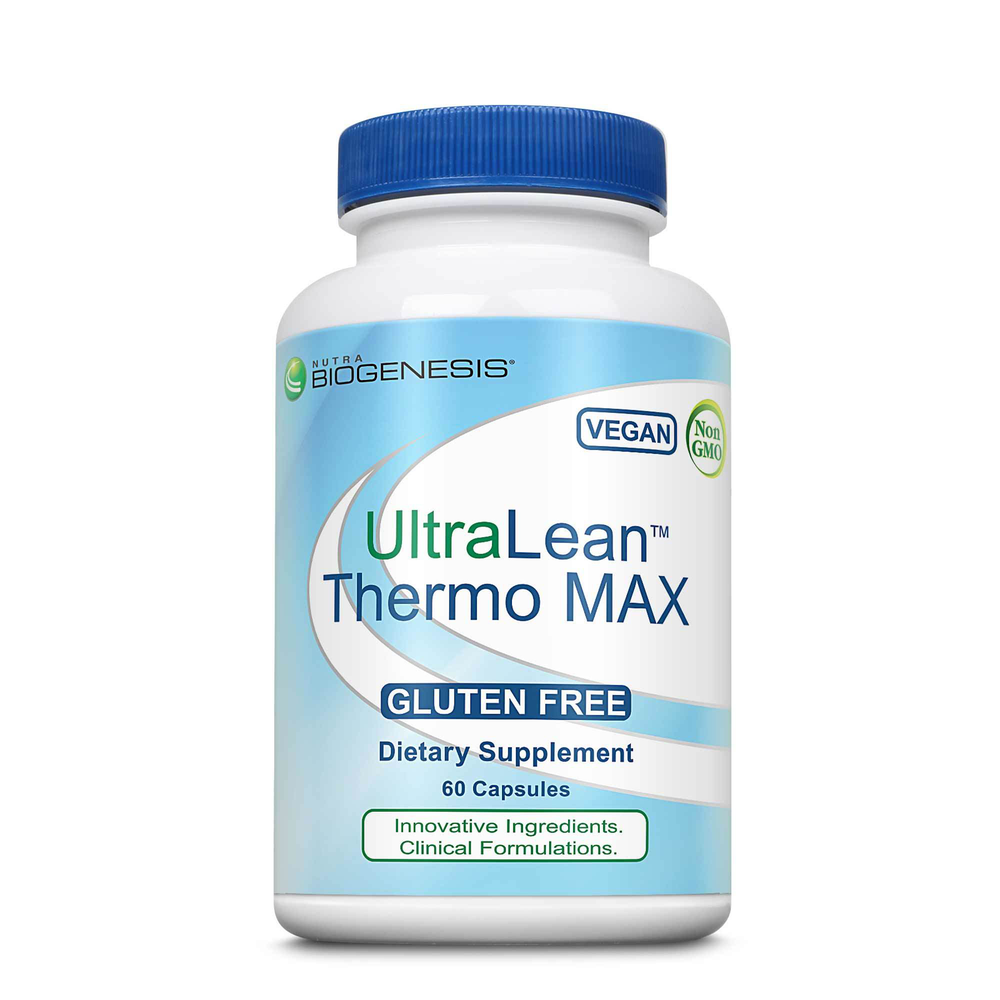 SKU: BI5-28458
UltraLean ™ Thermo MAX is intended to provide nutritive support for proper metabolism when used with a healthy diet and exercise program. Use in conjunction with the UltraLean™ Thermo MAX Nutrition & Activity Plan.
UltraLean™ Thermo MAX Nutrition & Activity Plan:
Focus on achieving a balanced approach to carbohydrate, lean protein, and healthy fat intake. Switching from higher carbohydrate intake to higher lean protein and healthy fat intake may help maintain proper metabolism.
Eat ample fresh fruits and vegetables throughout the day. This will help supply nutrients that support fat metabolism, promote satiety, and decrease cravings.
Identify what physical activities you enjoy most and incorporate them into your routine. A mix of aerobic activity and strength training can improve body composition and enhance metabolism. Aim for five or more sessions a week.
Address obstacles to a healthy metabolism such as stressors, sleep disruption, and endocrine conditions. The most successful weight management plan is a comprehensive one that addresses the whole individual.
Use only as directed. Take one capsule up to 2 times daily or as directed by your healthcare practitioner.
Serving Size: 1 capsule
Amount Per Serving
Chromium ... 50mcg
(as chromium polynicotinate)
Bitter Orange ... 250mg
(Citrus x aurantium) (fruit extract) (15mg [6%] synephrine)
Caffeine ... 50mg
(from green tea (Camellia sinensis) (leaf extract))
Hoodia ... 50mg
(Hoodia gordonii) (aerial stem)
Prickly pear ... 50mg
(Opuntia streptacantha) (leaf)
Korean ginseng ... 50mg
(Panax ginseng) (root extract) (10% ginsenosides)
Green Tea ... 25mg
(Camillia sinensis) (leaf extract) (98% polyphenols)
L-Carnitine ... 37.5mg
(from L-carnitine L-tartrate)
Glucomannan ... 27.8mg
(from Amorphophallus koknjac) (rhizome extract)
Forskohlii ... 25mg
(Plectranthus barbatus) (root extract) (10% forskohlin)
Eleuthero ... 25mg
(Eleutherococcus senticosus) (root extract) (1.2% eleutherosides)
Rhodiola ... 12.5mg
(Rhodiola rosea) (root extract) (1.2% eleutherodides)
Other Ingredients: Vegetable cellulose capsule, maltodextrin, cellulose, rice bran extract, silica.
Warning: Do not use if safety seal is broken or missing. Keep out of reach of children. Keep your licensed healthcare practitioner informed when using this product, especially if pregnant, nursing, or taking prescription medication. Do not exceed 30mg/day of synephrine. Bitter orange fruit concentrated extract combined with caffeine or caffeine-containing herbs is not recommended for excessive or long-term use or for use by persons with heart irregularities, hypertension, insomnia, or anxiety.
Keep tightly capped and store in a cool, dry place.