UltraMeal Advanced Protein® - Plain
Metagenics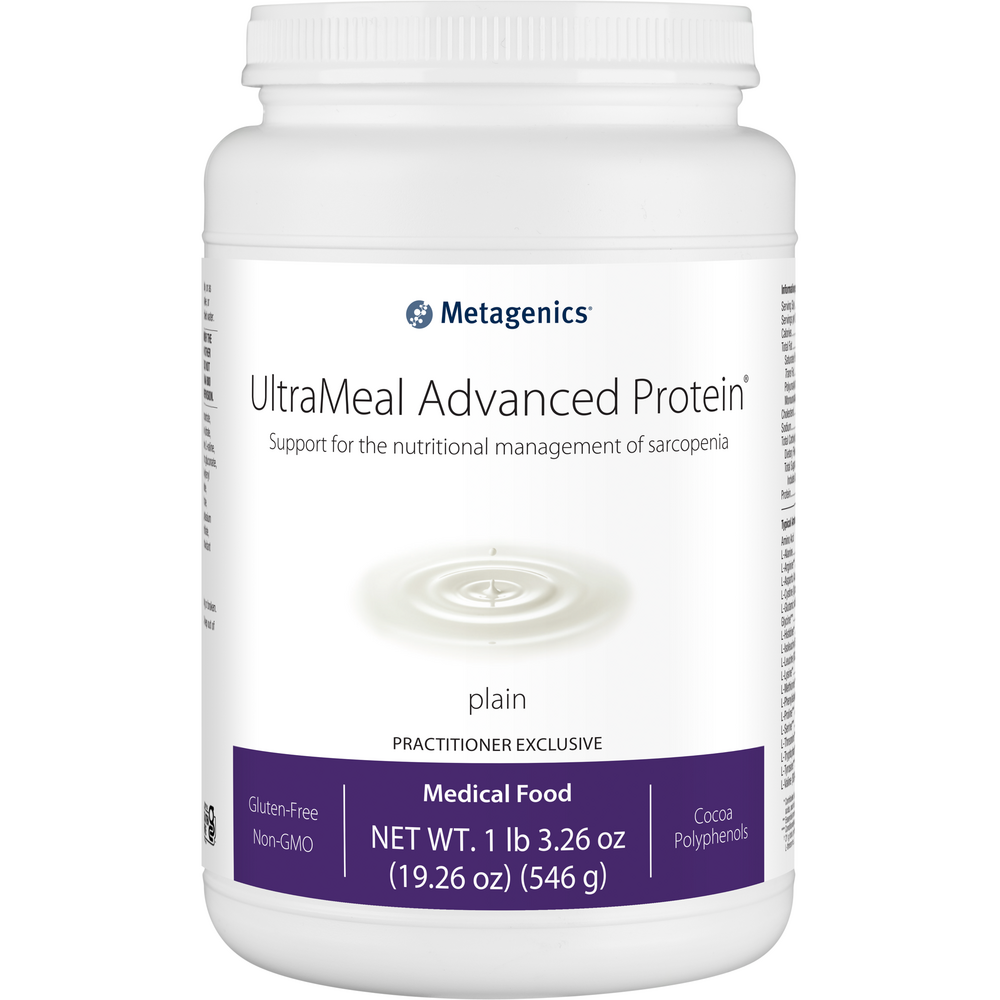 SKU: MET-UMAPP
UltraMeal Advanced Protein® is a medical food specially formulated to support the nutritional management of sarcopenia. This advanced formula features essential amino acids, including added leucine, to support the healthy aging of skeletal muscle and to help address sarcopenia, the age-associated loss of skeletal muscle mass.
Each serving provides 21 g of protein from a proprietary blend of pea and rice and amino acids. 10 g (of the total protein) consist of essential amino acids including 5 g of BCAA, which, combined with exercise, may help support muscle maintenance.
Cocoa polyphenols support processes that contribute to healthy blood flow and vascular function.
Additionally UltraMeal Advanced Protein contains 20+ essential vitamins and minerals—including calcium L-5-methyltetrahydrofolate (L-5-MTHF, a body-ready folate), methylcobalamin (vitamin B12)—to support protein synthesis and healthy metabolic function.
Suggested Use:
Take one serving one to two times daily, or as directed by your healthcare practitioner. Blend, shake, or briskly stir 2 scoops (39 g) into 8-10 ounces of chilled water.
Serving Size: 2 Scoops (39g)
Amount Per Serving
Calories … 130
Total Fat … 5 g
Saturated Fat … 1 g
Trans Fat … 0 g
Polyunsaturated Fat … 1.5 g
Monounsaturated Fat … 3 g
Cholesterol … 0 mg
Sodium … 180 mg
Total Carbohydrate … 7 g
 Dietary Fiber … 5 g
 Total Sugars … 1 g
  Includes 0g Added Sugars
Protein … 18 g†
Typical Amino Acid Profile per Serving*
L-Alanine … 820 mg
L-Arginine*** … 1,610 mg
L-Aspartic Acid … 2,020 mg
L-Cystine (Cysteine)*** … 220 mg
L-Glutamic Acid … 3,060 mg
Glycine*** … 750 mg
L-Histidine** … 450 mg
L-Isoleucine (BCAA)** … 1,340 mg
L-Leucine (BCAA)** … 2,510 mg
L-Lysine** … 1,500 mg
L-Methionine** … 240 mg
L-Phenylalanine** … 1,000 mg
L-Proline*** … 810 mg
L-Serine*** … 950 mg
L-Threonine** … 1,590 mg
L-Tryptophan** … 190 mg
L-Tyrosine*** … 740 mg
L-Valine (BCAA)** … 1,400 mg
Vitamin D3 … 10 mcg (400 IU)
(as cholecalciferol)
Calcium … 70 mg
Iron … 5 mg
Potassium … 120 mg
Vitamin A … 370 mcg
Vitamin C … 30 mg
Vitamin E … 5 mg
Thiamin … 0.37 mg
Riboflavin … 0.42 mg
Niacin … 7.8 mg
Vitamin B6 … 0.5 mg
Folate … 310 mcg DFE
(as calcium L-5-methyltetrahydrofolate)††
Vitamin B12 … 1.5 mcg
(as methylcobalamin)
Biotin … 75 mcg
Pantothenic Acid … 2.5 mg
Phosphorus … 220 mg
Iodine … 37 mcg
Magnesium … 150 mg
Zinc … 11.25 mg
Selenium … 52 mcg
Copper … 1.5 mg
Manganese … 1.5 mg
Chromium … 120 mcg
Chloride … 220 mg
Total Polyphenols … 100mg†††
(from cocoa beans)
†††Daily value not established.
†21 g total protein with added amino acids: L-leucine, L-threonine, L- valine, L-isoleucine, and L-lysine
Ingredients: Pea protein isolate, rice protein concentrate, oat hull fiber, high oleic sunflower oil, magnesium citrate, L-leucine, cocoa powder, L-threonine, L-isoleucine, L-valine, silica, L-lysine HCl, vitamin and mineral blend (zinc gluconate, ascorbic acid, manganese gluconate, d-alpha tocopheryl acetate, copper gluconate, D-biotin, retinyl palmitate, niacinamide, cholecalciferol, calcium D-pantothenate, chromium picolinate, pyridoxine HCl, riboflavin, potassium iodide, thiamin HCl, calcium L-5-methyltetrahydrofolate, selenomethionine, and methylcobalamin), and antioxidant blend (natural flavors and ascorbic acid).
This product is non-GMO and gluten-free.
††As Metafolin®. Metafolin® is a registered trademark of Merck KGaA, Darmstadt Germany
NOTICE: THIS PRODUCT IS TO BE USED UNDER THE DIRECT SUPERVISION OF A PHYSICIAN OR OTHER LICENSED HEALTHCARE PRACTITIONER. DO NOT ENGAGE IN ANY DIET SUPPLYING LESS THAN 800 CALORIES PER DAY WITHOUT MEDICAL SUPERVISION
WARNING: Consuming this product can expose you to chemicals including lead, which are known to the State of California to cause cancer and birth defects or other reproductive harm. For more information go to www.P65warnings.ca.gov/food
Tamper Evident: Do not use if safety seal is missing or broken.
Storage: Keep tightly closed in a cool, dry place. Keep out of reach of children.