UltraMeal Whey - Natural Vanilla
Metagenics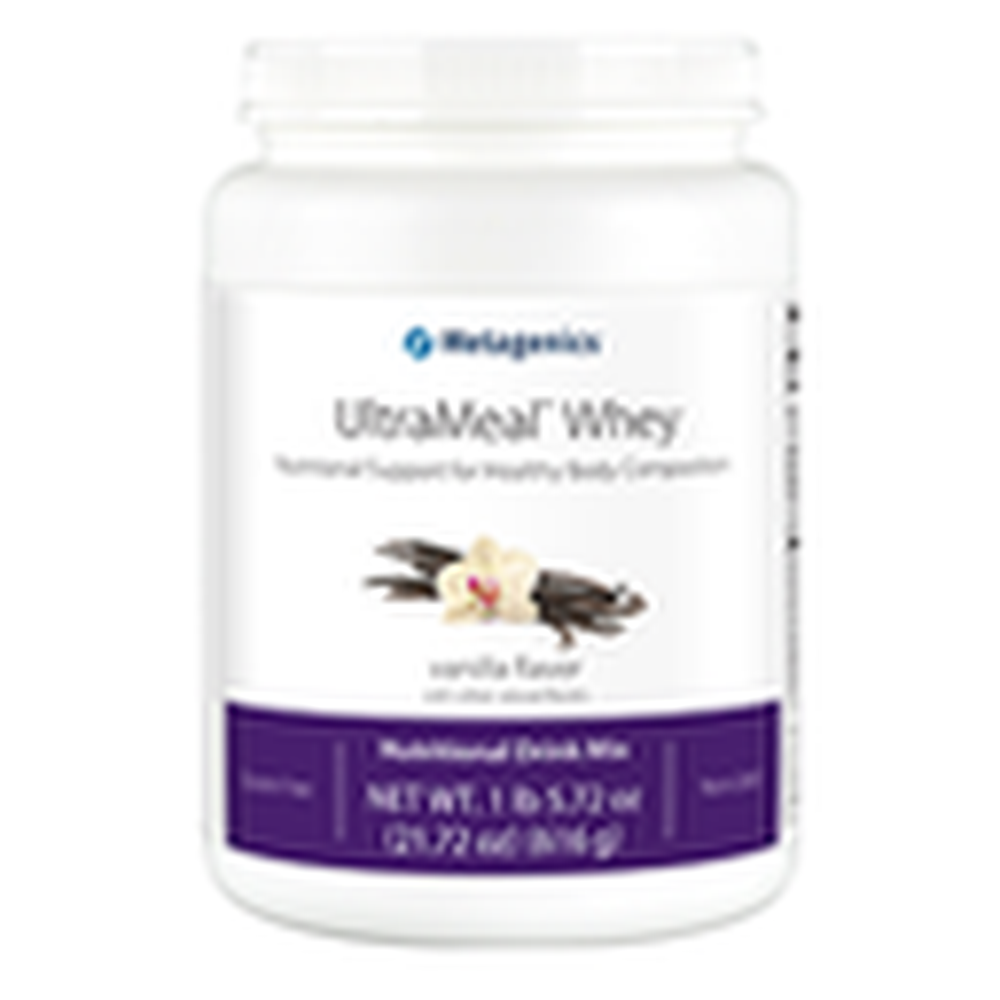 SKU: MET-UMVWHEY

UltraMeal® Whey - Natural Vanilla
UltraMeal® Whey is a nutritional drink mix containing whey protein, which has the highest biological value of any naturally occurring protein. Designed to support a healthy body composition.
This nutritional drink features:
15 grams of whey protein blend—isolate and pre-digested hydrolysate—containing a robust amino acid profile.

Essential vitamins and minerals for comprehensive foundation nutrition.

4 grams of fiber per serving.

An excellent source of calcium.

Calcium L-5-methyltetrahydrofolate (L-5-MTHF) a methlylated form of folate.

Nutrition Facts
Serving Size: 2 scoops (44 g)
Servings per Container: 14
Amount per Serving
Calories 140
Calories from Fat 10
Total Fat 1 g
Saturated Fat 0 g
Trans Fat 0 g
Cholesterol 10 mg
Sodium 170 mg
Potassium 510 mg
Total Carbohydrate 22 g
Dietary Fiber 4 g
Sugars 15 g
Protein 15 g
Ingredients: Whey protein blend (whey protein isolate, hydrolyzed whey protein isolate) (milk), fructose, rice syrup solids, natural flavors, inulin, dicalcium phosphate, cellulose, magnesium citrate, dipotassium phosphate, olive oil, potassium chloride, guar gum, xanthan gum, ascorbic acid, zinc gluconate, pyridox-ine HCI, d-alpha tocopheryl acetate, niacinamide, copper gluconate, D-calcium pantothenate, thiamin HCI, riboflavin, chromium polynicotinate, retinyl palmitate, folic acid, L-5-methyl tetrahydrofolate†, biotin, potassium iodide, cyanocobalamin, and cholecalciferol. Contains: milk.
Directions: Blend, shake, or briskly stir 2 level scoops (44 g) into 8 fluid ounces of chilled water twice daily, or as directed by your healthcare practitioner.
NOTICE: DO NOT ENGAGE IN ANY DIET SUPPLYING LESS THAN 800 CALORIES PER DAY WITHOUT MEDICAL SUPERVISION.
This product is non-GMO and gluten free.
Storage: Keep tightly closed in a cool, dry place.
Tamper Evident: Do not use if safety seal is missing or broken.
This product contains no high fructose corn syrup.
Contents sold by weight, not volume. Some settling may occur during shipping and handling. Serving size is measured by weight with a scoop included for your convenience. The amount of product contained in 2 scoops may be above or below 44 grams due to variations in handling and product density.
†FLO Fair Trade Certified
††No MSG
†††As Metafolin®, a registered trademark of Merck KGaA, Darmstadt, Germany. US Patent Nos. 5,599,915; 6,254,904.
*Percent Daily Values are based on a 2,000 calorie diet. Your daily values may be higher or lower depending on your calorie needs.
*These statements have not been evaluated by the Food & Drug Administration. These products are not intended to diagnose, treat, cure or prevent any disease.