Unique E Mixed Tocopherols Concentrate Oil
A.C. Grace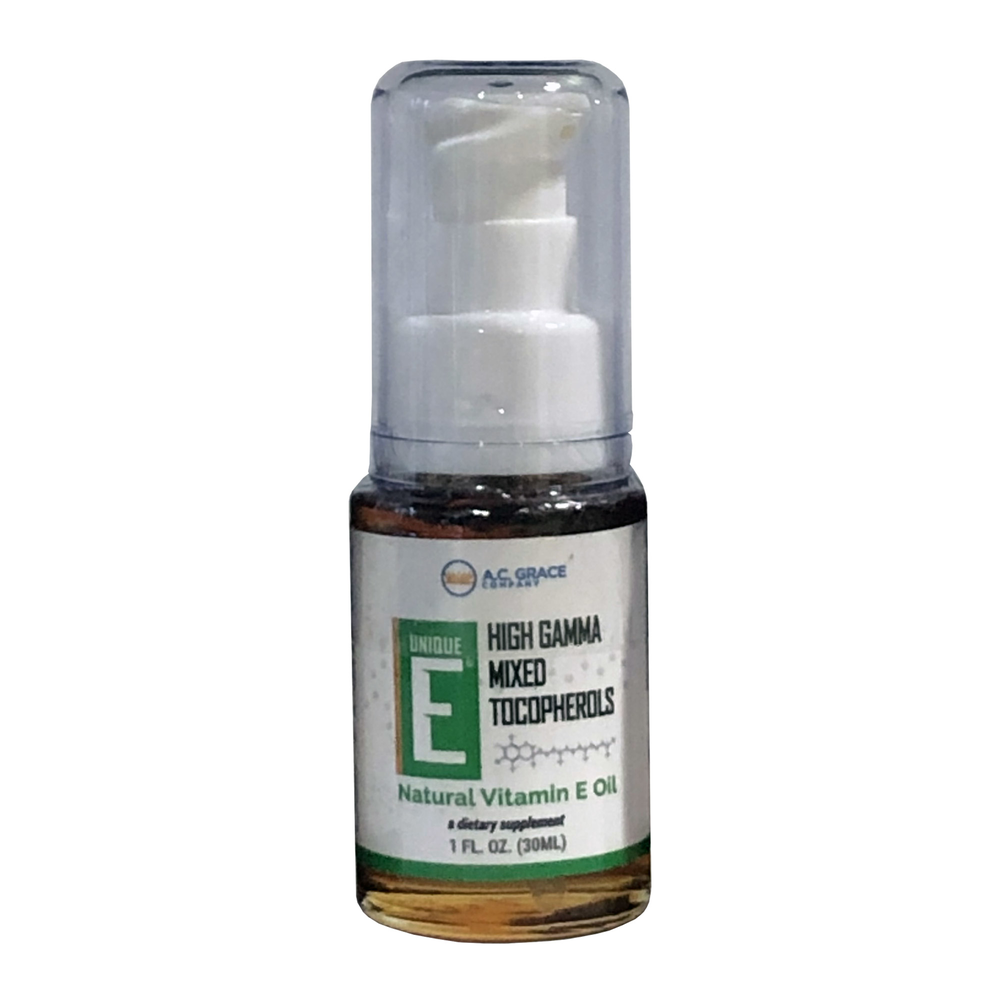 SKU: YAS423-R1OZ
A.C Grace's Mixed Tocopherols Concentrate Oil is perfect as a dietary supplement for those following a vegetarian diet or for those who do not wish to swallow softgels. It is convenient for variable dosing for children and animals.
It can also be used for topical applications directly on the skin. Ideal for dermal soothing and hydrating, it can be used to rejuvenate stressed skin. It contains the highest concentration of the complete Vitamin E tocopherol complex — HIGH-Gamma, HIGH-Alpha, with Beta and Delta isomers. Mixed Tocopherols Concentrate Oil is completely void of fillers or additives that can turn rancid. This all-natural, PURE Vitamin E concentrate consists of the natural form of Vitamin E as obtained through the diet and as used by the body.
Mixed Tocopherols Concentrate Oil – Vitamin E supplementation can provide many valuable Health Benefits:
Cardiovascular Health
Supports overall cardiovascular and circulatory health*
Promotes healthy coronary blood flow*
Provides antioxidant support*
Supports the body's ability to appropriately process and utilize important lipids*
Helps in the maintenance of cholesterol levels that are already within the normal range.*
Helps support healthy red blood cell flow*
Aging
Supports healthy focus and memory retention*
Helps to promote healthy brain function*
Provides antioxidant support throughout the body *
Helps maintain the integrity of cellular function*
Supports healthy immune function*
General Health
Promotes eye health*
Supports and promotes the immune system*
Supports the body's ability to regulate pro-inflammatory molecules, including C-reactive protein*
May be applied externally as a topical to promote dermal health (see also our UNIQUE E® Mixed Tocopherols Concentrate Oil)*
Suggested Use:
Take 0.75ml daily by mouth or mix with food or drink. There are approximately 400IU of d-alpha tocopherol, or 700mg of Mixed Tocopherol Vitamin E serving.
Serving Size: 0.75ml
Amount Per Serving
Vitamin E ... 400IU
(as d-alpha tocopherol)
Proprietary Blend ... 433mg
d-gamma tocopherol, d-delta tocopherol and d-beta tocopherol
Other Ingredients: Natural Mixed Tocopherols Oil.
Contains no fillers, additives, colors, preservatives, gluten or soy protein.
Certified Vegan, Kosher and Halal friendly
Caution: People using drugs such as blood-thinners, cholesterol medications, blood pressure medications, etc, should always start with 1 softgel (400 I.U.) and work up to optimum dosage over time as needed. Vitamin E can temporarily increase blood pressure in individuals with high blood pressure—monitoring dosage is required. However, it has been reported that, over time, vitamin E supplementation can support healthy blood pressure levels. Always speak with your primary health care provider before adding this or any other dietary supplement to your daily health regimen.*
Vitamin E is fat soluble, what about liver toxicity, what level is safe? Unlike other fat soluble vitamins, vitamin E is NOT accumulated in the liver. Excess vitamin E is not accumulated in the liver, but is excreted, mostly in bile, via a p-glycoprotein (ABCB4)-mediated process." Speak with your primary health care provider to determine a dosage that is appropriate for your health goals.*
Please speak with your primary health care provider before providing variable dosing for a child.