Vegan DHA (Delayed Release)
Deva Nutrition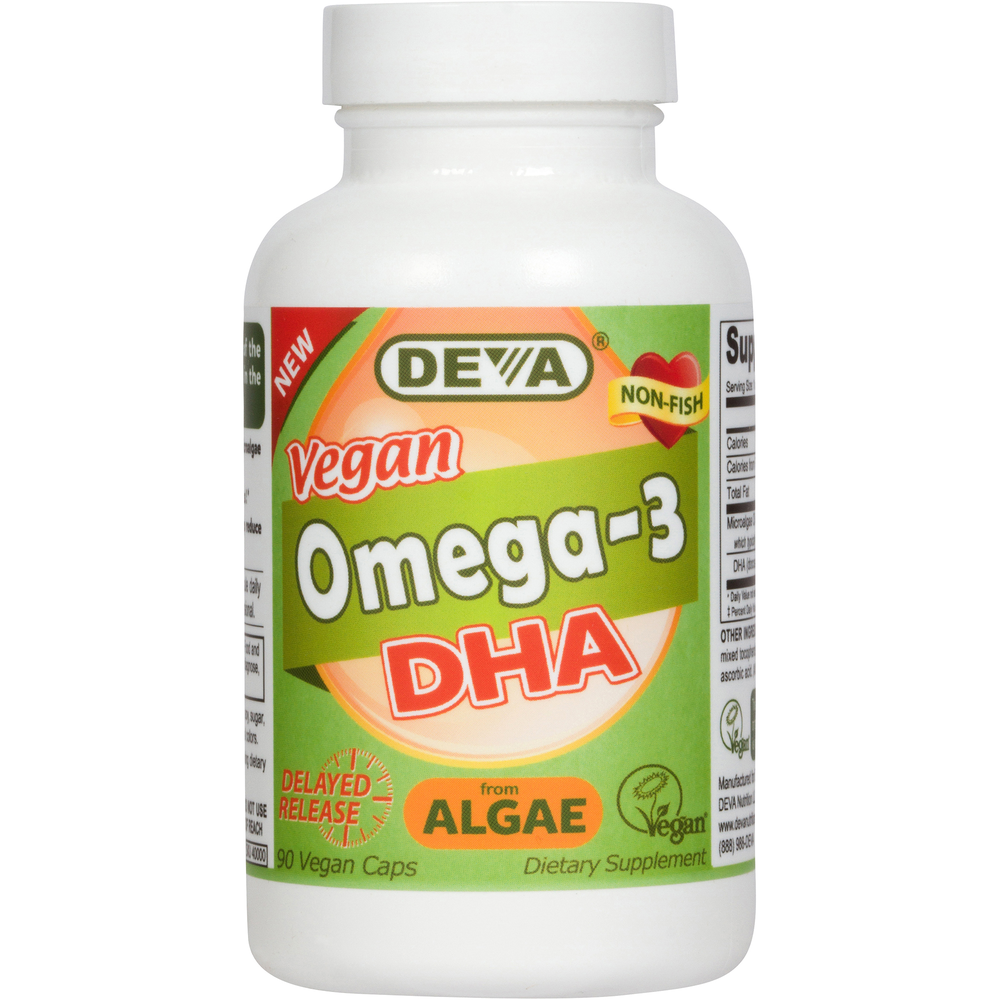 SKU: DVA-40000
DEVA™ delivers high quality, potency and affordability all in one bottle. Our Vegan Omega-3 DHA oil comes in Vegan soft capsules specially made for delayed release function. This may help reduce the aftertaste and repeat issues associated with Omega-3 products. This new type of non-animal capsules do not contain any gelatin or other animal derived ingredients. As a non-animal alternative to fish derived DHA, DEVA Omega-3 DHA is appreciated by vegans, vegetarians and anyone who would like to benefit from DHA as derived from algae.

DHA is an omega-3, long chain polyunsaturated fatty acid and it is one of the important building blocks of the human brain tissue and retina* The human brain is about 60% fat, and DHA is one of the prominent structural fatty acids in both the brain and the retina*.

Unfortunately, the typical Western diet may not provide sufficient amounts of DHA. Many vegetarians, vegans, and some raw foods dieters may be also at risk of having insufficiencies of DHA unless they are careful*

The algae oil used in our product is extracted from the algae without the use of hexane. The Omega-3 oil used in this product comes from microalgae which has been grown on land (outside of the ocean) using drinkable water. DEVA DHA oil is encapsulated in delayed release vegetarian capsules to help reduce repeat/aftertaste issues associated with Omega-3 products. *

DEVA Omega-3 DHA is 100% vegan, vegetarian and is registered by the Vegan Society, the non-profit organization that actually invented the word "vegan".
For adults, take one (1) Vegan capsule daily with food, or as directed by a health care professional.



Serving Size: 1 Capsule

Amount Per Serving
Calories ... 5
Calories From Fat ... 5
Total Fat ... 0.5g
Microalgae Oil ... 575mg
DHA ... 200mg
(Docosahexaenoic acid)

Other Ingredients: Vegan Capsule (cellulose), High Oleic Sunflower Oil, Organic Orange Oil, Mixed Tocopherols, Silica, Sunflower Lecithin, Rosemary Extract, Ascorbyl Palmitate (All from non-animal sources).

Does not contain: Yeast, wheat, gluten, sugar, salt, hexane, dairy, egg, fish, shellfish; animal products, byproducts or derivatives.
Always consult your doctor before taking any dietary supplement.

It looks like there are no similar
products available