VeganPro Complex Chocolate
Thorne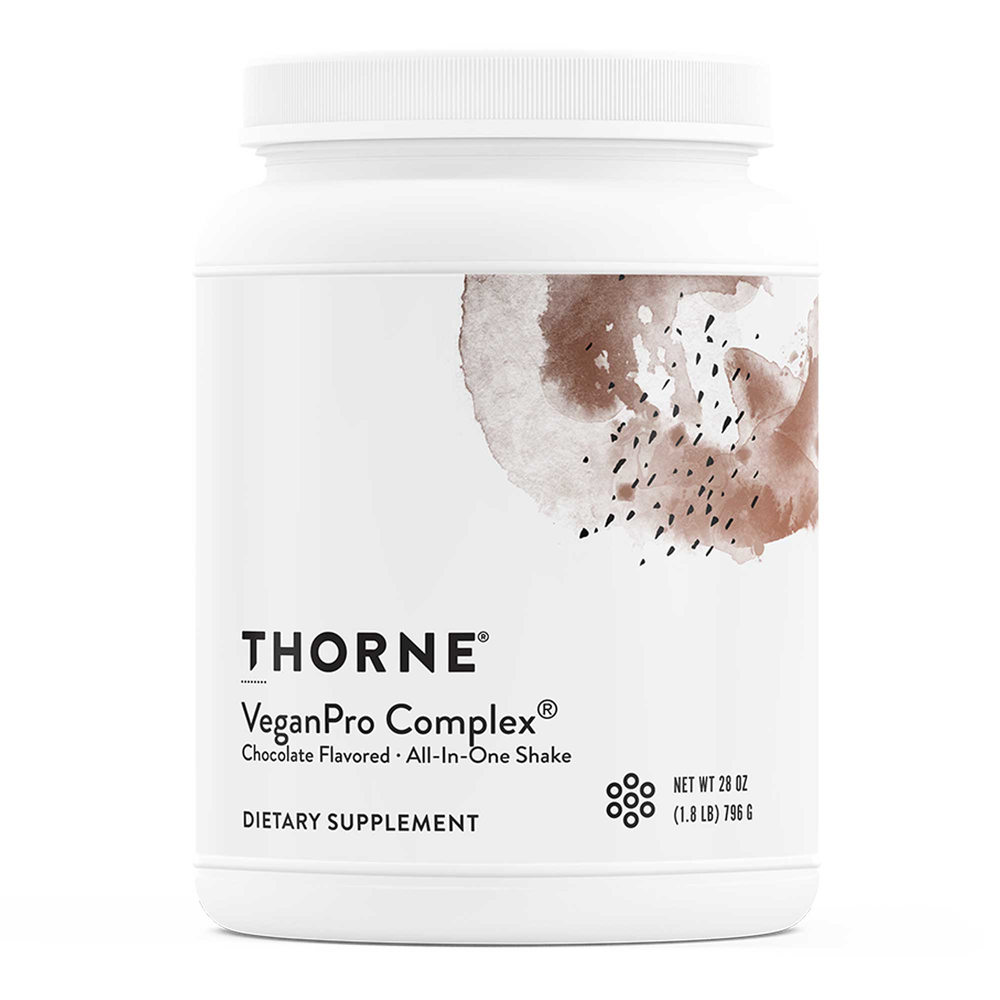 SKU: THO-SP115
An all-in-one formula that goes all in for your health. VeganPro Complex provides 20 grams of sustainably sourced vegan protein per serving, along with a complete multi-vitamin/mineral complex, and additional cofactors for immune support, heart health, and whole-body wellness.* With a complete profile of all the essential amino acids, omega-3 fatty acids derived from algae, and a unique immune-supporting mushroom blend, VeganPro Complex helps you shine at any stage of your game – whether you're a pro athlete or professional self-starter.
VeganPro Complex can be mixed with 10 ounces of water or a preferred beverage for a quick, no-prep, all-in-one multi-nutrient protein shake. Each container provides a 15-day supply of vegan protein and comes in two delicious flavors – chocolate or vanilla – without the grittiness found in typical vegan protein powders.
Whether you're at the airport, on a road trip, at the gym or office, or managing weight, VeganPro Complex is an ideal nutritional solution for vegans, vegetarians, or individuals interested in a sustainable, healthy protein option.
Here's why you'll love it.
Unique Vegan Protein Blend
The protein blend in Thorne's VeganPro Complex provides a superior vegan protein with optimal absorption and digestibility, rivaling animal-based protein sources like whey. The PureTaste® fermented pea and rice protein blend is 50 percent more digestible than a standard pea and rice protein blend without the gritty texture found in other vegan protein powders. The chia protein provides a second source of complete protein, with added dietary fiber and polyunsaturated fats.
Immune Support
The proprietary mushroom blend is rich in beta glucans to support immune function,* particularly for a stressed system like those of high-performance athletes and frequent travelers. The blend is high in antioxidants to support healthy aging.* It also acts as an adaptogen to counteract the effects that stress can have on your body, including the immune system, while providing support for healthy liver and adrenal function*
Methylation Support
A sufficient level of vitamin B12 is needed to produce healthy red blood cells and support energy levels.* Vitamin B12 sufficiency is associated with healthy cognitive function and assists with positive mood and healthy detoxification. Vitamin B12 is essential to supplement when following a vegan diet.
Vegan DHA Derived from Algae
DHA, an omega-3 fatty acid, is an essential part of a healthy diet, and most commonly found in oily fish. We've added a vegan DHA, for all of its benefits, from a non-animal source. DHA supports brain function and mood, benefits eye health, supports cardiovascular health, and helps maintain healthy levels of inflammation.*
Amino Acid Profile
The protein base for Thorne's VeganPro Complex contains all nine essential and 11 non-essential amino acids, making it a complete protein comparable to the amino acid content of animal-based proteins. Thorne's VeganPro Complex is high in essential amino acids, including branched-chain amino acids that promote muscle mass and enhance energy production.*
Foundational Support
Truly vegan vitamin D3 for superior absorption versus vitamin D2
Methylated B12 and folate for optimal absorption
Chelated minerals for enhanced absorption
Daily source of vitamins and minerals designed for individuals looking for optimal nutritional support. Perfect for everyone, including weekend warriors, pro athletes, young children, and anyone needing additional protein plus daily nutrients in their diet.
Twice as much fiber as many other protein powders
Sustainable Sources
This proprietary blend of rice and protein powder is a breakthrough in plant-based protein sourcing that utilizes PureTaste's patented, natural fermentation methodology. In addition, the production facility uses state-of-the-art sustainability practices to reduce water, energy, and CO2 production.

Suggested Use:
Mix 2 scoops with at least 10 ounces of cold water or preferred beverage daily or as recommended by your health-care practitioner.

Two Scoops (52.3 g) Contain:
Calories ... 160
Total Fat ... 3 g
Saturated Fat ... 1 g
Total Carbohydrate ... 20 g
Dietary Fiber ... 6 g
Total Sugars ... 4 g
Includes Added Sugars ... 1 g
Protein ... 20 g
Vitamin A ... 1.05 mg
(450 mcg from Beta Carotene and 600 mcg as Palmitate)
Vitamin C ... 250 mg
(as Ascorbic Acid)
Vitamin D ... 50 mcg
(as Vitamin D3) (2,000 IU)
Vitamin E ... 13.5 mg
(as d-Alpha Tocopheryl Acid Succinate)
Vitamin K ... 400 mcg
(200 mcg as Vitamin K1 and 200 mcg as Vitamin K2 (as MK-4))
Thiamin ... 50 mg
(as Thiamin HCl)
Riboflavin ... 12 mg
(as Riboflavin 5'-Phosphate Sodium)
Niacin ... 60 mg
(as Niacinamide)
Vitamin B6 ... 20 mg
(as Pyridoxal 5'-Phosphate)
Folate ... 667 mcg DFE
(400 mcg as L-5-Methyltetrahydrofolate† from L-5-Methyltetrahydrofolic Acid, Glucosamine Salt)
Vitamin B12 ... 600 mcg
(as Methylcobalamin)
Biotin ... 500 mcg
Pantothenic Acid ... 45 mg
(as Calcium Pantothenate)
Choline ...18 mg
(as Choline Citrate)
Calcium ... 88 mg
(as TRAACS® Calcium Bisglycinate Chelate)††
Iodine ... 75 mcg
(as Potassium Iodide)
Magnesium ... 170 mg
(as TRAACS® Magnesium Bisglycinate Chelate Taste Free)††
Zinc ... 10 mg
(as TRAACS® Zinc Bisglycinate Chelate)††
Selenium ... 100 mcg
(as L-Selenomethionine)
Copper ... 750 mcg
(as TRAACS® Copper Bisglycinate Chelate)††
Manganese ... 1.5 mg
(as TRAACS® Manganese Bisglycinate Chelate)††
Chromium ... 200 mcg
(as TRAACS® Chromium Nicotinate Glycinate Chelate)††
Sodium ... 230 mg
Potassium ... 280 mg
Proprietary Blend (Proteins) ... 31 g
(Fermented Pea & Rice Protein, Chia Protein)
Proprietary Blend (Fibers) ... 4 g
(Partially Hydrolyzed Guar Gum†††, Arabinogalactan (from Larch) (Larix spp.)††††, Pectin (from Apple)
Proprietary Blend (Mushrooms) ... 300 mg
(Maitake Mushroom (Grifola frondosa), Reishi Mushroom (Ganoderma lucidum), Shiitake Mushroom (Lentinula edodes))
DHA (Docosahexaenoic Acid) ... 200 mg
(from Algal Oil)
d-Gamma Tocopherol ... 24 mg
(from Mixed Tocopherols)
Boron ... 1 mg
(as Bororganic™ Boron Glycinate Complex)†††††

Other Ingredients: Flavors, Cocoa, Evaporated Cane Juice Sugar, Stevia extract (leaf).

†This product uses Gnosis S.p.A.'s L-5-Methyltetrahydrofolic Acid, Glucosamine Salt
(Quatrefolic®). Quatrefolic is a registered trademark of Gnosis S.p.A. ††This product uses Albion's TRAACS® Calcium Bisglycinate Chelate, Magnesium Bisglycinate Chelate Taste Free, Zinc Bisglycinate Chelate, Copper Bisglycinate Chelate, Chromium Nicotinate Glycinate Chelate, and Manganese Bisglycinate Chelate. TRAACS is a registered trademark of Albion International, Inc. †††This product uses Sunfiber® AG. Sunfiber AG is a registered trademark of Taiyo International, Inc. ††††This product uses Larch Arabinogalactan (ResistAid®). ResistAid is a registered trademark of Lonza. †††††This product uses Albion's Bororganic™ Boron Glycinate Complex. Bororganic is a trademark of Albion International, Inc.

Manufactured in the USA using US and imported ingredients

PROPOSITION 65 WARNING NOTICE FOR CALIFORNIA RESIDENTS
Consuming this product can expose you to chemicals including lead, which is known to the State of California to cause birth defects or other reproductive harm. For more information go to www.P65Warnings.ca.gov/food.
ALLERGY WARNING
This product is contraindicated in an individual with a history of hypersensitivity to any of its ingredients.
Individuals with a known, serious allergy to peanuts may occasionally react to other legumes, including peas. This product contains pea protein. If you have a known, serious peanut allergy, it is recommended to use this product with caution.
Iodine may occasionally cause an allergic reaction in some individuals.
Contains ingredients derived from mushroom sources.
As vitamin K interferes with the effect of anticoagulant drugs (like Coumadin), the concurrent use of these agents should be avoided.
PREGNANCY
If pregnant, consult your health professional before using this product.
INTERACTIONS
5-methyltetrahydrofolate (5-MTHF) supplementation is not recommended concurrent with methotrexate cancer therapy, as it can interfere with methotrexate's anti-neoplastic activity; however, this folate source has not been shown to interfere with the anti-inflammatory activity of methotrexate. An individual taking methotrexate for psoriasis or rheumatoid arthritis can safely take a supplement containing folate.