Vegetarian Glucosamine + MSM
Protocol for Life Balance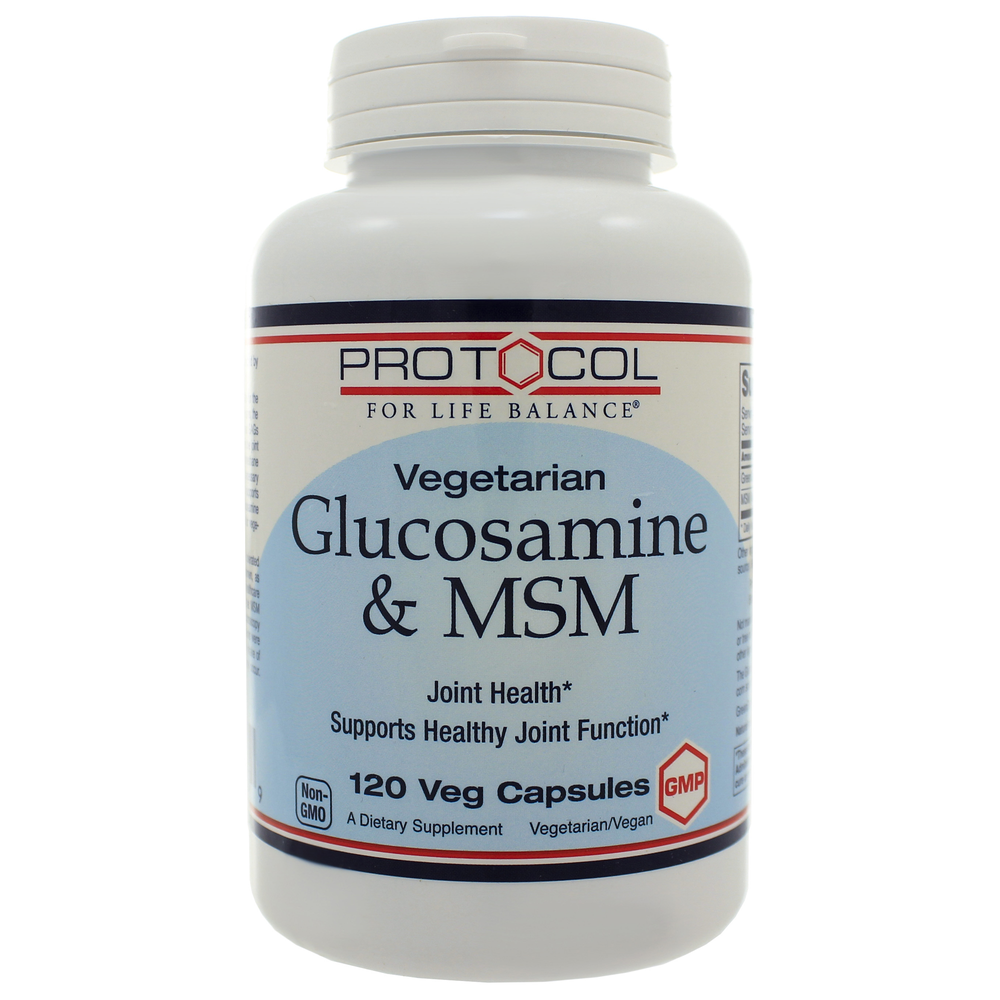 SKU: PROT-P3130
-Joint Health*
-Joint Mobility and Comfort*
-A Dietary Supplement
-Vegetarian Formula
Glucosamine is an essential substrate for the formation of glycosaminoglycans (GAGs) and proteoglycans, the main components of cartilage tissue. Proteoglycans and (GAGs) trap and hold water, forming a dense fluid cushion within the joint for lubrication and shock absorption. Methylsulfonylmethane (MSM) is a natural source of organic sulfur, a mineral necessary for the production of proteoglycans. This formula supports healthy joint structure and function and, unlike most Glucosamine products, Vegetarian Glucosamine & MSM is suitable for vegetarians and vegans.*
As a dietary supplement, take 2 capsules 1 to 2 times daily, or as directed by your healthcare practitioner.
Serving Size: 2 Vcaps®
Amount Per Serving
GreenGrown® Glucosamine HCl ... 1.0 g (1, 000 mg)
(Vegetarian Source)
MSM ... 1.0 g (1, 000 mg)
(Methylsulfonylmethane)
Other Ingredients: Cellulose (capsule), Stearic Acid (vegetable source), Magnesium Stearate (vegetable source) and Silica.
Contains no sugar, salt, starch, yeast, wheat, gluten, soy, milk, egg, shellfish or preservatives.
Cautions and Interactions: The use of MSM can lead to the occurrence of an abnormal resonance in the in vivo brain proton MR spectrum as well as in in vitro cerebrospinal fluid. May interact with anticoagulant/antiplatelet agents. May cause mild transient GI discomfort.
Vegetarian/Vegan Formula.
GreenGrown® is a registered trademark of Ethical Naturals, Inc.
Vcaps® is a registered trademark of Capsugel.
The Glucosamine used in this product is derived from a Non-GMO corn source.
*This statement has not been evaluated by the Food and Drug Administration. This product is not intended to diagnose, treat, cure or prevent any disease.