Veggie Meal Replace Vanilla
Metabolic Response Modifier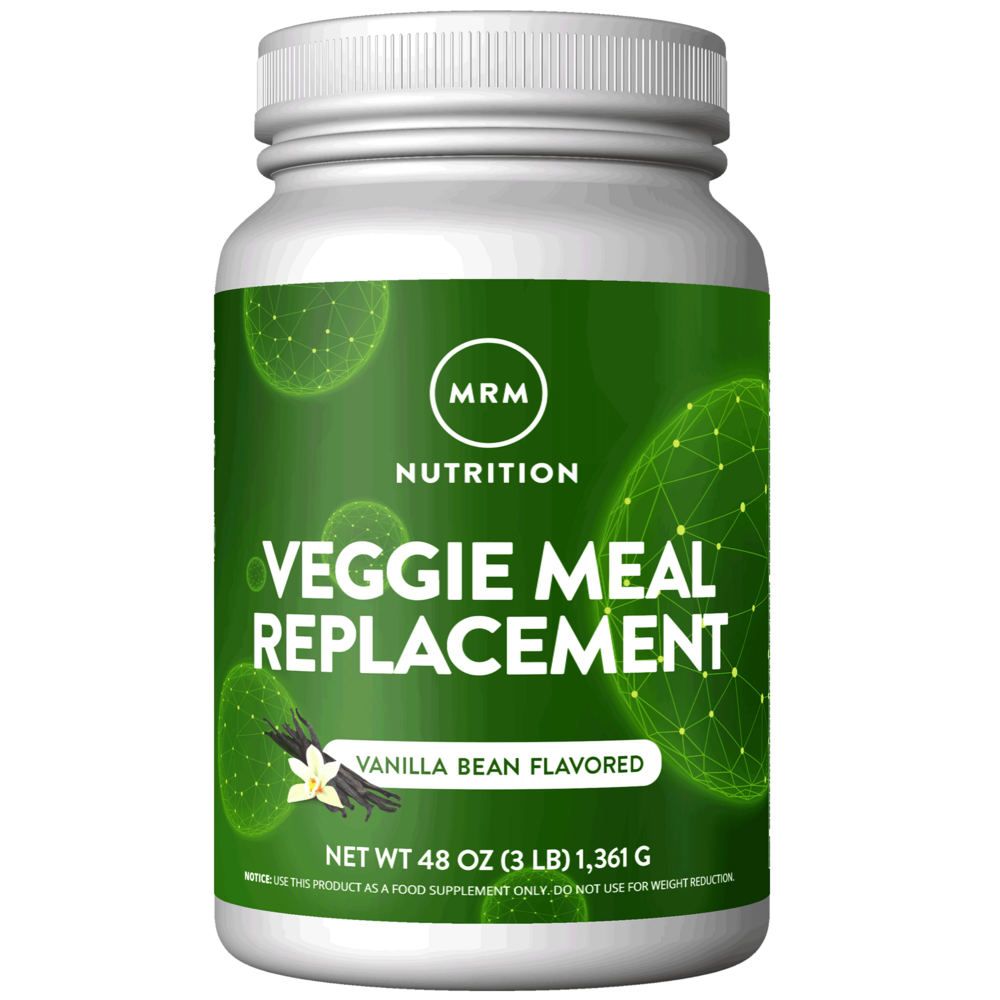 SKU: ME2-72044
Vanilla Bean 3 lbs
• FORTIFIED WITH PROBIOTICS, VITAMINS & MINERALS
• EXCELLENT SOURCE OF FIBER & OMEGA-3'S ALA, DHA & EPA
• 22 GRAMS OF PROTEIN WITH DIGESTIVE ENZYMES
• MILK-FREE
• SOY-FREE
• GLUTEN-FREE
• Flavorful alternative to milk and soy meal replacements
• Fortified with enzymes, vitamins and minerals
• Allergen-free, gluten-free, and cholesterol-free
• Excellent Source of fiber and omega-3, DHA & EPA
• High Potency Alpha-Linolenic Acid
• No artificial flavors, colors or sweeteners
• Vegan- and Vegetarian-friendly
MRM Veggie Meal provides a complete vegan- and vegetarian-friendly meal-on-the-go for those with little or no time for breakfast, lunch or dinner.** Veggie Meal provides all the nutrients found on a well-balanced plate of food, in a single scoop, and delivers the key nutritional elements to support healthy weight management and lean body composition.** Our uniquely balanced formula also helps satisfy hunger and mediate healthy blood sugar levels, and reinforces nutrient absorption.**
With 22 grams of protein from a precise blend of pea, brown rice, black rice and flax seed protein, Veggie Meal contains a full array of micro- and macronutrients to get you through your day. This unique meal option delivers essential amino acids the body needs to support a healthy, robust lifestyle.**
Our proprietary fruit and vegetable blend adds a generous 1000 ORAC units of antioxidant protection, alongside a broad spectrum of enzymes and probiotics that support digestion.** Specific probiotics contained in Veggie Meal were chosen for their diversity, and have been microencapsulated to assure stability – a strategy resulting in five times greater intestinal colonization.**
MRM Veggie Meal is a complete vegan meal option, or a refreshing alternative for those who seek something different in an instant meal product that neither contains whey, nor soy protein. A hypoallergenic, cholesterol-free, milk-free, soy-free and gluten-free alternative for those exhibiting sensitivities to meal options that may include animal proteins or that feature genetically modified food sources.**
Directions: Add one scoop to 8-10 ounces of water for a mouthwatering shake. Use one serving daily as a healthy meal alternative
Supplement Facts
Serving Size 1 Scoop (approx. 47 grams)
Servings Per Container - 29
Amount Per Serving
Calories 190
Saturated Fat 45
Total Fat 5g
Saturated Fat 0.5g
Trans Fat 0g
Cholesterol
Sodium 290mg
Potassium 50mg
Total Carbohydrates 14g
Dietary Fiber 8g
Sugars 1g
Protein 22g
Vitamin A (as Retinyl Acetate) 1000 IU
Vitamin D2 (as Ergocalciferol) 80 IU
Vitamin E (as Dl-Alpha-Tocopheryl Acetate) 6 IU
Biotin 60mcg
Folic Acid 80mcg
Niacinamide 4mg
Pantothenic Acid (as Calcium D-Pantothenate) 2mg
Vitamin B1 (as Thiamin Mononitrate)300mcg
Vitamin B12 (as Cyanocobalamin) 1.2mcg
Vitamin B2 (as Riboflavin) 340mcg
Vitamin B6 (as Pyridoxine HCl) 400mcg
Vitamin C (as Ascorbic Acid) 12mg
Calcium (as Dicalcium Phosphate) 260mg
Copper (as Copper Gluconate) 400mcg
Iodine (as Potassium Iodide) 30mcg
Iron (as Reduced Iron) 3.6mg
Magnesium (as Magnesium Oxide) 80mg
Phosphorus (as Dicalcium Phosphate) 200mg
Zinc (as Zinc Oxide) 3mg
Omega-3 (ALA) 1,400mg
Omega-3 (DHA & EPA) 32mg
High ORAC Proprietary Fruit/ Vegetable
Blend (1000 ORAC Units) 100mg
Grape Skin Extract, Blueberry Extract, Raspberry Powder, Cranberry Powder, Prune Powder, Cherry Powder, Bilberry Extract, Strawberry Powder, Broccoli Cruciferous Extract, Spinach Powder, Tomato Powder, Carrot Powder, Onion Powder
Microencapsulated Vegan Probiotic Blend 1 Billion CFU
Lactobacillus rhamnosus, Lactobacillus acidophilus, Lactobacillus plantarum, Bifidobacterium breve, Bifidobacterium animalis subsp. lactis
Ingredients: Veggie Meal Protein Blend [Pea Protein Isolate, Organic Brown Rice Protein Concentrate, Flax Seed Powder, Raw Sprouted Black Rice Powder & Digest-All VP (a vegan enzyme blend)], Natural Vanilla Flavor, Vitafiber (Isomalto-oligosaccharide), Vitamin and Mineral Blend, TreLEAFia (Trehalose, Stevia Leaf Extract, and Monk Fruit Extract), Gum Blend (Konjac Gum, Guar Gum, and Tara Gum), Salt, Omega-3 Oil Powder (algae), High ORAC Proprietary Fruit/Vegetable Blend, and Microencapsulated Vegan Probiotic blend. Contains NO peanut, tree nut, fish, shellfish, wheat, gluten or yeast. This product is manufactured in a facility that produces other products and may contain trace amounts of milk, egg or soy.
Typical Amino Acid Profile
Per 47g Scoop
Alanine 976mg
Arginine 1811mg
Aspartic Acid 2404mg
Cysteine 329mg
Glycine 860mg
Glutamic Acid 3836mg
Histidine 530mg
Lysine 1503mg
Methionine 318mg
Phenylalanine 1109mg
Proline 1053mg
Serine 1129mg
Threonine 863mg
Tryptophan 247mg
Tyrosine 834mg
Leucine 1881mg
Isoleucine 1129mg
Valine 1188mg
**This statement has not been evaluated by the Food and Drug Administration (FDA). This product is not intended to diagnose, treat, cure or prevent any disease.