Vetri-Cardio Canine Bite-Sized Chews
Vetri-Science Laboratories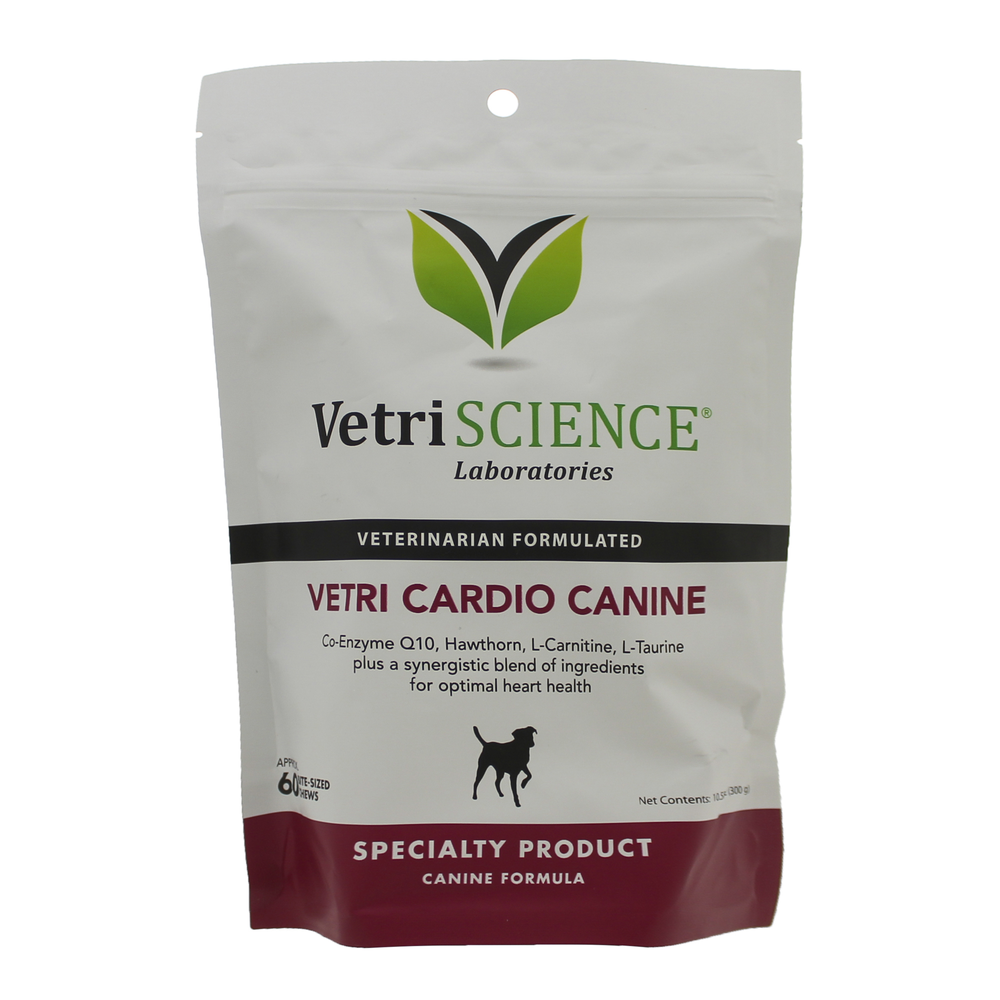 SKU: VET-90060206
Vetri Cardio Canine is designed to support the heart muscle, reduce oxidative stress and support cardiovascular function. It also supports circulation and utilization of oxygen. This product is recommended to support breeds of dogs that are predisposed to cardiovascular stress, dogs with pre-existing sub-optimal cardiovascular function, geriatric patients and metabolic pathways and the structural integrity of the cardiovascular system.
Give 1 chew per 30 lbs of body weight daily. If giving more than 1 chew daily, divide between AM & PM
Serving Size: One Chew
Amount Per Serving
L-Carnitine HCl ... 250mg
L-Taurine ... 250mg
Arginine ... 150mg
Hawthorn Berry Extract ... 100mg
(Crataegus oxycantha)
Magnesium ... 60mg
(Mg Oxide)
N, N-Dimethylglycine HCl ... 50mg
(DMG)
Berberine HCl ... 50mg
(Hydrastis canadensis)
Coenzyme Q10 ... 30mg
Folic Acid ... 0.9mg
Potassium ... 0.1mg
(K Citrate)
Inactive Ingredients: arabic gum, apple pectin, brewers yeast, calcium sulfate, canola
oil, chicken liver flavor, citric acid, glycerin, maltodextrin, mixed tocopherols, oat flour,
oat meal, propionic acid, rosemary extract, rye flour, silicon dioxide, sodium alginate,
sorbic acid, soy lecithin, vegetable oil, water.
CAUTION
Safe use in pregnant animals or animals intended for breeding has not been proven. If animal's condition worsens or does not improve, stop product administration and consult your veterinarian.
WARNING
Keep out of the reach of children and animals. In case of accidental overdose, contact a health professional immediately.
For use in dogs only. Store in a cool, dry place.
It looks like there are no similar
products available