Vibrant Mind®
Natura Health Products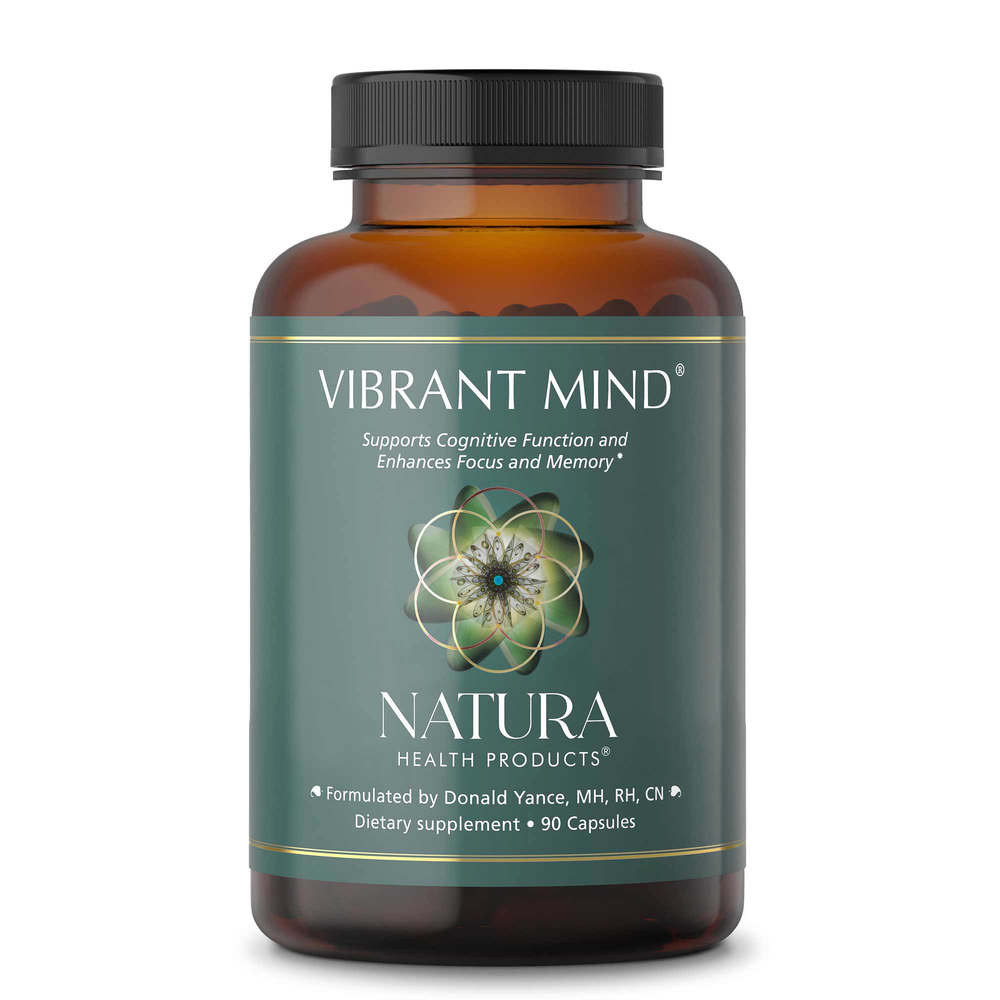 SKU: NTH-VMDC121
enhances memory recall and concentration*
promotes healthy cognitive function*
supports neurological health*
Vibrant Mind® contains an array of highly concentrated botanical extracts and advanced nutrients which work to promote healthy neurological function and mental acuity. Standardized extracts of classic brain tonic herbs such as Bacopa, Gotu Kola, and Ginkgo have been combined with brain-specific compounds phosphatidylserine, huperzine A, vinpocetine and acetyl-L-carnitine. These select ingredients provide multi-targeted mechanisms to support healthy brain oxygenation, mitochondrial function and cholinesterase activity, while encouraging proper oxidant and cytokine balance.*
Suggested Use:

Take 3 capsules daily or as directed by your practitioner
Serving Size:
3 capsules
Amount Per Serving
Bacopa monnieri Whole Plant Extract … 300 mg
(Bacopin®)
Ginkgo biloba Leaf Extract ... 250 mg
Gotu Kola Leaf Extract … 200 mg
(Centellin®) (Centella asiatica)
Rosemary Leaf Extract ... 150 mg
(Rosmarinus officinalis)
Tinospora cordifolia Aerial Parts Extract ... 100 mg
(Tinofolin®)
Salvia miltiorrhiza Root Extract … 100 mg
Acetyl-L-Carnitine … 100 mg
Phosphatidylserine … 50 mg
Saffron Bulb Extract … 40 mg
(Crocus sativus L.)
Black Pepper Fruit Extract 95% Piperine … 5 mg
(BioPerine®) (Piper nigrum)
Vinpocetine … 5 mg
Huperzine A … 200 mcg
(from Huperzia serrata Aerial Parts Extract)
Other Ingredients:
Microcrystalline cellulose, vegetable capsule (hydroxypropyl methylcellulose, water), magnesium stearate, silicon dioxide.
Does Not Contain:
Wheat, gluten, milk, soy, eggs, fish, crustacean shellfish, tree nuts, peanuts
Bacopin®, Centellin® and BioPerine® are registered trademarks of Sabinsa CorporationSharp PS® Green is a registered trademark of Enzymotec Ltd.
WARNING: Not for use during pregnancy. Keep out of reach of children.
Protect from heat, light, and moisture.