ViraKid Chewable
Ortho Molecular Products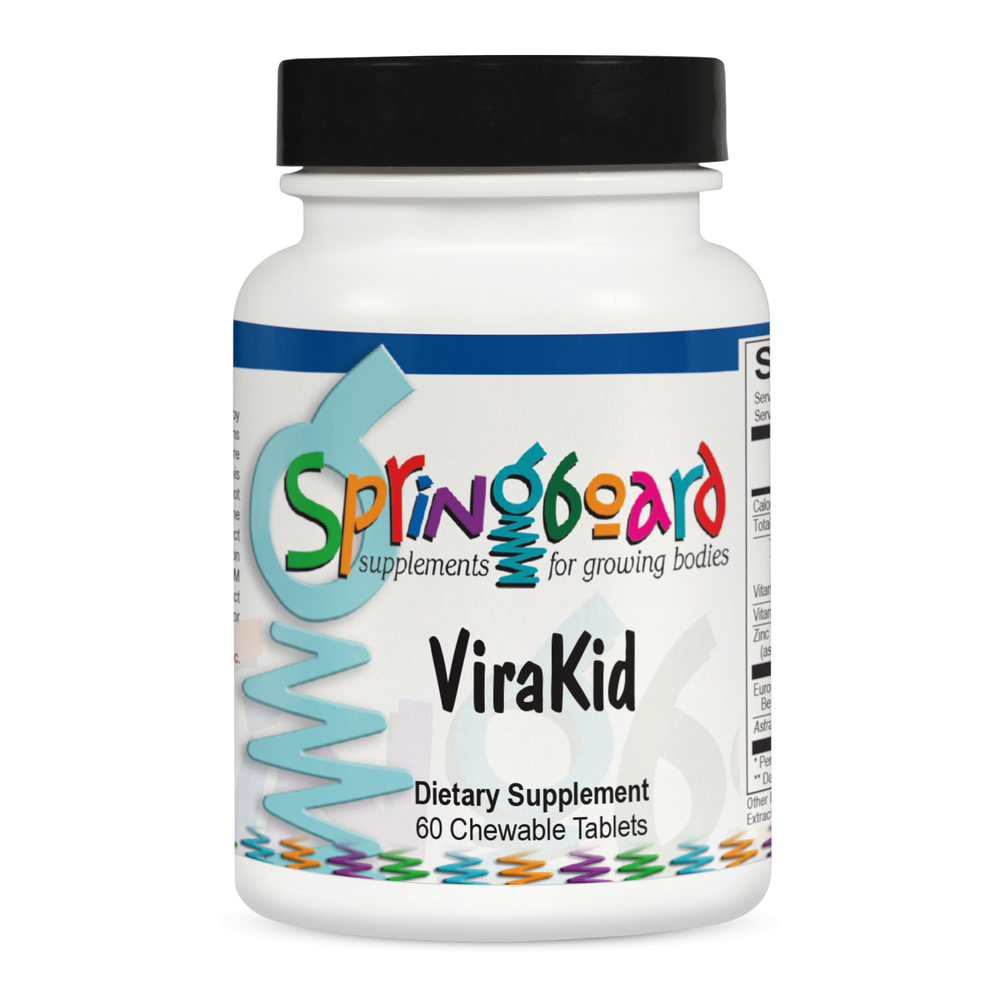 SKU: OHM-175060
ViraKid is a children's chewable formula that boosts immune function and provides support for immune challenges. Elderberry has been shown to provide effective immune support, and the distinct purple color creates a fun element for kids. Be on the lookout for purple tongues!
Clinical Applications
Provides Support for Immune Challenges
Strengthens Immune Function in Children
Maintains Normal Inflammatory Balance
Our body's immune system is a complex and dynamic defense system that comes to our rescue at the first sign of exposure to an outside invader. The dynamic nature of the immune system means that all factors that affect health need to be addressed for it to function at peak performance. In most cases, the immune system does a great job of keeping people healthy, but it is very sensitive to nutrient deficiencies and may at times require additional support. While vitamin deficiencies can challenge the immune system, consuming immune enhancing nutrients and botanicals support and strengthen the body's immune response.
ViraKid's synergistic formula significantly boosts immune cell function by enhancing barrier function, activating the antibody response, and speeding up natural killer (NK) cell and T-cell activation. ViraKid contains elderberry and astragalus along with key nutrients necessary for optimal immune function, such as zinc, vitamin C and vitamin A.
Suggested Use:
Take 2 chewable tablets per day or as recommended by your health care professional.
Serving Size:
2 Chewable Tablets
Amount Per Serving
Calories
... 15
Total Carbohydrate
... 3g
Total Sugars
... 2g
Includes 2 g Added Sugars
Vitamin A
... 200mcg
(from 667 IU Natural Beta Carotene)
Vitamin C
... 200mg
(as Ascorbic Acid USP)
Zinc
... 2mg
(as TRAACS™ Zinc Bisglycinate Chelate)
European Elder Berry Extract
... 300mg
(Sambucus nigra) (Standardized to contain 13% Anthocyanins)
Astragalus membranaceus Root Extract
... 125mg
Other Ingredients:
Natural Cane Sugar, Xylitol, Natural Flavors, Luo Han Guo Extract (Fruit), Sodium Stearyl Fumarate, Citric Acid and Malic Acid
Does Not Contain:
Gluten, yeast, artificial colors and flavors.
Cautions:
If you are pregnant or nursing, consult your physician before taking this product.