Vital Adapt® - Capsules
Natura Health Products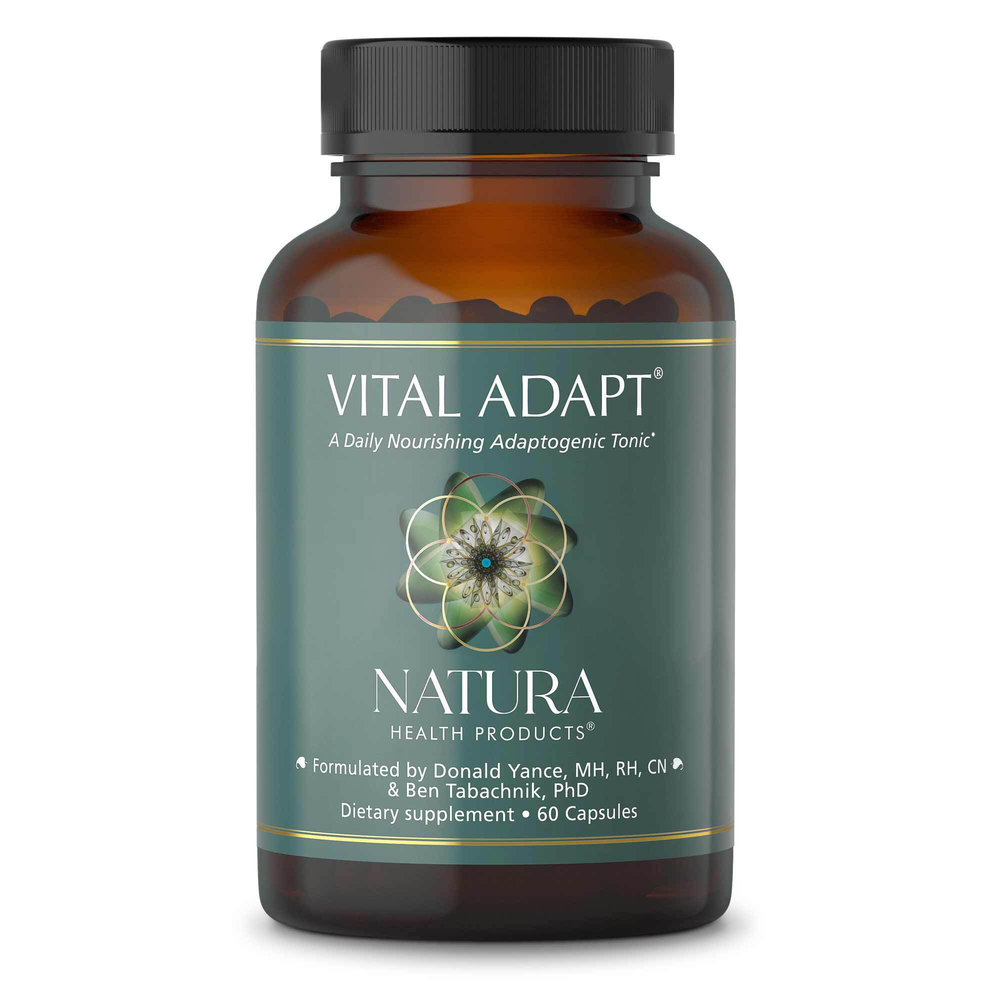 SKU: NTH-VATC120
Vital Adapt® is a nourishing, broad-spectrum herbal tonic designed to optimize the body's natural resilience and adaptation to stressful influences. As a cornerstone of Natura's approach to health, Vital Adapt® offers a profoundly potent combination of elite adaptogenic botanicals to promote health, longevity, and well-being. Adaptogenic herbs nourish vital energy and provide a restorative action primarily through modulation of the HPA (hypothalamic-pituitary-adrenal) axis. This optimizes neuroendocrine function and encourages a healthy stress response.
SUGGESTED USE:
Take 2 capsules, 2x daily or as directed by your healthcare practitioner.
Serving Size: 2 capsules

Amount Per Serving
Proprietary Formula* … 1336 mg
Herb Weight Equivalence
Eleutherococcus senticosus Root Ext.
Fresh Ashwagandha (Withania somnifera) Root Ext.
Rhodiola rosea Root Ext.
Rosehip (Rosa canina) Fruit Ext.
Schisandra chinesis Berry Ext.
American Ginseng (Panax quinquefolius) Root Ext.
Turmeric (Curcuma longa) Root Ext.
Hawthorn (Crataegus laevigata or monogyna) Leaf, Flower and Berry Ext.
Reishi Mushroom (Ganoderma lucidum) Fruiting Body Ext.
Cordyceps (Cordyceps sinensis) Fruiting Body Ext.
Licorice (Glycyrrhiza glabra) Root Ext.
Green Tea (Camellia sinensis) Leaf Ext.
Elderberry (Sambucus nigra) Fruit Ext.
Ginger (Zingiber officinale) Root Ext.
Grape (Vitis vinifera) Seed Ext.
Grape (Vitis vinifera) Skin Ext.

OTHER INGREDIENTS: Non-GMO Soy Lecithin, Medium Chain Triglycerides, Modified Vegetable Cellulose, Chlorophyll.

Contains soy.
WARNING: If pregnant or nursing, consult a qualified healthcare practitioner before use. Keep out of reach of children. Protect from heat, light, and moisture.