Vitality Immunity Boost Grape Citrus Stick Pack
Vital Proteins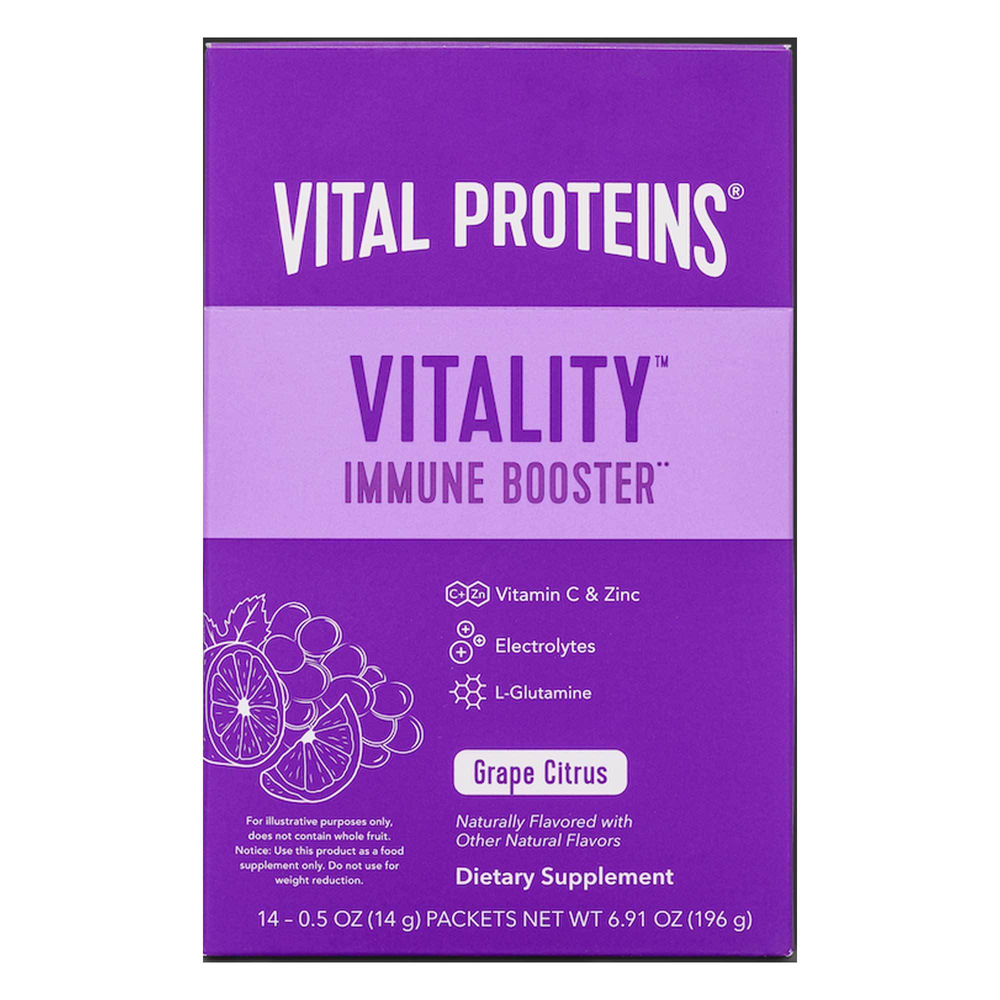 SKU: VIT360-VITLG14SPBU
PUT YOUR BEST (DEFENSE) FORWARD**

Having an off day? Say yes to Vitality™, our immunity booster that's rich in vitamins C, D, B12 and zinc to help combat that less-than-stellar feeling. A better you is a pour, stir & sip away. Just add cold water.
Combine 1 packet with 16 fl oz cold water, mix thoroughly.

Serving Size: 1 packet (13 g)

Amount Per Serving
Calories ... 25
Total Carbohydrate ... 1 g
Protein ... 5 g
Vitamin C ... 450 mg
Vitamin D ... 8 mg
Niacin ... 1.7 mg
Vitamin B6 ... 20 mcg
Vitamin B12 ... 4.8 mcg
Magnesium ... 50 mg
Zinc ... 22mg
Sodium ... 500 mg
Potassium ... 400 mg
Collagen Peptides ... 5 g
L-Glutamine ... 2 g
L-Arginine ... 500 mg
Wellmune (R) Baker's yeast beta glucan (from saccharomyces cerevisiae) ... 250 mg
L-Tryptophan ... 50 mg
Immuno LP20

Other Ingredients:
Himalayan pink sea salt
Natural flavors
fruit and vegetable juice powder (for color)
Malic acid
Citric acid
Monk fruit extract
Contains: Milk
If you are pregnant, nursing or have a medical condition, consult your physician before use. **These statements have not been evaluated by the Food and Drug Administration. This product is not intended to diagnose, treat, cure or prevent any disease. This product is manufactured in a facility that processes milk, fish, tree nuts, wheatgrass, and peanuts.