Vitality Immunity Boost Clementine Stick Pack
Vital Proteins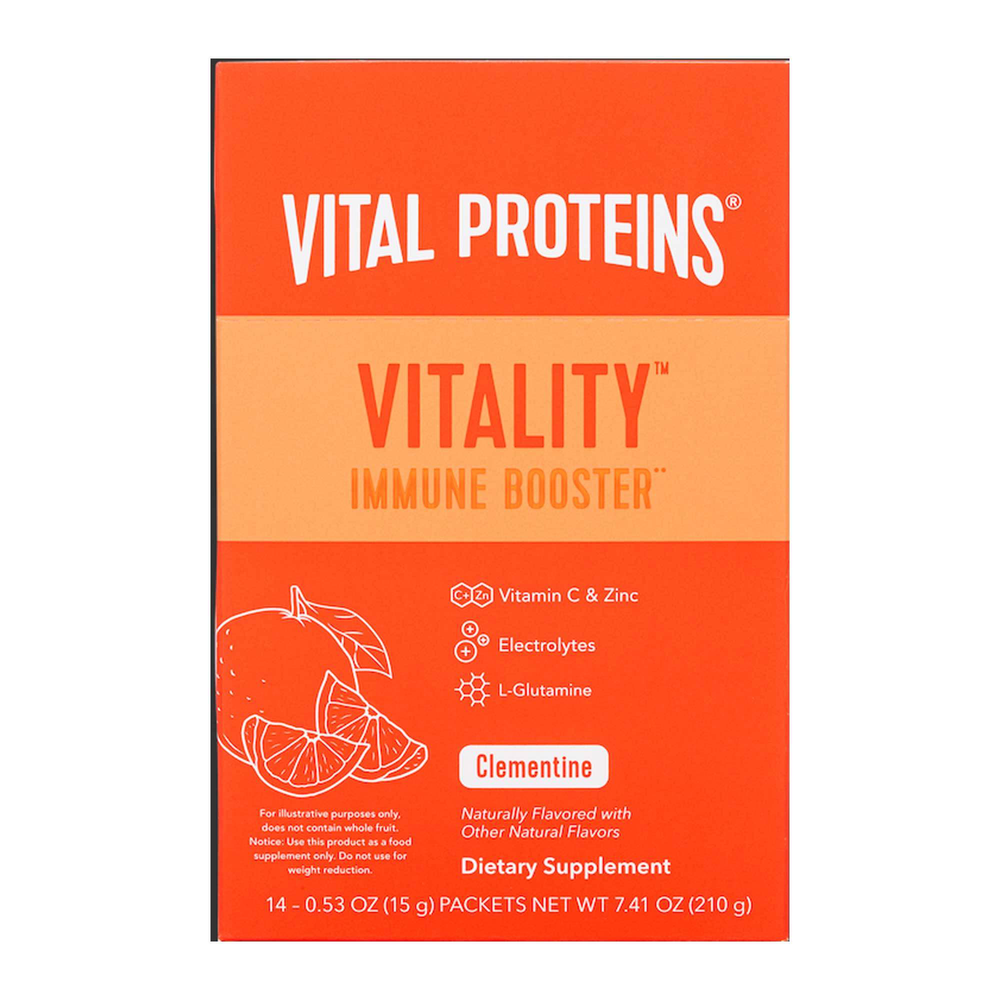 SKU: VIT360-VITO14SPBU
Our NEW Vital Proteins Vitality™ Immune Booster** stick packs are here to keep you at 100!
Our one-of-a-kind blend combines collagen, L-glutamine, vitamin C, zinc, and electrolytes with Wellmune®* and Immuno-LP20®, two clinically-proven ingredients that help boost your immune system.**
Whether you're looking for a proactive immune boost or just a little extra immune support for when you're having an off day, this supplement to help boost the immune system was created so you can conveniently incorporate these on-the-go stick packs into your daily wellness routine.**
*a registered trademark of Kerry Group
5g Collagen Peptides Per Serving: Grass fed and pasture raised
Cutting-Edge, Clinically-Proven ingredients: Wellmune®* and Immuno-LP20® help support the immune system**
2g L-Glutamine: An amino acid that plays an important role in the function of the immune system. It helps synthesize glutathione - the body's master antioxidant**
1000% DV Vitamin C: A powerful antioxidant, vitamin C supports collagen production and boosts the immune system**
200% DV Zinc: Available as zinc citrate, this easily-absorbable essential mineral can help promote the production of T-cells, important cells that work as leading regulators of the immune response**
Electrolytes For Hydration: Sourced from Himalayan pink sea salt, magnesium, sodium and potassium are electrolytes that help boost hydration and support the immune system**
Aligns With Dietary Preferences: Gluten free, soy free and no added sugars
Easy To Use: Just pour, mix and stir to put your best sip forward
Available in convenient stick packs, this supplement that helps boost the immune system** can easily be taken daily, at any time of day. Combine 1 packet with 16 fl. oz. cold or warm water, mix thoroughly.
Serving Size:
1 packet (15g)
Amount Per ServingCalories
... 35
Total Carbohydrate
... 3g
Protein
... 5g
Vitamin A
... 900mcg RAE
(as retinyl palmitate)
Vitamin C
... 1,000mg
(as ascorbic acid)
Vitamin D
... 20mcg
(as cholecalciferol)
Niacin
... 8mg NE
(as niacinamide)
Vitamin B6
... 1.7mg
(as pyridoxine HCI)
Vitamin B12
... 4.8mcg
(as cyanocobalamin)
Calcium
... 120mg
Magnesium
... 50mg
(as magnesium carbonate)
Zinc
... 22mg
(as zinc citrate)
Sodium
... 80mg
Potassium
... 740mg
Collagen Peptides
... 5g
(from bovine)
L-Glutamine
... 2g
L-Arginine
... 500mg
Wellmune (R) Baker's Yeast Beta Glucan
... 250mg
(from saccharomyces cerevisiae)
L-Tryptophan
... 50mg
Immuno-LP20®
... 50mg
(heat-killed Lactobacillus plantarum strain L-137)
Other Ingredients:
Natural Flavors, potassium citrate, citric acid, red mineral algae (calcium), potassium chloride, malic acid, Himalayan pink sea salt, monk fruit extract, beta-carotene (for color)
CONTAINS:
MILK