Vitamin C Chewable
Progressive Labs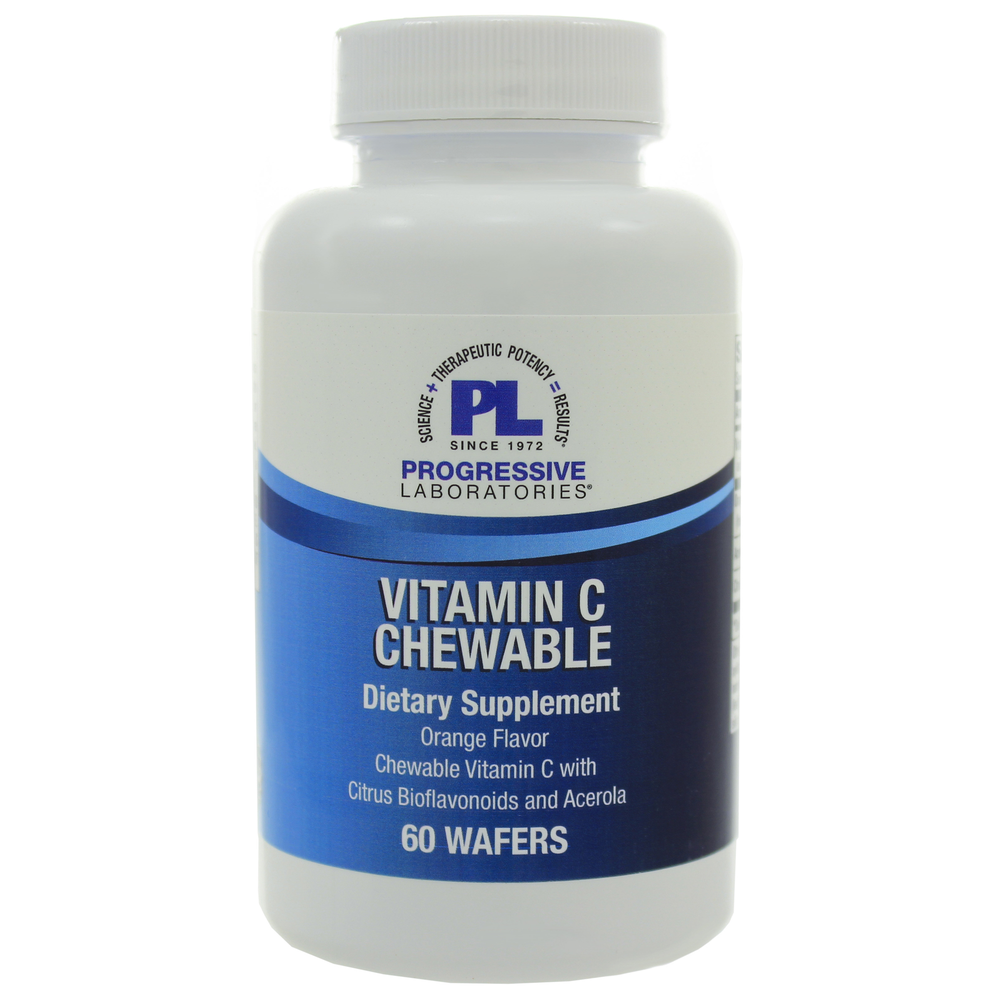 SKU: PGV-972
Antioxidant vitamin C with vitamin A and bioflavonoids. Nutritional support for the immune system, connective tissue health and more.
Vitamin C is required for the growth and repair of tissues in all parts of your body. It is necessary to form collagen, an important protein used to make skin, scar tissue, tendons, ligaments, and blood vessels. Vitamin C is essential for the healing of wounds, and for the repair and maintenance of cartilage, bones, and teeth. Vitamin C is one of many antioxidants. Antioxidants are nutrients that block some of the damage caused by free radicals, which are by-products that result when our bodies transform food into energy.

The build up of these by-products over time is largely responsible for the aging process and can contribute to the development of various health conditions such as cancer, heart disease, and a host of inflammatory conditions like arthritis. Antioxidants also help reduce the damage to the body caused by toxic chemicals and pollutants such as cigarette smoke. Vitamin C deficiency can lead to dry and splitting hair; gingivitis (inflammation of the gums) and bleeding gums; rough, dry, scaly skin; decreased wound-healing rate, easy bruising; nosebleeds; weakened enamel of the teeth; swollen and painful joints; anemia; decreased ability to ward off infection; and, possibly, weight gain because of slowed metabolic rate and energy expenditure. A severe form of Vitamin C deficiency is known as scurvy, which mainly affects older, malnourished adults.
Chew one (1) wafer daily with a meal, or more as directed by a doctor. Chew gently or allow to dissolve on tongue before swallowing. Do not swallow whole.
Sold only for dispensing by a licensed health care professional.
Serving Size: 1 Wafer
Amount Per Serving
Vitamin C ... 500mg
(as sodium ascorbate and ascorbic acid)
Orange Fruit Juice Powder ...100mg
(freezed dried)
Acerola Extract Powder ... 5mg
(4:1)
Citrus Bioflavonoids Powder ... 5mg
Other Ingredients:
xylitol, sorbitol, microcrystalline cellulose, natural flavors, vegetable stearic acid, silicon dioxide, vegetable lubricant, beta-carotene.
TAMPER EVIDENT BAND AROUND CAP AND SEAL ON BOTTLE. DO NOT USE IF EITHER SEAL IS BROKEN OR MISSING.
KEEP OUT OF REACH OF CHILDREN.
Statements about products on this website have not been evaluated by the Food and Drug Administration. These products are not intended to diagnose, treat, cure or prevent any disease.