Vitamin Code RAW Calcium
Garden of Life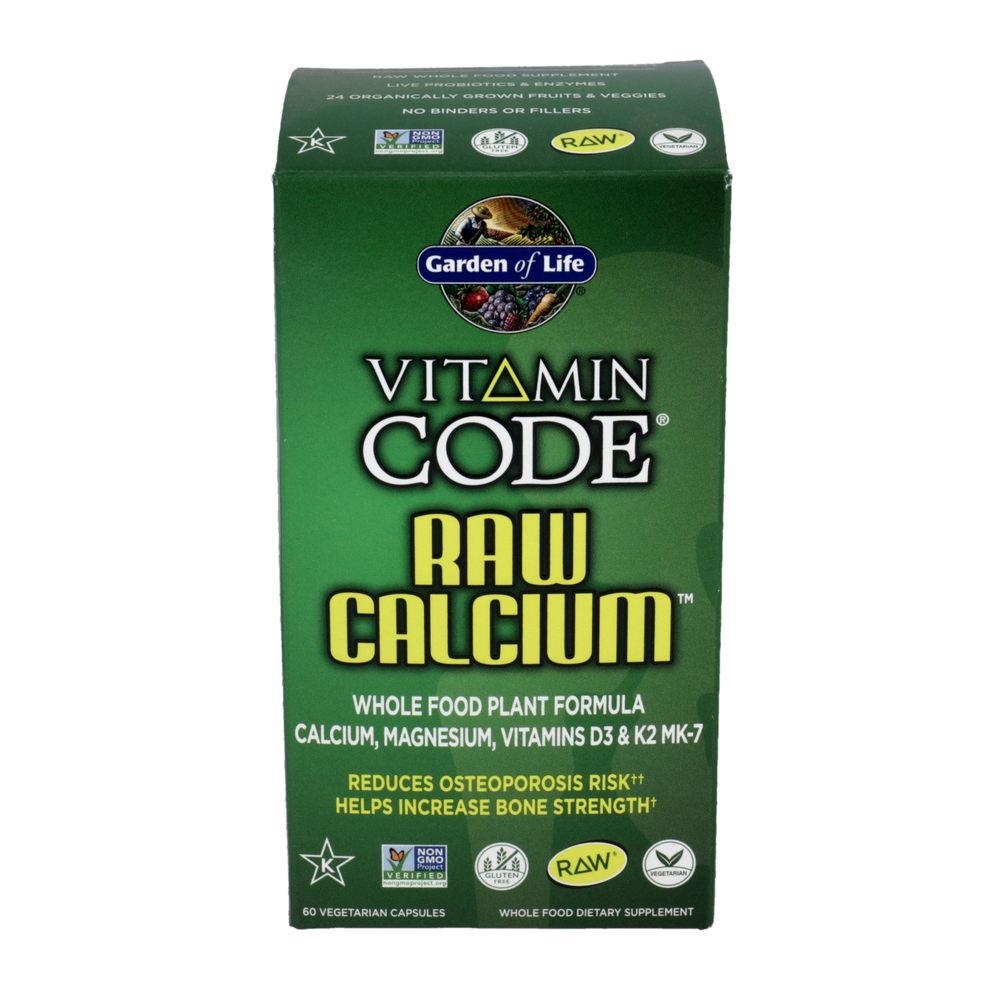 SKU: GRD-101658
Vitamin Code RAW Calcium is a whole food plant calcium formula with magnesium, vitamin D3 and K2 (MK-7). Vitamin Code RAW Calcium is clean, meaning no synthetic binders or fillers, artificial flavors, sweeteners, colors or additives commonly used in tablets. Whole food means RAW Food-Created Nutrients are blended in a base of 24 fruits and vegetables together with food cofactors and 73+ naturally occurring trace minerals. Plus, Vitamin Code RAW Calcium has 1,600IU of vitamin D3 to help your body utilize calcium efficiently†, and 100mcg of vitamin K2 as MK-7 and magnesium to promote proper absorption of calcium in the bone, where you want it most.†
††Regular exercise and a healthy diet with enough calcium and vitamin D helps you maintain good bone health and may reduce the risk of osteoporosis later in life.
RAW Whole Food Plant Calcium Formula with Magnesium, Vitamins D3 & K2 (MK-7)
Free from Crushed Rock, Limestone, Chalk and Animal Bones
24 Powdered Fruits and Vegetables and 73+ Trace Minerals

Live Probiotics and Enzymes
Suggested Use:
Adults take 4 capsules daily. For best results take 2 capsules with breakfast and 2 capsules with lunch.
Serving Size: 4 Capsules
Amount Per Serving:
Vitamin C ... 50mg*
Vitamin D ... 1, 600IU
Vitamin K ... 100mcg*
Calcium ... 756mg
Magnesium ... 386mg**
Strontium ... 3.8mg
Boron ... 3mg*
Silica ... 2.2mg
Vanadium ... 68mcg
RAW Organic Fruit and Vegetable Blend ... 360mg
(Organic Apple (fruit), Organic Strawberry (fruit), Organic Cherry (fruit), Organic Beet (root), Organic Broccoli (stalk and flower), Organic Carrot (root), Organic Spinach (leaf), Organic Tomato (fruit), Organic Blackberry (fruit), Organic Blueberry (fruit), Organic Raspberry (fruit), Organic Green Bell Pepper (fruit), Organic Brussels Sprout (leaf), Organic Ginger (root), Organic Garlic (bulb), Organic Parsley (leaf), Organic Cauliflower (flower and stem), Organic Red Cabbage (leaf), Organic Kale (leaf), Organic Cucumber (gourd), Organic Celery (stalk), Organic Asparagus (flower and stem))
RAW Probiotic and Enzyme Blend ... 64mg
(Lipase (95FIP), Protease (714HUT), Aspergilopepsin (4SAPU), beta-Glucanase (from cellulase)(1BGU), Cellulase (69 CU), Bromelain (21, 429 PU), Phytase (2FTU), Lactase (57 ALU), Papain (26, 667 PU), Peptidase (81 HUT), Pectinase (2 endo-PGU), Xylanase (18XU), Hemicellulase (71 HCU), Lactobacillus plantarum, Lactobacillus bulgaricus, Saccharomyces cerevisiae (500 Million CFU)).
Other Ingredients: Vegetable Cellulose (Capsule), Organic Rice (hull).
**Magnesium from Algae and Dead Sea Minerals.
Not intended for children.