Vitamin Code RAW One for Women
Garden of Life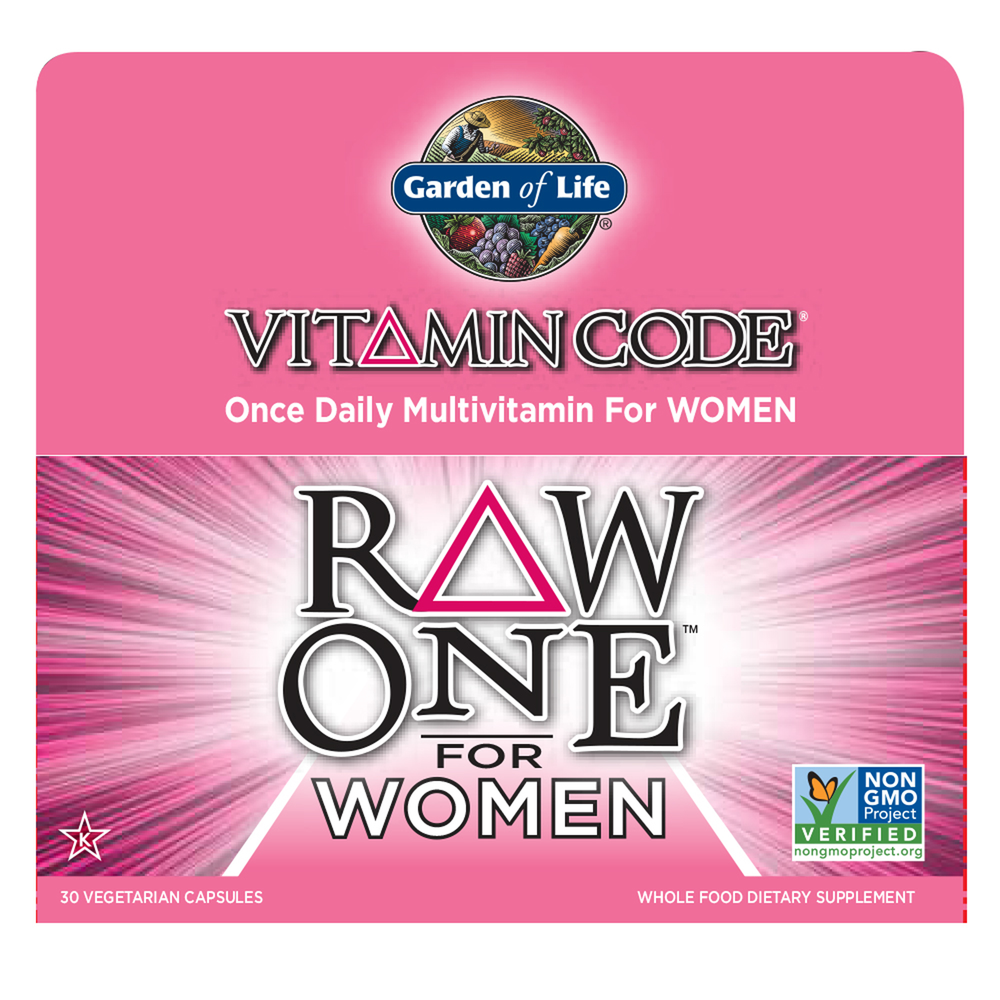 SKU: GRD-101741
If you know about our Vitamin Code line of RAW vitamins, then you're already aware of the advantages that accompany it. The RAW Food-Created Nutrients in Vitamin Code RAW ONE For Women are cultivated with their unique Code Factors intact. Code Factors are the known, and yet to be discovered, synergistic compounds found in food and necessary for proper nutrient delivery. Providing these Code Factors infuses the essential elements of whole foods that your body thrives upon.
Vitamin Code RAW ONE for Women Nature-Intended Benefits:
-Breast Health
-Reproductive System
-Bone Strength
-RAW Energy
-Healthy Heart
-Healthy Skin
Adults take 1 capsules daily. May be taken with or without food.
Serving Size: 1 Capsule
Vitamin A ... 5000IU
(as beta-carotene)
Vitamin C ... 60mg
Vitamin D ... 1000IU
Vitamin E ... 20IU
Vitamin K ... 80mcg
Thaimin ... 1.5mg
Riboflavin ... 1.7mg
Niacin ... 20mg
Vitamin B6 ... 2mg
Folate ... 800 mcg
Vitamin B12 ... 12mcg
Biotin ... 150mcg
Pantothenic Acid ... 10mg
Calcium ... 16mg
Iron ... 6mg
Zinc ... 3.8mg
Selenium ... 50mcg
Copper ... .1.5mg
Manganese ... 1mg
Chromium ... 120mcg
Molybdenum ... 18.8mcg
RAW Organic Amla Berry ... 120mg
(Indian Gooseberry)
RAW Probiotic & Enzyme Blend ... 10mg
(Saccharomyces boulardii, Protease, Phytase, beta-Glucanase, alpha-Galactsidase, Hemicellulase, Cellulose)
Other Ingredients: Vegetable cellulose, Saccharomyces cerevisiae, Lactobacillus bulgaricus, Phosphorus.
Not intended for Children.