Vitamin D3 1000iu
Bioclinic Naturals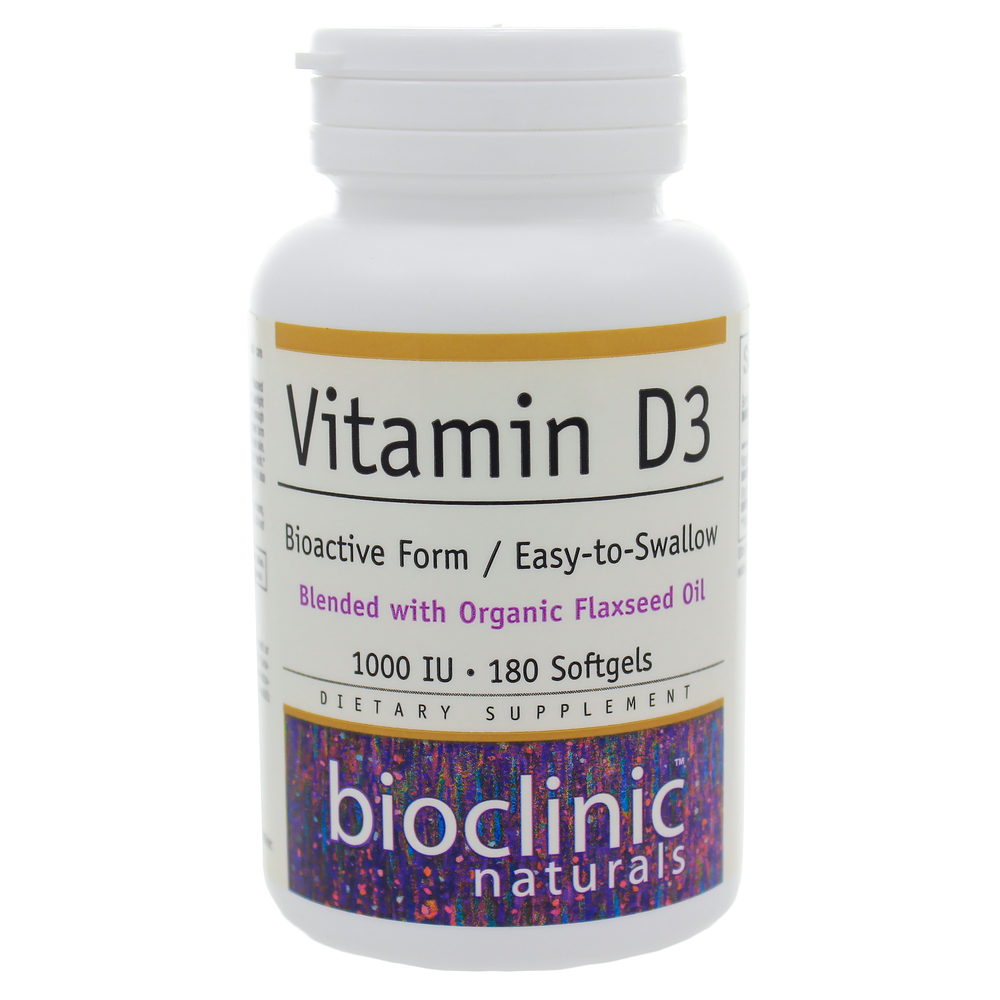 SKU: BCN-9431
Vitamin D is a hormone now widely recognized to be important to many body systems and a large number of physiological processes, and it may also be one of the most common nutrient deficiencies in the world. Vitamin D is needed for intestinal calcium absorption, skeletal bone integrity as well as skeletal muscle strength and function, and has been associated with overall physical fitness. Vitamin D is critical for healthy immune function, and may reduce the risk of infection, especially respiratory tract infections. Given that essentially every tissue in the body has a receptor for vitamin D, it is hard to overestimate its importance. Many practitioners recommend supplementation to achieve blood levels of 25-OH-vitamin D between 50-80 nmol/L, which often requires doses of 1000-2000 IU per day, and more for those with common genetic variants affecting vitamin D metabolism.
Benefits
•In a base of organic flaxseed oil and medium chain triglycerides for improved intestinal absorption
•Vitamin D3 (cholecalciferol) likely more effective at restoring blood levels than D2 form (ergocalciferol)
•Easy-to-swallow and highly-bioavailable softgel
•1000 IU vitamin D per softgel allows for easy daily dosing
1 softgel per or as directed by a health care professional.
Serving Size: 1 softgel


Amount Per Serving:
Vitamin D3 ... 1000IU
(cholecalciferol) (lanolin)
Organic Flaxseed Oil ... 200mg

Other Ingredients: Softgel capsule (gelatin, glycerin, purified water), medium chain triglycerides (coconut), soy lecithin.
Contains no artificial preservatives, colors or sweeteners; no corn, dairy, gluten, starch, wheat or yeast
Caution is advised for individuals with a hypersensitivity to any of the ingredients, sarcoidosis, lymphoma, tuberculosis, hypercalcemia, or renal impairment.
When taken with a thiazide medication (diuretic), may increase the risk for hypercalcemia. Also, vitamin D may improve insulin sensitivity and lower blood pressure, requiring a reduction in dosage of hypertension and/or diabetic medications.
*These statements have not been evaluated by the Food and Drug Administration. This product is not intended to diagnose, treat, cure or prevent any disease.